STUDENTS and staff at Queen Elizabeth's School in Crediton are celebrating a great set of A Level results, published today, August 17.
Across the broad range of subjects that are taught in the Sixth Form: 
• 27 per cent of entries were awarded an A* or A grade • 51 per cent of entries were awarded at the A*-B grades • 79 per cent of entries gained a C grade or above.
Paula Smith, QE Headteacher, said; "Huge congratulations to all our Sixth Formers who have received their A Level results today.
"Yet again, despite the difficulties of recent years, our students have achieved a wonderful set of results that will give them a strong foundation for their next steps in higher education or employment.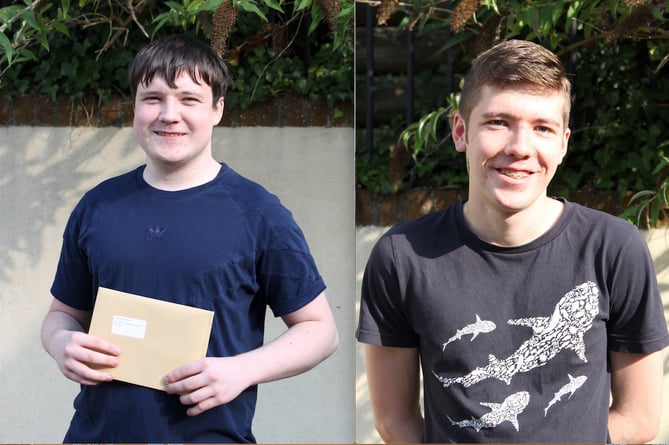 Following successful A Level grades, Sebastian Fraiquin, left, will be going to Exeter to study Law and Rowan Manning, right, will be going to Birmingham to study Biology.
(QE)
"It was a joy to see so many receiving well deserved excellent results and we are so proud of the amazing young people they have become.
"QE Sixth Form is a very special community where students support each other and we have expert teachers who really know and understand them.
"It has been a joint effort on the part of students, their families, teachers and the Sixth Form team - thank you to everyone who has contributed to the success of our students during the seven years that they have been with us". 
Head of Sixth Form, Vicky Evans said: "We are very pleased that the vast majority of our students achieved a brilliant set of results, gaining their first choice places at University.
"Students have been successful in reaching their goals and will be attending institutions across the country, from Cambridge to Cardiff and York to Plymouth, with a number choosing to stay in the area and study at Exeter.
"Students will be studying a range of courses including law, biomedicine, natural and environmental sciences, musical theatre, sport, photojournalism, English, sociology, drama and many more.
"A growing number of students will be moving into apprenticeships this year including degree apprenticeships in construction which are proving to be highly competitive. 
"This success is all the result of the dedicated hard work and commitment that our students have given to their studies along with our highly experienced teachers who have expertly guided all students to achieve their next steps." 
The rigours of A Level courses and changes to grading at a national level can mean that some students don't achieve as well as they might have hoped.
Queen Elizabeth's is very keen to support any student that needs help with the university clearing process and they are asked to not hesitate to get in touch with Vicky Evans over the coming days and weeks if they need advice or information.
Queen Elizabeth's is looking forward to welcoming new Year 12's into the 6th Form in September and enrolment will be open on GCSE results day, Thursday, August 24, 9am to 12pm, and Monday, September 4, 1.15pm to 3pm. 
If you are thinking of joining the vibrant and successful sixth form at Queen Elizabeth's, do not hesitate to get in contact via: [email protected] .
Queen Elizabeth's is one of 15 schools located across Devon in the Ted Wragg Trust Academy.
It is a school with a rich and proud history stretching back more than 460 years. It is a large school with around 1,300 students, nearly 200 of whom are in the Sixth Form.