Crediton Town Council and The Turning Tides Project partnership working praised
By 
Alan Quick
  |   Editorial Manager/Photojournalist   |
Friday 12th March 2021 7:24 am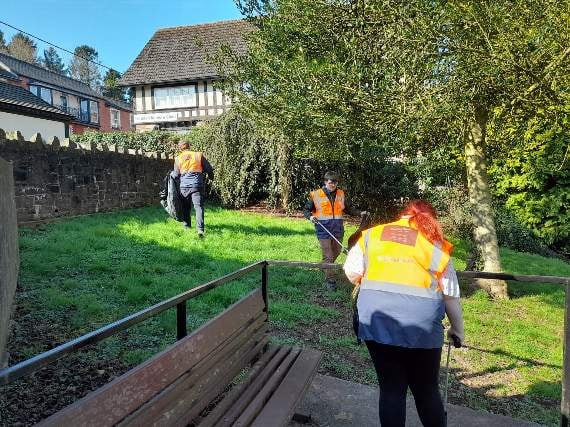 Members of The Turning Tides Project Crediton Maintenance team tidying up Crediton.
Subscribe newsletter
Subscribe to our email and get updates right in your inbox.
CREDITON Town Council and The Turning Tides Project recent decision to work together on an exciting new initiative, a maintenance role within the town, has received praise from the Mayor of Crediton.
The Turning Tides Project, a non-profit making Community Interest Company that aims to make equal access a reality for people with "learning disability" or "autism" labels, accepted the offer to undertake the role within the town relatively recently, and already a visible difference can be seen.
The Turning Tides Project is responsible for a wide range of tasks, including general maintenance in town council-owned areas, litter picking, repairing and cleaning assets in areas such as People's Park, Upper Deck and at Newcombes Meadow, whilst taking pride in helping to keep Crediton looking its best.
Jane Williams, Director of The Turning Tides Project said: "The Turning Tides Project is a non-profit making organisation, but the reality is that being paid is part of what makes people feel valued.
"Only six per cent of the 1.5 million people in this country with a 'learning disability' label has a paid job (mencap.org.uk).
"The Turning Tides Project supports people to develop the skills, confidence and experience they need to have a job and then, when we can create a sustainable opportunity, offers people who are part of TTTP Supported employment.
"Our work to make sure Crediton is tidy and well cared for is now paid work: Thank you Crediton Town Council for valuing our contribution. The money we earn will enable us to continue to expand our approach to Supported Employment."
Jane added: "By taking a Social Model Approach, we believe that 'disability' is created by the way that society treats difference and that when everyone has equal access to every opportunity, we all make valuable contributions and are valued for doing so.
"We care very much about our community and always work hard to take care of both the people and the places that are part of it. "We've worked as volunteers to pick up litter, tidy and maintain the Town's green spaces and set up for community events for several years.
"We were therefore pleased to be approached by Crediton Town Council and invited to take on the role of Crediton Town Maintenance Officers."
Rebecca from TTTP said: "We should respect our environment and keep it clean and make sure we treat other people the way we'd like to be treated ourselves."
Members of the TTTP Crediton Maintenance Team said:
"It's good to keep as many areas as clean as possible - since the age of nine it's been my intention to help people in any way that I can and in any place, I'm needed - anywhere or anybody." (Josh)
"It makes me happy to pick up the litter and make the place look beautiful. The new hats and jackets are beautiful." (Michelle)
"It's a good responsibility, also being part of Crediton and the community. Making it a better place to be, keeping it clean and tidy." (Beth)
"I love to clean up Crediton as it makes the world a better and safer place to live in. It is amazing to be part of the community." (Abbie)
"I have been living in Crediton for ages now and I feel I am making a difference to the community by cleaning up people's rubbish. We hope to challenge the ideology of people in our community towards those people with 'learning disability' and 'autism labels'." (Joe) 
"It's nice to hear that people think we are doing a good job." (Jacob).
Jane added: "We would love to work with other local businesses, organisations and individuals to develop their approaches to equal access.
"Please do get in touch if you would like to talk with us. We look forward to hearing from you and you working with us and Crediton Town Council to make Crediton the first #Inclusive Town."
Crediton Mayor, Cllr Frank Letch, said: "I am delighted that the members of The Turning Tides Project have taken on the challenges of helping the town council maintain a number of its assets.
"The town council is so pleased to join up with a wonderful group of workers who help shine a light on people who are often overlooked or left in the dark."
Crediton Town Council said it is delighted to see what the future holds, and is incredibly proud to be able to facilitate this new way of working.
Comments
To leave a comment you need to create an account. |
All comments 0