Sylvia remembered for her love of the countryside and Crediton area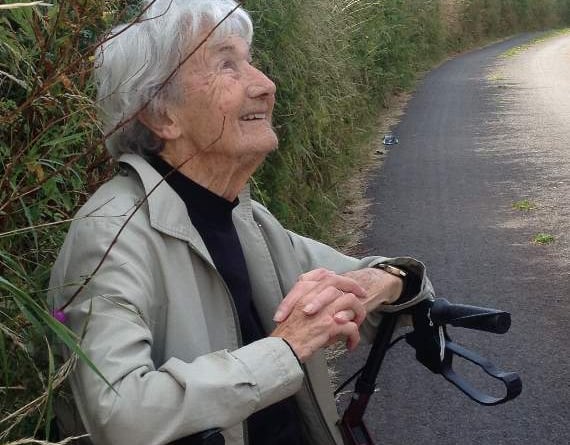 Sylvia Frieberger enjoying her passion for the countryside.
Subscribe newsletter
Subscribe to our email and get updates right in your inbox.
PROBABLY among the last Kirtonians of her generation, Sylvia Freiberger was born in the town in 1925. She died last month and asked for a family-only funeral service, which was held at the Exeter and Devon Crematorium.
Sylvia was the youngest of the eight children of Bertha Madge and Henry Wheeler, who had come from Sidford.
The family lived at No 1 Tolleys behind the Star public house off Mill Street, later moving to the first house in Courtis Gardens.
Sylvia went to Hayward's School, where pupils would stay for the whole of their education. She was an active member of the Girl Guides.
At the age of 14 she started work in Cudmores newsagents, the cinema shop, on East Street. During the war she worked on Crediton railway station, the only female member of staff. Photographs of those days are on show in the Station Tea Rooms.
Sylvia's daughter, Hanna, says her mother had many memories of those days including dropping fish (accidentally) over the railway line and pushing elephants!
While working at the station, Sylvia met and fell in love with German Prisoner of War, Hans Freiberger who was stationed at Trobridge House near Crediton, working for Farmer Pope of Venny Tedburn.
They married in 1948 at Tiverton Register office, holding their reception at the Royal Clarence Hotel, Exeter.
Their first home was Franklin Cottage in Oldridge Woods, then moving to Town Cottage, East Worlington where Hans worked for Farmer Smythe.
Hanna was born there, an idyllic life for Sylvia but Hans was terribly homesick, missing his five siblings and his job with the Post Office. Eventually they moved to Bavaria, Sylvia leaving her beloved England and family.
After a few moves, they settled in a Post Office rented flat in Wuerzburg, Sylvia finding it difficult to get used to the post-war German life. Daughter Loraine was born there but as Sylvia was so homesick, she and Hans left the two girls with Hans' sisters for a trip to England.
Sylvia was not really happy in Germany even though she had mastered the German language, she could not get used to being a German "Hausfrauî and finally, in 1962, she returned "home" to Crediton with her two daughters.
Here she found work with Mrs Friend Snr of Eastacott Farm, living in a tied cottage.
For extra money she took in homework tying knots in parachutes for Heathcoats, taking the bundles home on her bicycle.
Later she worked for Barclay Todd of H B Todd and Son, then for several years for John Gillard Snr at J Hoskin and Co where she was an invoice clerk.
During all this time Sylvia persevered learning to drive and, after seven attempts, passed at the age of 43.
Her happiest years were living in the country at Eastacott where she was passionate about her vegetable garden, walking and the environment. She joined Friends of the Earth, trying to recruit others in vain.
After 28 years, Sylvia moved into Crediton above Packer and Son butcher shop where Loraine was then married to Ian and where Sylvia was able to display her oil paintings during "Art Week".
She also started the Crediton walking group, now Creedy Walkers, with June Chudley and the late Jack Osborne.
Her main aim was to show people the countryside on the doorstep, like-minded people, who loved nature as she did.
Sylvia loved the area and wanted people to get to know the countryside around them, one of the reasons for starting the walking group. She had leaflets printed detailing different walks.
With the help of Gill Ponsford, Sylvia and Loraine arranged for the first bottle bank to go on Market Street car park, recycling being another of her passions.
There was one walk where she found young trees had been planted but the securing wire was cutting into them stunting their growth so she cut them free and they are now sturdy mature trees.
At that time she was also involved with the Civic Society, together with Patrick Collier and the late Sheila Tucker and the late David Tonkin.
In 1990, helped by Les Berry, a very dear friend also of Hans, Sylvia moved to her little bungalow on Lennard Road where, unbeknown to most people, she still grew her vegetables among the flowers until her late 80s.
To get into the country, she drove daily, sometimes twice to Shobrooke where she walked the footpaths. She would often take elderly friends on trips to Dartmoor and Exmoor, her favourite place in the world, especially at "heather time" in her little green Morris Minor.
She spent a lot of time with her beloved grandchildren - Anthony, Karly and Maria, and was so proud of their different achievements. When her great granddaughter Erin arrived, Sylvia was overjoyed.
Sadly her eyesight began failing due to macular degeneration and restricted her passion of doing cryptic crosswords.
At the age of 90 she was knocked down by a child while waiting at a bus stop, breaking her hip, which saw the start of her bad health, followed seven months later by a stroke which left her feeling frustrated with life and people.
An independent and kind lady, Sylvia was willing to give and share anything, but not in death. Her wish was to have no funeral and no mourners, only her immediate family.
She was the last of the Wheeler clan and leaves 13 nephews and nieces in this country and three in Germany. Hans had died in 1986.
With thanks to Hanna Winslet
Comments
To leave a comment you need to create an account. |
All comments 0