Suicide tragedy to feature in Crediton World War One drama
By 
Alan Quick
  |   Editorial Manager/Photojournalist   |
Sunday 7th October 2018 9:55 am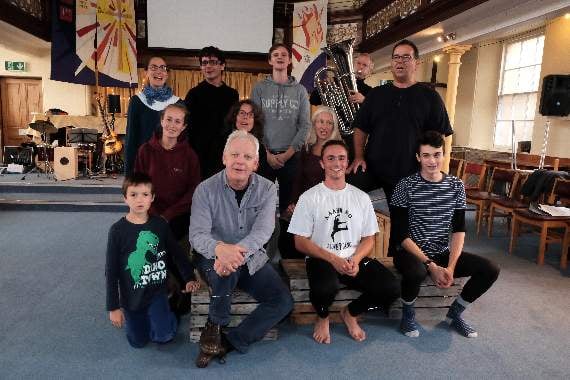 The principal characters in 'Echoes of War' during rehearsals this week. Photos: Richard Burston.
Subscribe newsletter
Subscribe to our email and get updates right in your inbox.
A YOUNG father from Shobrooke, who took his own life after being injured at the Front, will feature in "Echoes of Wartime" next week, a theatre production commemorating the end of the First World War.
Stephen Dimes went to fight in France in 1916, but after being badly injured was sent to a hospital in Kent to recuperate. A month later he went for a walk and his body was found in a railway tunnel nearby.
"It seems that Stephen became very depressed and took his own life rather than be sent back to the Front," explained Mary Stephenson, local writer who did much of the research for the project.
"Stephen was an architect, married with a three-year-old son, when he signed up to fight," explained Mary, who read diaries, letters and newspaper articles in both Crediton and Fulda, to gather stories about ordinary people's lives during the war.
"It's believed that he was injured twice in the war, so it's not surprising he was reluctant to return to the Front. He left several farewell letters."
Stephen's burial on April 17, 1918, in Shobrooke churchyard, is recorded in the parish register but as a suicide he was left off the Shobrooke War Memorial.
Thanks to a campaign to restore his reputation led by local historian, the late Len Dahlin, Stephen's name was added to the War Memorial in 2014.
"Echoes of Wartime", which will include drama, dance and music, marks the culmination of three-years' collaboration between the Devon-based theatre company Common Players and two companies from Fulda, Freies Theater and Theater Mittendrin.
Other local characters in the show include suffragette Amy Montague, who lost two sons in the war, 14 year-old Charles Ware, who pretended he was 18 in order to enlist and the Rev Worthington Jukes of Shobrooke.
The Fulda characters include Joseph Vondereau, founder of Fulda's museum, his wife Josephine and their son Robert. Also featured is Margarete Grippentrog, a young teacher who campaigned for women's rights, set up a girls' class in Fulda school and went on to became one of the first women to have a voice in German politics.
"It was extraordinary how similar the stories from Crediton and Fulda were, how interchangeable they were, even though these people were confronting each other as enemies," explained Jessica Stukenberg, who plays Josephine Vonderau.
With a chorus of students from QE Academy, the show will also feature original music, composed by Theater Mittendrin's Christoph Gottwald.
The German actors spent a week in Crediton in August, devising the show with their English colleagues. They returned on October 1 for 10 days of intensive rehearsals.
"We hope that our piece respectfully commemorates the difficult times we shared 100 years ago, and that we have found a theatre language that can be understood by English and German speakers," said Artistic Director Anthony Richards.
"Echoes of Wartime" will be staged in Crediton Congregational Church from October 11 to 13, and then in Fulda on October 19 and 20.
More details can be found at: www. echoesofwartime.com .
Comments
To leave a comment you need to create an account. |
All comments 0