Residents fed-up with water leak that no-one wants to take responsibility for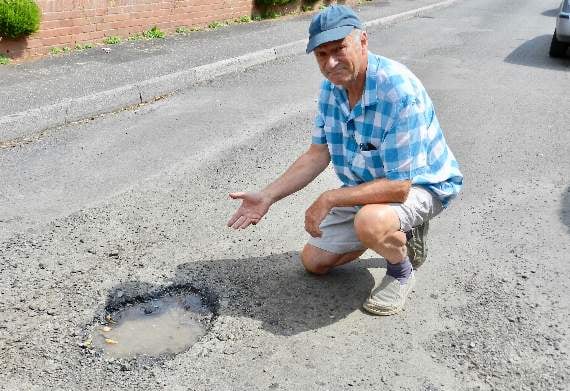 Okefield Road resident, Mike Turnbull beside the pothole. NP 260721 02
Subscribe newsletter
Subscribe to our email and get updates right in your inbox.
RESIDENTS in Okefield Road, Crediton have been complaining about a water leak underneath the road for nearly two years.
Mike Turnbull told the Courier: "I first reported water leaking up from under Okefield Road to South West Water (SWW) on September 5, 2019. The problem has been regularly reported to SWW since then by myself and by other neighbours.
"On May 20/21, 2020 the SWW waste water team checked and cleared roots out of sewers, but the problem continued.
"The SWW clean water team dug a hole on August 16, 2020, but couldn't find a leak and the problem continued. The road surface started to deteriorate."
Another resident, Dennis Mardon, told the Courier: "There is constant creeping of water up onto the road from a mains water pipe underneath.
"This was first reported to the Devon Highways and to South West Water about 18 months to two years ago and after doing some exploratory work SWW determined there was no issue and would not be taking any further action.
"Since this first happened there is an obvious deterioration to the road surface with a large pothole and several other cracks appearing.
"If action is not taken soon it will create a major repair job and considerable problems for residents living down the road, which is a cul-de-sac."
In June, 2021 another resident reported the problem to Devon Highways, who replied by email with the response: "site visit 17/06/2021 no wet or defect found."
Mike added: "No-one wants to take responsibility for the water leak.
"On July 19, SWW said: 'It's not our problem'".
"On July 21, I phoned Devon County Councillor, Frank Letch and the 'Crediton Courier' in the hope of a solution."
Devon County Councillor Frank Letch contacted SWW on behalf of the residents in Okefield Road.
Cllr Letch said: "I'm a little bit put out that no-one from South West Water has got back to me especially as I was fearing that it was sewage leaking up through the road. Even if it is clean water it still shouldn't be leaking.
"If they had got back to me I would have asked them why, when we are paying out a lot of extra money, are SWW not doing anything about it?"
A SWW spokesperson told the Courier: "We received reports of possible water leaks on Okefield Road in Crediton in 2019 and attended on three occasions, but were unable to locate any issues on our network.
"We have recently received a new report of a potential leak in the area which our operators will be investigating tomorrow (Wednesday 4 August) so any problems with our assets can be resolved. 
"If any of our customers spot a leak, no matter how big or small, we urge them to  call our free leak helpline on 0800 230 0561 – 24 hours a day."
Comments
To leave a comment you need to create an account. |
All comments 0