Letter: Why is Crediton United AFC treated as if it doesn't exist in Lidl conversations?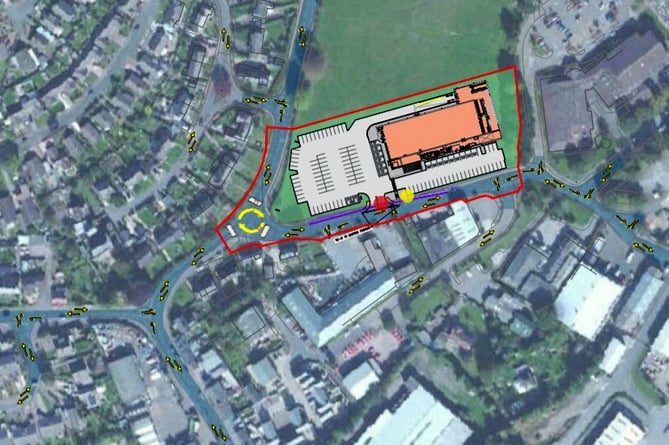 A map of where the proposed Lidl store would be located if approved. Image courtesy of One Design Architects
(One Design Architects )
Subscribe newsletter
Subscribe to our email and get updates right in your inbox.
WHY are we, Crediton United AFC, treated as if we don't exist?  Why are we very rarely mentioned in talks about Lidl possibly coming to Crediton?
I have said before, we (Crediton AFC) are highly regarded in football terms with a pitch second to none, a very good youth set-up that is growing, with its own committee so I do get upset when it is as though Crediton United is not there, not even a meeting with Lidl or any mention of funding.
As I have said in the past, the Club has three Senior teams, 14 Youth and hundreds of parents.  We are all affected by the "shock" news in the "Courier" of April 21 about the proposed Lidl store.
While I have the utmost respect for Crediton Rugby Club, why should that get £400,000 when The Rec belongs to Queen Elizabeth Education Foundation, if I am correctly informed and Crediton United who have a very busy youth section, First Team, Second Team and a Ladies Team, don't we count for anything..?
We have all got two legs, arms and hearts and we all go shopping but it seems in the eyes of Lidl and the Mid Devon District Council planners, we don't count.
We might not use The Rec very often for matches, but it is much appreciated for parking when we have our big tournaments and youth tournaments.
I have been raising money for Crediton United AFC for more than 20 years, we would like to have our own clubhouse on our pitch - if we had half of what is being talked about for The Rec, it could have the Lidl logo.
I shall be watching developments with interest, please think about it.  Our football club is just as important.
A cash donation would be appreciated but I won't hold my breath.
President Crediton United FC
Comments
To leave a comment you need to create an account. |
All comments 0