Possible rationalisation of QE School campus sites revealed in consultation documents
By 
Alan Quick
  |   Editorial Manager/Photojournalist   |
Friday 5th November 2021 7:30 am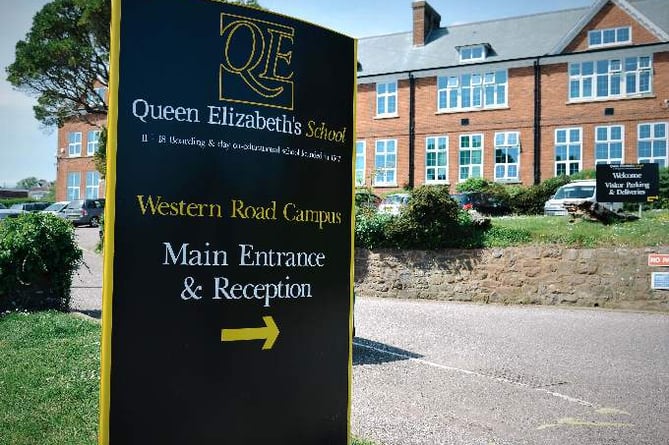 The possible rationalisation of some QE School sites in Crediton is revealed in a Mid Devon District Council consultation.
Subscribe newsletter
Subscribe to our email and get updates right in your inbox.
MID Devon District Council has launched a public consultation on recommendations for the provision of playing pitch facilities for the district - and the documents make interesting reading, notably about sporting facilities in the Crediton area and the possible rationalisation of campuses by Crediton's Queen Elizabeth's School.
The documents suggest that QE School is interested in the disposal of some sites and pitches for housing and development, possibly concentrating in the future on the Barnfield campus.
Rupert Poole, principal, QE School, told the "Courier": "Staff from Queen Elizabeth's School and Ted Wragg Trust are developing exciting proposals that will greatly improve the school buildings and facilities.
"We are in the very early stages and an essential element is to get the school, and Crediton, the modern sports facilities it deserves.
"The Mid Devon 'new playing pitch strategy' reflects these ambitions.
"Of course significant investment is required and as soon as we have clarity on that local sports clubs, community groups and all interested parties will be involved in developing these plans.
"We are very excited by the possibilities and are working hard with Devon and the Department of Education to enable the proposals to go ahead and improve the facilities for Crediton."
In Crediton the documents also look at the future use of the Exhibition Road Playing Fields (The Rec), Lords Meadow sports pitches, Lords Meadow Leisure Centre, Football Club facilities, Crediton Rugby Club facilities and Crediton Bowling Club.
In Sandford Parish the document looks at the Creedy Bridge proposals, and further afield Bow Playing Field, Burston Meadow at Bow, David Pullen Recreation Ground at Copplestone, Lapford AFC Sports Field, Morchard Bishop Sports Club, Newton St Cyres Recreation Ground, Sandford Cricket Club, Sandford Recreation Ground, Shobrooke Park Cricket Club, facilities at the Waie Inn, Zeal Monachorum, Yeoford Recreation Ground and provision for rugby at Pedlarspool, Crediton.
Additional printed copies are available for inspection at local libraries and in the main reception at the Council's Phoenix House Office, Phoenix Lane, Tiverton, subject to opening hours.
The technical document has been prepared following Sport England's guidance, and is supported by representatives from the national sports governing bodies and Sport England.
Mid Devon District Council says that the assessment of facilities and future needs have been informed through engagement with local sports clubs, schools and Town and Parish Councils.
Following the consultation, the Playing Pitch Strategy will be used by MDDC to help inform the preparation of a new Local Plan for Mid Devon and will be capable of being used to help guide planning applications submitted to the Council for determination and the decisions made on these.
It will also be capable of being used by the Council in the preparation of other plans, programmes and strategies, and by the sports community in Mid Devon to help inform investment decisions and applications for grant funding.
Councillor Richard Chesterton, MDDC Cabinet Member for Planning and Economic Regeneration said: "The completion of the Playing Pitch Strategy is an important step forward in helping us understand the need for improved provision of sports facilities across the district for our communities.
"It will be used to inform the preparation of a new Local Plan and in guiding decisions on relevant planning applications.
"There is now an opportunity for comments to be made on the Playing Pitch Strategy before it is finalised and endorsed by the Council as a technical document."
Comments on the Playing Pitch Strategy must be sent to Mid Devon District Council by 12 noon on Monday, November 22, 2021.
To comment by post, use: Playing Pitch Strategy, Tristan Peat, Forward Planning Team Leader, Mid Devon District Council, Phoenix House, Phoenix Lane, Tiverton, EX16 6SA
• What do you think of QE School's possible rationalisations? What sporting facilities would you like to see in the Crediton area or across Mid Devon?
Write a letter with your views to: The Editorial Manager, Crediton Courier, 102 High Street, Crediton EX17 3LF.
Please include your name and address, and please ask if this is not for publication.
Comments
To leave a comment you need to create an account. |
All comments 0