Crediton Hamlets dismay at 'shoddy workmanship' to ancient bridge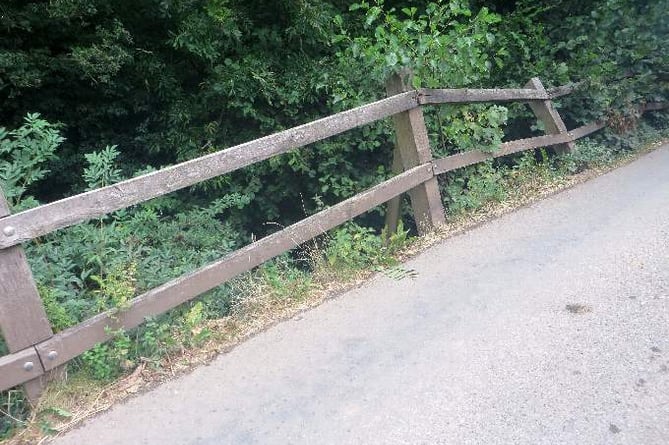 The once upright bridge side leaning unsupported. SR 0228
Subscribe newsletter
Subscribe to our email and get updates right in your inbox.
Members agreed the repairs last month had been "terrible" and at their January meeting, held at the Boniface Centre, Crediton, they asked their Devon County Council member, Cllr Frank Letch, to see if he can sort it out.
Repairing the wooden fence-like sides of the bridge, is a problem that crops up every few years when unsuitably large vehicles use it, usually following sat nav directions.
Cllr Nick Yarnold had been keeping an eye on progress with the bridge repairs. Members agreed the wood used was "awful". It was said the road through Neopardy had been closed for 10 days, a portable toilet had been provided for the workers but "you can shake the top rail" and "the repairs are a joke" was one comment.
Councillors reported that the wood removed had been left at the side of the road and it was understood workmen had only been at the bridge for two days.
Councillors thought the bridge was listed. One member spoke about living in a Grade II listed house. "If you wanted something doing, the Conservation Officer would be crawling all over it - and then there is this work on the bridge."
Councillors wondered whether the boss of the working crew had seen the repairs. It was said there was a 20 foot drop from the bridge to the water.
Note: The British Listed Buildings website says Neopardy bridge is Grade II listed as from August 26, 1965.
Cllr Letch reported having given a total of £720 from the Locality Fund for books to the six primary schools in his area for learning about social awareness, including £120 to Yeoford School.
He also reported having judged the Yeoford Christmas lights which had been "great". Cllr Derek Coren, Mid Devon District Council member, added that the lights had been a good idea and the organisers deserved "a pat on the back".
Cllr Coren reported a planning application in Hittisleigh parish to convert barns to a house was causing some concern with 27 emails of objection having been sent to the district council.
Councillors felt that the district council had been dragging its feet over a planning application from South West Game Birds for a mobile home near Keymelford.
The council agreed to support an application from Mr R Dunn to convert a store to living accommodation and demolish a log store and part of a garage at Orchard View, Gunstone.
It noted that the district council had granted conditional permission to fell an oak tree and a spruce within a Conservation Area at Rose Cottage, Yeoford for Mr S Brooking.
It also noted that the district council had approved the prior approval with conditions for prior notification of change of use of an agricultural building to two dwellings at Cabbage Moor, Crediton for Mrs H Putt and Mrs C Rowe.
It was also noted that the district council had granted a Certificate of Lawful Use to build a side and rear extension following demolition of the existing conservatory at 6 The Oaks, Yeoford for Mr S Beard.
When councillors began looking at the precept request for the coming financial year, Cllr Tony Price remarked: "We do not know where inflation is going and if we do not increase we could be getting behind."
A three per cent increase would represent a four pence increase on the Band D council tax it was said. Members agreed to three per cent.
Looking at a request for a grant from Citizens Advice Torridge, North, Mid and West Devon, councillors said if this was granted they would want the money to be spent in this area.
They noted that between April and September last year, Citizens Advice had supported 10 clients from the parish with advice and information on 19 individual issues. The council resolved to make a grant of £150 so long as it was put towards provision of extra support for people living in and around Crediton.
Councillors turned down a request for a grant from the Church Housing Action Team because they did not have enough information about it.
Cllr Vigers reported receiving complaints about a footpath from Venny Tedburn to Posbury Church where there was now a padlocked gate, new fencing and people had difficulty in negotiating a cattle grid.
It was understood the land was owned by three different people and where there used to be free access, it was now barred. The council agreed to check with the Public Rights of Way office.
Cllr David Parker reported that big lorries were using a road through Hookway that was not suitable for large vehicles. Signs advising hgvs not to use that road and "Twenty's Plenty" were requested.
Cllr Yarnold reported having been contacted by a Yeoford resident about recent flooding at the Chapel, making the road impassable for cars.
The person was angry because this has been a problem for years but the county council appeared not to have done anything to prevent it.
Councillors said that drain rods were no longer used by the county council crews, so the drains were no longer properly cleared.
Talking about other blocked drains, the council had previously been told by the county council Highways Officer that county was only responsible for clearing road drain grids in tarmac and all other clearing of ditches, gullies etc was the responsibility of the owner of the adjoining land, even when there was a hedge or fence between that land and the road.
Councillors also commented that as the county council neglects many roads and does not keep road drain grids clear, the situation was made impossible for adjoining landowners. This was because their land and ditches flood or block up with silt because the road drains in the tarmac were blocked.
They said that when contacted by parishioners about such problems, they aways report these to the county council, but nothing is done and people think the parish councillors have not done anything.
They said people pay their council tax but do not receive an acceptable service on roads from the county council. Cllr Letch was asked to explain this to county and see if communication and the standard of service could be improved.
Next meeting of the parish council will be February 7 at Yeoford Community Hall, March 7 in the Boniface Centre at Crediton and April 4 back in Yeoford. The May meeting would be on Tuesday, May 3 because of the Bank Holiday and it would be in Crediton.
BRIDGE WORK WAS TEMPORARY
A week after the council meeting, Devon County Council's East Area Structures Inspector, Tom Olive, wrote to Cllr Yarnold to say that DCC had not been able to source the desired timber for the full repairs and so a temporary repair was done so that the road could be opened and to prevent there being a sheer drop from the road to the river.
He confirmed the bridge was Grade Two listed, so repairs had to be like-for-like. While waiting to source new oak rails for the parapets, the county council was also waiting for listed building consent having applied for this before Christmas and was now waiting on Mid Devon District Council to reply to confirm the information needed.
The inspector added that although the temporary repair was not ideal, it was the best that could be done due to consents, material shortages etc and the county council endeavours to complete the full repair as soon as practicably possible.
Comments
To leave a comment you need to create an account. |
All comments 0