Crediton antique shop selling unique historical book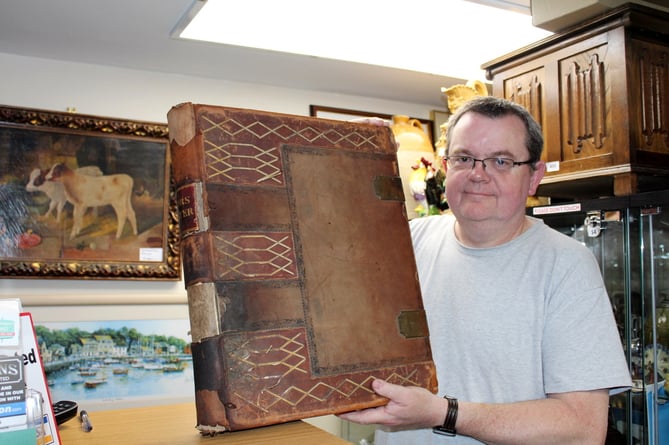 Richard Platts holds the big Debtor's Register from the 1800s. SR 5674
Subscribe newsletter
Subscribe to our email and get updates right in your inbox.
A FASCINATING look from a time when it was worth taking someone to court for owing one pound and a few pennies is given in a leather-bound Debtor's Register that is in an on-line auction ending this weekend.
The book is about the size of a tabloid newspaper but maybe two inches thick with beautiful brass clasps at the side. 
"You can imagine a Scrooge-type person at a desk writing all these entries by hand.  It is all in such straight lines they must have used a guide of some sort," said Richard Platts who runs Mid Devon Auctions Limited with his wife Ayesha from their antique shop in Crediton High Street. 
"It seems to be entries for County Courts all over Devon and Cornwall.  The people are described, some as being pockmarked or we found one with lower front teeth missing.
"People could be sent to prison for owing what today are quite small sums.  For instance there was a needlewoman who was sent to prison for 20 days for owing £1.10 shillings.1d, that would be £1.50p today," said Richard. 
Among the debtors were a lot of tin miners as well as match makers, labourers, carpenters, shoe makers, charwomen, widows with children, blacksmiths, stonemasons, a person from Crediton who was given 15 days in prison for not paying a debt and a naval Lieutenant who owed £54 and got 15 days in prison at Falmouth.  
Entries begin in 1833 and go on for a number of years.   With the number of widows, we wondered if wars had left them with no support.  It is a book with lots of historical interest.
The auction began on July 30 and ends on August 7.  The book can be seen at Mid Devon Auctions' shop at 124 High Street.  
There is also a two-gallon stone jar with the name J Badcock Wine and Spirits, Crediton on it.  It is extremely heavy. 
Comments
To leave a comment you need to create an account. |
All comments 0