Well the 2023 season exceeded all expectations, with the Firsts winning the Premier Division title for the first time since 2004, and the Thirds winning H Division East, as well as it being the first season the Club played two games at home on the same day, with the new second ground in operation.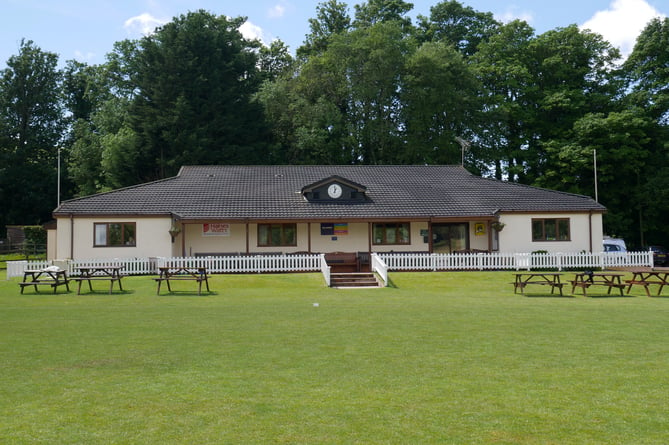 Sandford Cricket Pavilion.
(Sandford Cricket Club)
Unfortunately, the good news was slightly offset by the Seconds being relegated back to one of the C Divisions next season, after struggling to hold their place in that higher Division. More of that later.
The Firsts took the Premier Division title by a remarkable 36 points, and only losing two matches all season, including one of them being the first match they played.   
The team was superbly led by Jackson Thompson, who had taken over the captaincy from Richard Foan. Richard left the Club at the end of 2022 to emigrate to Australia with his young family.
A number of new signings appeared to strengthen the team on paper, but no game is won on paper. However, one of the major signings was that of our Overseas player Dikshu Negi from India.
He was to play such a pivotal role in Sandford claiming their first Premier Division title for nearly two decades.
Dikshu, to say the least, was a class act. He finished not only as the top batsman and bowler of Sandford's averages, but also the League's averages in both categories.
Batting wise he averaged 74.60 runs per innings, with a total of 746 runs from 16 innings, including six not outs.
He was the Firsts only centurion with a knock of 104 not out. Bowling wise he had the remarkable average of only 9.21 – claiming 43 wickets at a cost of only 396 runs from 120 overs.
With figures like these he was duly voted as the First XI Player of the Year at the Club's end of season awards evening.
Unfortunately he will not be returning to Sandford next season as he has had an unbelievable offer for 2024 from a Club who play in the Greater Manchester League. He will be missed, but hopefully a suitable replacement can be found for next year.
One player doesn't necessarily make a team, and as such Lawrence Walker, who has been with the Club for a couple of years now, also did very well with the bat, averaging 58.80, and Harrison Jones did his bit with an average of 35.00.
Lawrence was a regular in the Devon U18s side last year, and even had a runout in the full Devon Development team as a reward for his good work, along with Jack Ford who finished as the second highest wicket taker, notching 23 victims at an average of 19.43.
James Theedom (16), who joined the Somerset County Academy at the end of the 2022 season, also featured well in the Firsts, averaging 21.00 with the bat and 17.50 with the ball. A great prospect for the future, and he's "one of our own" having come through the Sandford Colts system, and continuing the Theedom family name within the Club, following in the footsteps of father Matt and Grandfather Chris.
The Second XI, in the B Division, got off to a rocky start when they had to play two of the strongest teams in their Division.
Then an incredible run of four victories in five matches saw them move up to fourth in the league. 
Eventually though the toll of unavailabilities in personnel, together with playing many Clubs First XIs, invariably with overseas players, who tended to influence many of their games, eventually saw the Seconds finish bottom of the League. This means a return to one of the C Divisions for 2024 – as yet unsure whether it will be East or West – hopefully the East!
At least this should mean they will remain more competitive, as it is probably fair to say, promotion in 2022 was somewhat unexpected. 
As well as playing in the Firsts, James Theedom finished top of the Seconds, batting averages with an average of 33.00, followed closely by another player who ended the season in the Firsts, Ciaran Gray, with an average of 27.00, followed by local lad Archie Osborne with 24.09.
The bowling honours were taken by Shaun Hawkins who dominated the wicket taking by claiming 27 victims at an average of 15.33. Shaun was also voted as the Second XI Player of the Year.
The Thirds had a remarkable season remaining undefeated until the very last game of the season, by which time they were more-or-less "nailed on" as H Division East champions. 
Although Matt Theedom was technically in charge of this team, he tended to take a more administrative role, and in fact ended up umpiring most of the Thirds games. In the circumstances Alex Stevens was left holding the reins, and to say the least, led from the front.
The Thirds notched up some big totals and cruised to easy victories in most of their games.
There were three centuries throughout the season from Jono Hawley 114, Jon James 126, and Alex Stevens 110, as well as 95 not out from Jon's son Jack, another 16 year-old.
Joe Hopkins (15), finished top of the Thirds averages, having scored 172 runs in only four innings, including two not outs, for an average of 86.00. This form saw him promoted to the Seconds early in the season, where he held his place and ended up doing a good job in difficult circumstances. His overall efforts eventually saw him being picked for Devon U15s to cap a good season personally for him. Another good prospect for the future.
Bowling wise the honours were taken by Emily Wilson with 16 wickets, at an average of only 7.13. Two other girls also featured in the Thirds averages, Ellie Bishop with a batting average of 44.80 and a bowling average of 12.00, and Jemima Vereker with a bowling average of 14.00. 
All three girls played major roles in the Thirds success, and it was good to see they could more-than-hold-their-own in what is allegedly "Mens" cricket.
Both Ellie and Jemima were also part of the Devon Ladies U18s side that finished as Runners-Up in the National County Cup competition.
Alex Stevens was voted in as Third XI Player of the Year, a well-deserved reward for his efforts throughout the season.
The Club's Presentation Evening to celebrate this past season's successes was held at Fingle Glen on Saturday, October 21. This event had been organised by Brian Leach, and a great night was had by all who attended.
Other awards presented on the night included: 
Young Player of the Year – Lawrence Walker who is spending his winter playing cricket, and probably enjoying himself, in Australia; 
Most Improved Player – Joe Hopkins; 
Fielder of the Year – Adam Small; 
Outstanding Achievement Award – First XI for winning the Premier Division 
and finally the Chairman's Clubman of the Year – Brian Leach for his efforts in keeping Sandford CC at the forefront of social media on Instagram and Facebook, as well as organising the End of Season Presentation Evening. 
It is hoped that in 2024 the Women's team may be resurrected.
After more than 20 years this team unfortunately folded following the end of the 2021 season, mainly due to a number of players leaving, and the person running the team having to move away from the area.
Jane White who used to run the team, is keen to re-start this team, and with a number of people already showing interest, the Club is very hopeful a new Women's team can find enough players to re-form. If anyone is interested please contact me - Phil Matten on 07970 157557, and I'll pass the message on to Jane.
As usual there are too many volunteers to mention individually who help the Club run smoothly. On match days our scorers – Alan Carbert, Louise James and Keith Hopkins need a special mention.
Our various tea ladies also do a wonderful job, and a special thanks goes to Nicky Radnor who undertook the role to provide teas for all of the games when there were two matches at home on any given Saturday, as well as providing lunches and teas on days when Crediton Rugby Club and Sandford Football Club sponsored games.
Chris Theedom has just completed 50 - yes 50 – years as head groundsman.
This needs a special mention, and so does Simon Saunders who has taken on the role of preparing the new second pitch, aided by Matt Theedom. Chris has a gang of old codgers who all have their own individual duties at the ground helping to keep the ground in good order, and helping to get everything looking perfect on matchdays.
Finally my own daughter, Stacey Collins, who has been the Bar Manager for the past three years or so, in updating our bar and arranging staff to run it on matchdays, as well as other occasions.
Although she is now passing on this role to Louise James, her input on the committee has been invaluable, and leaves the job in good order, with a very capable new Bar Manager taking over.
The Club's Community League competition saw the Three Little Pigs win it for the first time, with interest in it increasing year-on-year. Congratulations to them, as they were the only team who had played in it since its inception, but had never actually won the Barrie Sparham OBE Memorial Trophy since the competition was first started. 
The Club's Youth programme reached new heights in 2023, with 100 All Stars (five-to-eight year olds) signing up, as well as even more nine-to-15 years taking active part in training nights and games.
The Club's endeavours over the years to place a lot of importance on the youth is starting to pay off, with many of last season's Third XI being under 18s, as well as many of the Seconds either being of similar age, or having come through the system in the past.
It augers well for the future with a production line of both boys and girls looking to keep the Club stocked with players going forward. Quite a few were also picked for various Devon age group teams ranging from U11s to U18s.
And so we look forward to 2024. No definitive news of new players yet, but we are aware of a few players leaving due to various circumstances. These include our three Exeter University students who have now finished their courses and moved back to their homes, a couple of retirements, and one for family reasons together with taking up a new position with the Club he originally came from. 
Thanks to them all for their efforts, not only for last season, but in previous years as well. The Club hopefully looks forward to catching up with them again at some point in the future. 
Finally thanks to everyone who came out to Creedy Park to support all of our teams. We look forward to seeing you again next season. In the meantime winter well and take care.