Thanks extended to those who made Crediton Christmas Lights Switch On such a success
By 
Alan Quick
  |   Editorial Manager/Photojournalist   |
Thursday 16th January 2020 2:19 pm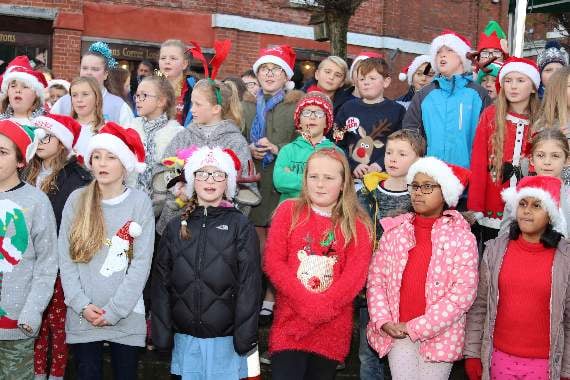 Singers from both Landscore and Hayward's Primary School, who sang Christmas songs. AQ 5911
Subscribe newsletter
Subscribe to our email and get updates right in your inbox.
CREDITON'S Christmas mini-parade and Lights Switch-On, held on Saturday, November 23, was hailed as not only a resounding success but also "the best yet".
It saw hundreds of people attend the event, everyone taking part in the countdown for the grand Lights Switch-On ceremony for the big Christmas tree in Crediton's Town Square.
The lights were switched on by Children's Mask competition winners, Finn Cereda (5), from Beech Park and Maisy Suckley (10), from Saxon Close.
Spectacular fireworks made the crowd wow as they went off after the grand tree lights and others around the Town Square came on.
Dozens of children took part in the Children's Mask competition, to follow the theme of "Maskerade", which was judged by Rev Matthew Tregenza, Rev Ann Varker and Teresa Rodrigues.
The Mini Parade included musicians, lanterns made by children assisted by Crediton Arts Centre, Crediton Scouts and other organisations and individuals.
It included Crediton Scouts leading a "Batmobile", the Exeter Street Band, children from local schools and nurseries, most of the mask competitors and the Crediton Guides and Brownies carrying arches. The Town Crier, Kevin Payne also walked in the parade.
Lights on trees on shop fronts and businesses and the cross-street decorations were lit, as well as the lights in the trees at St Lawrence Green.
Prior to the Grand Lights Switch-On in Crediton's Town Square, there was a programme of entertainment which included singing by the joint choirs from Hayward's and Landscore Primary Schools and performances by Exeter Street Band, Otter Morris and The Turning Tides Band.
Father Christmas appeared at a window at the Three Little Pigs, after some searching and the popular Land Train took hundreds of children and parents for rides.
The Chamber of Commerce Traders Race went well and there were food and drink stalls on the Square and a number of shops and businesses stayed open late.
The weather remained fine for the event.
More than 135 trees and stars decorated shop and business fronts and others in the Town Square, at St Lawrence Green and three cross-street decorations were lit and many people commented how good the town looked.
Mid Devon District Council kindly agreed to free parking all day at the High Street (St Saviour's Way) car park for the event.
Local band La Juega provided entertainment in the Square until 6pm.
Sponsors were Crediton Town Council, Crediton Dairy, Create Storage, Hedgerow Print.
Event Organiser was Clare Dalley with Jo Ward, Lights Switch-On Director.
Electricity from a "green" provider for the lights on the main tree was generously provided by The Green House.
Crediton firefighters attended with a fire engine.
Crediton Town Council has extended a huge "thank you" to everyone that took part or helped with this year's event.
Crediton Town Clerk, Mrs Dalley, said the event had been "the best yet".
She added: "I would like to thank everyone involved in organising or helping to make the event a success, as well as all those who came along to enjoy it.
"It still amazes me how much the community come together and it makes me extremely proud to call myself Crediton Town Clerk.
"I would also like to thank the following: Crediton Dairy, Create Storage, Hedgerow Print, High Street Traders, Crediton Town Council, Crediton Arts Centre, Crediton Boniface Rotary, Scouts/Cubs/Beavers, Crediton Guides/Brownies, Jo and Philip Ward, Steph Jones, Crediton Lions, Hayward's School, Landscore School, Pippins Pre-School, Sunflower Day Nursery, Tesco and Tesco staff, Turning Tides Project, All Marshals and Stewards, Crediton Courier, Methodist Church, Crediton Coffee Company, Nicki Chivers, Army Cadets, Air Cadets, Local residents that volunteered and gave their time freely, David Oliver, Bert Jewell, Otter Morris, Jack and Beth Robson, Exeter Street Band, La Juega, The Greenhouse, The Mayor and Mayoress, Frank and Natalia Letch, Sammy Pleece-Drake, The Mayor's Cadet, Fire Service, Crediton Rugby Club, Rev Matthew Tregenza, Rev Ann Varker, Teresa Rodrigues, Father Christmas, Three Little Pigs, Market Café, Marion's Deli, Roger Pennington, Roger Lee, Tom Coomber and The Town Council Staff."
Liz Brookes-Hocking said: "The Switch-on event set the Christmas season off with a fizz, a sparkle and a profusion of magnificent masks.
"The afternoon's entertainment was local, enthusiastic and appreciated by the gathering crowds.
"We are a fortunate community in having so many people in the town who are willing to put in time and effort to our Christmas events and many others through the year.
"We're all looking forward to November for our next one!"
Comments
To leave a comment you need to create an account. |
All comments 0