Ramble against racism hit snag in Mid Devon
By 
Alan Quick
  |   Editorial Manager/Photojournalist   |
Friday 14th August 2020 5:30 am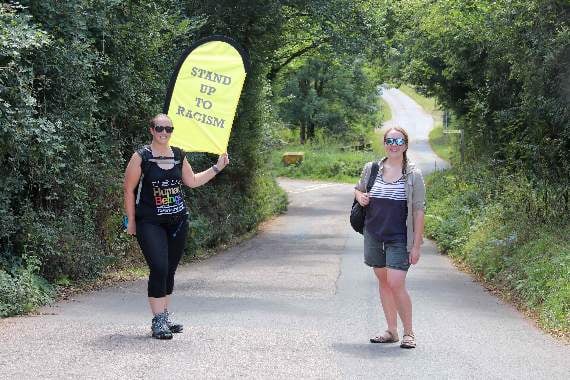 Tsara Smith, left, and friend and supporter, Madeleine Greenhalgh, walking into Colebrooke on Friday, August 7. AQ 8786
Subscribe newsletter
Subscribe to our email and get updates right in your inbox.
RAISING awareness about racism by walking 140 miles to all 24 of Mid Devon District Council's wards hit a snag for campaigner Tsara Smith this month.
Tsara has been speaking to people about racial inequality on her weekend walks and also encouraged them to take action by learning more about the subject and to donate to an anti-racist charity.
Her travels recently brought her to the Crediton area, where she received a warm welcome at Sandford from Sandford Sings, at Colebrooke where she walked with a friend and supporter, Madeleine Greenhalgh, and she particularly enjoyed the yellow fields along the millennium path to Sandford and beautiful landscape around Shobrooke Park.
Before she started her walk Tsara said: "Since the murder of George Floyd, I have opened my eyes and ears, more than ever before, to the existence of racism.
"It is not just in the USA, it is here in the UK - it is here in Devon. Systemic and individual racism is still having a devastating effect on people of colour, here and now.
"When the recent Black Lives Matter protests were taking place, I wanted to join one. But there weren't any in my area.
"Once I began thinking about it, I felt that there should be a show of support from rural communities, and that it was time to start a conversation about racial equality in a space where such conversations don't often happen, in my experience.
"So, I am going to walk through every ward of the Mid Devon district to raise awareness of racial inequality. I will walk around 140 miles (the equivalent of about five-and-a-half marathons) between July and September, passing through as many towns and villages as I can on the way."
Tsara has been carrying a "Stand up to Racism" sign and, where possible, placing a poster or two in each ward.
However, Tsara encountered some issues with her posters.
She explained this week: "The posters I put up are a playful take on a planning application, asking to 'build communities that take an active stand against racism and discrimination in all its forms'.
"They give ideas for what people can do to tackle racism in our communities and society; ideas such as reading books, listening to podcasts, sharing art, signing petitions, championing diversity at work, challenging racist language, etc.
"Apparently, some people have complained to Mid Devon District Council about these posters and enquired as to whether MDDC are involved.
"As a result, the Council's legal department have issued me with a 'cease and desist', requiring me to remove the posters and not to use the same design in future.
"According to their letter, it is 'not acceptable' for members of the public to believe that my ramble is associated or connected with the Council.
"Furthermore, in a follow-up letter, they have made mention of 'further legal action such as an injunction'."
Tsara continued: "I don't believe that anyone who reads the poster could be confused about whether it is a real planning application.
"I am extremely disappointed, firstly that anyone felt the need to complain about my posters, and secondly that the Council has decided to respond in this manner.
"It is a real shame that MDDC has chosen to actively work against a resident who is trying to do something about inequality.
"It does not seem to me to be in keeping with their Single Equality Scheme, which states: 'We value the positive contribution that all our residents bring to the district, and want to work with individuals and groups to continue to improve our services and to promote equality'.
"I have asked the Council for information on how it is promoting equality, but sadly it has not been able to give me any specific examples.
"I don't feel it would be a good use of taxpayers' money for the Council to continue to pursue legal action against me, so I will now go back to every town and village to remove the posters and I will change the design for future ones.
"I will continue to walk and campaign in Mid Devon and elsewhere – I am now planning to extend my walk to every parish of East Devon and look forward to further spreading the word about how rural communities can make a difference in the fight for equality."
Tsara hopes that her actions will inspire champions for change in each village or town she visits.
She added: "We can often think there is little we can do individually to effect change, but we have more power than we realise - starting conversations, sharing information, signing petitions, raising money, writing to our MPs, attending protests - all of this adds up. Imagine if every town and village in our little, predominantly White, county was filled with champions for change - we could achieve so much!"
Follow Tsara on Twitter at: @middevonwalker .
Look out for Tsara at Down St Mary, Coldridge, Brushford, Wembworthy and Eggesford tomorrow, Saturday, August 15.
Comments
To leave a comment you need to create an account. |
All comments 0