SO far 14 objections have been received for an outline planning application to build houses at the back of Alexandra Close, adjacent to Alexandra Way, Crediton.  
Mr D Metherell and Mrs H Makin are seeking Mid Devon District Council approval to build "circa 12 dwellings and associated works" on the site.
An area allocated for residential development, it is bounded on three sides by houses with its southern boundary being adjacent to Alexandra Close. 
The potential layout shows 10 three bedroomed houses and two four bedroomed with gardens and parking.  As per the district council policy (CRE9: Land at Alexandra Close) three would be affordable housing. 
The policy specifies housing for 15 dwellings, but a parcel of land to the south and east is in different ownership who, at present, have declined to put their land forward for development.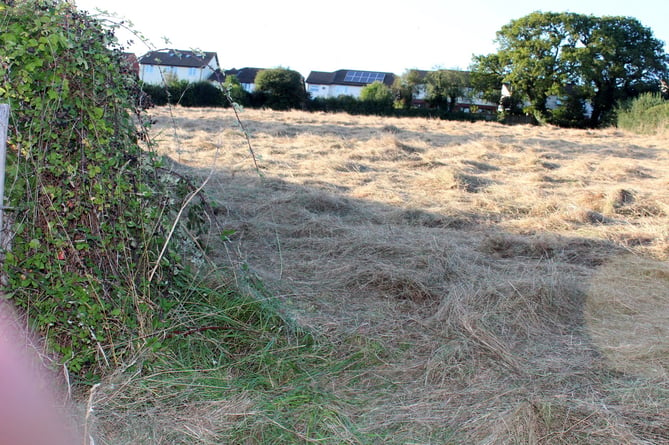 Looking over the field towards Avranches Avenue.  SR 8853
(Crediton Courier)
The district council's Arboriculture Officer said that at least five oak trees along the hedge boundary could be retained.  Although not subject to a Tree Preservation Order, they were seen as significant features providing good amenity value and a TPO "may be prudent". 
Among its observations, Crediton Town Council felt this was an overdevelopment of the site. 
Reasons among objections from people living nearby include that Crediton was already at capacity for housing, health care and traffic, it would be detrimental to wildlife in the area, the proposed three-storey house design would be out of character, and the number of houses.