Local residents 'fury' at revised Dulings Farm, Copplestone and North Tawton homes plans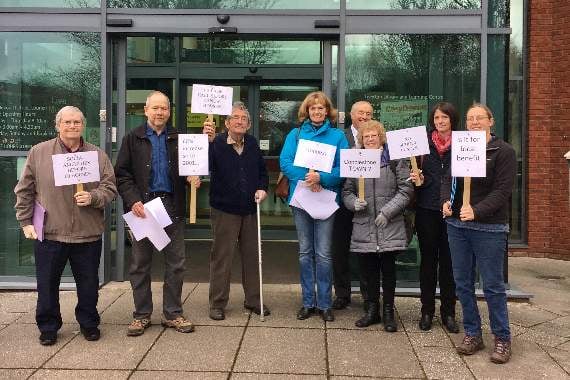 Copplestone Residents' Action Group members during their protest before the Mid Devon District Council planning meeting at Tiverton on January 4.
Subscribe newsletter
Subscribe to our email and get updates right in your inbox.
PLANNING applications to build houses at both North Tawton and Copplestone are causing concerns for local residents.
At North Tawton, Wainhomes plan is to build up to 100 more houses.
The hall was filled with concerned residents, who, during the Open Forum, certainly let the council and a single representative from Wainhomes, know how unhappy they were about the plan for further houses.
Many commented how they were extremely disappointed with the poor and shoddy workmanship of the houses in Phase One at Batheway.
In fact one resident invited everyone in the hall to an: "Open Day at my house in order for you to see for yourselves just how bad they are"!
The meeting was described by one local resident as "spirited".
BBC Radio Devon interviewed some of the residents about the poor standard of workmanship and "snagging" issues in Phase One.
A statement from Wainhomes was read out following the radio interviews with residents, which read: "Wainhomes have had some site management changes on the development which we are aware have caused a number of issues with some of our properties and the overall quality of our product, as well as the time taken to resolve matters.
"We accept that this hasn't been acceptable, nor to our normal standards across our business and on other developments.
"We are happy to meet with each of the purchasers to understand and address their issues. Our proposal going forward is to appoint one of our senior manager's to oversee the development and oversee all outstanding matters, with the assistance of our customer service team.
"We apologise for any inconvenience caused and would like to give assurance to all our purchasers that we do take their concerns seriously and will, wherever possible, address these within reasonable timeframes."
North Tawton Town Council will discuss the Wainhomes application at its next meeting on Tuesday, February 7, beginning at 7.30pm, at The Council Office, North Tawton.
It is expected that the council will decide to either support or object to the plan, however, it should be noted that West Devon Borough Council is the planning authority for the area and the ultimate decision will be made by West Devon councillors.
Also this week, there was fury in Copplestone after it was revealed that a revised outline planning application for the erection of up to 60 dwellings and means of access at land and buildings at NGR 277550 102582 (East of Dulings Farm), Copplestone, had been submitted to Mid Devon District Council.
On January 4, campaigners expressed delight after Mid Devon planners refused that same day, a similar plan for 60 homes at Dulings Farm following representations from local councillors and residents.
Issues taken into consideration included the location of the development (which falls outside the village boundary), the inadequacy of Copplestone's infrastructure, the flooding issues it would exacerbate and the negative impact to highways and education.
Also taken into consideration were policy matters, such as the proposed development's inability to fully comply with the National Planning Policy Framework and issues surrounding Mid Devon's land supply.
Following the meeting on January 4, Stuart Penny, Chairman, Copplestone Parish Council, told the "Courier": "Copplestone Parish Council is delighted with this result. It shows that communities, when working together, do have a voice and can make themselves heard."
Comments
To leave a comment you need to create an account. |
All comments 0