German visitors welcomed to Crediton to find out more about 'clever boy' St Boniface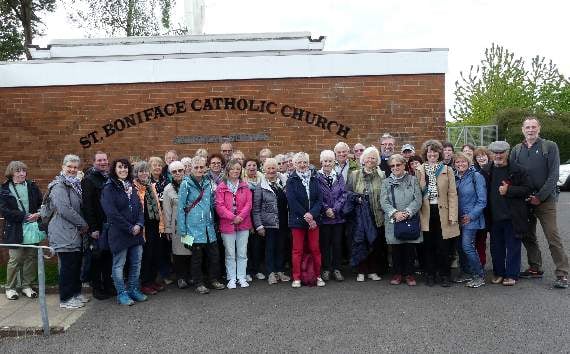 The Catholic Women's Community members from Germany during their visit to the National Shrine to St Boniface at Crediton's Roman Catholic Church. Photos: Christa Gast.
Subscribe newsletter
Subscribe to our email and get updates right in your inbox.
"BONIFACE is the greatest Briton and the first European" heard those taking part in the first joint journey of the women's communities in the pastoral area by the Catholic Women's Community from Germany.
For a week, the 42 travellers in South West England, tracked down the life of the "Apostle of the Germans", around his presumed birthplace, Crediton.
There they visited the Anglican Holy Cross Church, where the memory of the "very, very clever boy" Wynfrith is kept alive, and the St Boniface Roman Catholic Church, which houses the National Shrine - the shrine of the saint.
It was 50 years ago the Fulda Bishop Adolf Bolte had given the parish the foundation stone and relics from the Boniface Crypt in Fulda.
"At home you can now say -  I was there and saw him," beamed Deacon Lester Yeo, who was very pleased about the visit.
"Pray for the friendship between Germany and Britain."
In the next few years, the national shrine is to be restored; but many donations are still needed, Deacon Yeo explained.
Even in the small village, Nursling, where Boniface studied in the Benedictine monastery and received the ordination, the visitors were welcomed with open arms and served in the small church with coffee and cake.
"This is so common here," it was said, "and is included after each service." 
Comments
To leave a comment you need to create an account. |
All comments 0