Gas Up at Thorverton raised a good sum for Devon Air Ambulance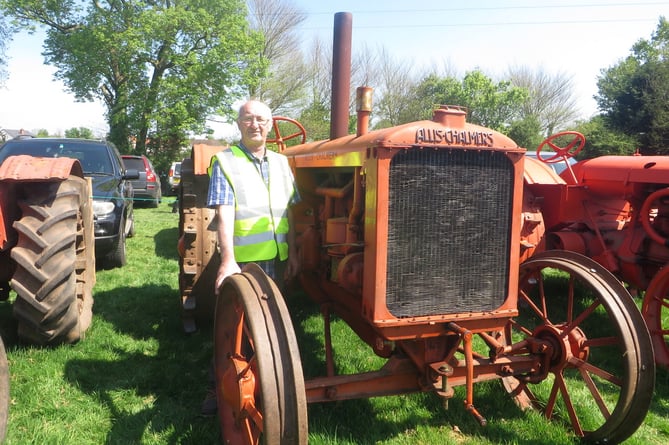 The spade lugs for the rear wheels and the metal rim on the front ones could be seen on organiser Mike Lee's Allis-Chalmers. SR 1844
(Crediton Courier )
Subscribe newsletter
Subscribe to our email and get updates right in your inbox.
IT COULD be that a record sum has been raised for Devon Air Ambulance at the Gas Up held for the 19th year at the home of the Lee family at Thorverton on May 8.
By late lunchtime more than 350 burgers and bacon baps had been handed out with almost another 100 being served after an emergency trip to the local farm shop for more.
A number of the tractors belonged to organiser Michael Lee such as his grandfather's CASE which he had new off the War Ag Lease Lend scheme.  He and his family had moved from near Shobrooke to Thorverton in 1947, Michael was born there.
The CASE had been picked up from Newton St Cyres station and travelled to the other side of Raddon Hill to go ploughing the same day.
Mike also had two big Allis-Chalmers in the row plus an Allis model B which was one of the best selling and longest-produced tractors for Allis-Chalmers.  This was a smaller version which Mike had lowered and shortened by nine inches all round.
Originally imported from Canada was his 1928 Allis-Chalmers E which was used for threshing.  Both this and Mike's CASE had spade lugs for the back wheels and smooth wheels at the front, both iron, the front having bands that were taken off for road work.
There were motorcycles, some Mini's, a Morris Minor, Austin 35, an Austin Seven among the more modern vehicles.  It was certainly a day that brought out a number of cars with their hoods down, celebrating the wonderful weather.
Among these were eight Mazda MX5's whose owners were all members of the MX5 Owners Club, enjoying probably their first get-together for months if not a couple of years.
These cars ranged in age from 1991 to three-years-old.  Among them was Barry Wheaton's yellow California from Tedburn St Mary, believed to be the oldest Mk1 California still on the road.  She is number 10 of a limited edition of 300 of which there are thought to be 100 left. She was made in May 1955.
One of the delights for families were the tractor and trailer rides as well as rides on the miniature railway.
This was set up by members of Exeter and District Model Engineering Society using their 100ft long portable track.  As well as going to days such as the Gas Up they will do weddings, birthday parties, all sorts of events.
Club secretary Ces Courtney of Exeter said they were using a 0-4-0 tank engine made in Malawi by railway apprentices, being driven that day by Samuel Woolley from Lympstone attracting much interest.  Both he and Ces were teachers, Samuel having taught physics.
The club, formed five years ago, is hoping to build a permanent track at St Katherine's Priory in Exeter where they meet on the first Sunday of each month from 11am to 3pm.
It is also hoped to build a workshop where they could teach engineering skills.  "We have members with a wide variety of interests and backgrounds - a chef, retired policemen, IT specialist, it does not matter engineers or not, we can teach them how to drive a train and make an engine," said Ces.
Anyone wishing to know more should, please, contact Ces on 07788 577 662.
A number of stationary engines were along one side of the field making busy sounds down to the slow phuuutt of a 1917 Bradford.  Some were used for pumping water or such as Bill Murch's 24 volt generator 300cc from the time of the last World War which he had made out of two 15 years ago.
This would have been used for charging aircraft or tank batteries.  It was the smallest engine that day.  Or there was one with what is known as a "hit and miss" engine that was used for pumping water.
The day was probably summed up by the person who said:  "You get addicted to these old vehicles and keep buying and buying.
"This is a nice friendly rally, it takes you as you are, no need to dress up for this one!" which was a compliment to the rally. The tractors were honest working machines, it was the cars that mostly provided the gloss.
First Aid was provided by West Devon Emergency Volunteers based at Shobrooke.  They are also one of the Mid Devon covid support groups taking people to and from hospital or for vaccinations, shopping, wherever help has been needed.
As well as the barbecue, there was tea, coffee and cakes in the barn, a big bric-a-brac stall and a raffle while outside were more stalls including a fortune teller and a plant stall.
• See more images in the current issue of the Crediton Courier, on sale now.
Comments
To leave a comment you need to create an account. |
All comments 0