Family celebration to mark Kay's 100th birthday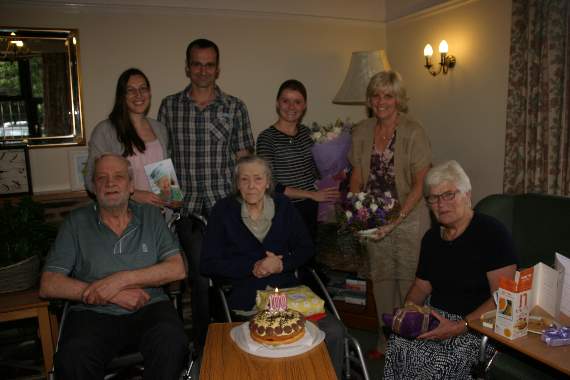 Kay Carins, seated centre, in front of her birthday cake, with, left, Derek, her son, and standing back left, her grandson Darren Carins and his partner Karen Raggett, with, back, third left, Beth Cheffings, manager, Ridge House and visitors Sonia Andrews, back right and seated right Margaret Baker.
()
Subscribe newsletter
Subscribe to our email and get updates right in your inbox.
A WOMAN who played an active role in the community at Kennerleigh, but who now lives at Ridge House Residential Home, Morchard Bishop, celebrated her 100th birthday with family, friends, fellow residents and staff.
Kay Waters was born in the Post Office run by her parents, P.C. Waters and his wife Ruby Joyce Waters, at Hitchen, Hertfordshire, on August 20, 1915.
Kay's parents moved to Sussex looking for a farm and after a few moves, settled at Downs Farm, which was rented from the McDougall's (flour producers). There Kay eventually went to Chichester High School for Girls.
During her life she was never far from horses, working, riding or breaking them.
Later she joined the Red Cross, where her c.o. was Mrs Shipham (of Shiphams paste).
Kay became a voluntary ambulance driver.
Mrs McDougall wanted the farm for her son, so the family had to move to a farm in Bedfordshire. The Second World War broke out and the Voluntary Aid Detachment was disbanded.
Kay met and married and her sister-in-law was also called Kay, so to avoid confusion, she became Joyce, her middle name and her mother's maiden name.
They moved to Hampshire where her husband was a farm foreman and joined the Home Guard. They had two sons, born in 1952 and 1944.
After the War Joyce's parents moved to Hampshire and bought a house for themselves, and also a bungalow with a five-acre field into which Joyce and her family moved on the understanding that they would pay back her parents.
They built up a farm from nothing. Joyce became a farmer, a secretary, housewife and mother. She worked hard and succeeded.
In 1963 the children had flown the nest and Joyce and her husband went their separate ways and the farm was sold.
In the mid '60's her father died, so she looked after her mother.
They moved twice more in Hampshire where Joyce worked as a milk recorder and kept and bred horses.
Her mother died in 1984 aged 94. Her sister-in-law also passed away so she moved to Devon to be near her youngest son, Derek Carins.
She became Kay again and eventually moved to Kennerleigh, initially getting about with her two dogs on an electric wheelchair. This she soon dropped and became actively involved in the village and church.
At 90 she bought a car and had her son remove the passenger seat so that she could sleep in the car. She drove to Hampshire and Sussex, sleeping in the car on the way, to visit friends. Her friends told her she must be made.
Her time in Devon was also filled with painting (self-taught) and gardening.
In March 2011, Kay became seriously ill. Her eldest son had moved to a Greek island a few years previously, so her youngest son, who has late-developing Ataxia, looked after her until late July 2012 when he became unable to look after her.
She moved into Ridge House just before her 98th birthday.
During her life she has had four new hips and has also had a number of other operations.
She says that hard work all her life and a good diet have been the secret to her long life.
Kay received many cards, gifts and flowers as well as a card from the Queen and a telegram from Iain Duncan Smith, the Secretary of State for Work and Pensions.
Comments
To leave a comment you need to create an account. |
All comments 0