Crediton Foodbank deliveries dramatically increased - but so have donations
By 
Alan Quick
  |   Editorial Manager/Photojournalist   |
Friday 22nd May 2020 5:30 am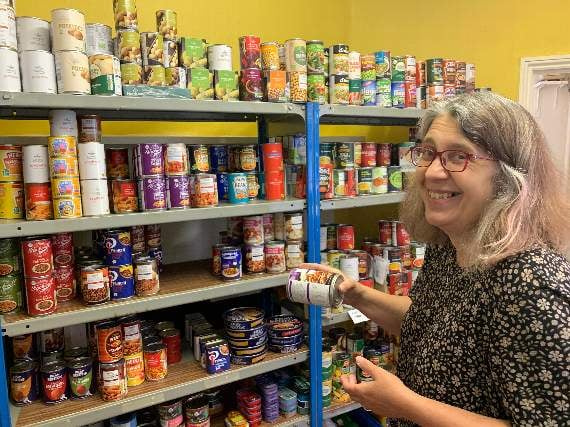 Crediton Foodbank volunteer Edmonde Openshaw re-stocking the shelves with a new delivery. AQ 9781
()
Subscribe newsletter
Subscribe to our email and get updates right in your inbox.
CREDITON Foodbank is continuing to be very busy delivering food parcels to those who need them in Crediton and the surrounding villages.  
In April it fed 635 adults and children (many were the same people on four different weeks) which is 4.5 times the number it fed in April 2019.
However, it is pleased to say that it has also been blessed with regular food donations from many individuals and from local businesses: Oliver's Bakery, Crediton Dairy, The Meatbox Company, Morrisons, A Bread Distribution Company and a village store ...to name a few.
The Foodbank has also received funding from local people and from The Rotary Club, The Lions, The David Gibbons Foundation and the LiveWest Housing Association.
Chris Parsons, Crediton Foodbank Co-ordinator and Community Support Worker, said: "We could not have kept up with the demand, if it hadn't been for the kindness shown by so many.  A huge thank you to all of them."
Chris explained some new ideas were proving to be a success.
She explained: "We have started putting recipe's in the parcels to give ideas for what to do with some of the more unusual food and sometimes for the children to bake.
"In the last few weeks we have included craft activities and materials as some families were running out of resources or ideas having had the children at home for so long."
She continued: "Recently I have asked families for feedback to see how they are and if they are enjoying some of the random items we include.
"This is what they said: 'Thank you so so much for putting stuff in for my little girl.' 
'I have to say I've had a lot of down days recently. But having a better day today. The stuff you send it so helpful, the kids get so excited. The craft stuff is great.'
'Yes it's a surprise the children love having a look at the shopping when you deliver it! So all a great help. Thank you.'
'We are all doing well thank you. I have enjoyed cooking different things that I never would of thought of.'
'Yes I very much enjoy the random and various different things added each week. I have been making a list of these products as they are amazing and were very good for my eating requirements.  Thank you very much.'
'When all this is all over I really want to give back with donations or even any hours of my time I can give helping out in anyway at all.'''
Chris added: "Some lovely comments! Can you imagine going through this pandemic and also not knowing if you will be able to feed your children?  
"We get a whole range of people who need support and we hope our food parcels and added extras will continue to alleviate some of the anxieties they experience, especially during this difficult time.
"We are so pleased to be able to help and are so thankful for the generosity of our community and we pray people are as blessed by their food parcels as we are getting to know them and their families!"
People needing food parcels can use the usual referral agencies who will then email the vouchers direct to the co-ordinator or if that is difficult they can get in touch with the Foodbank direct by email at: [email protected] or telephone 07740 202721.
Comments
To leave a comment you need to create an account. |
All comments 0