Crediton Foodbank and CHAT appeal for funds to support new project
By 
Alan Quick
  |   Editorial Manager/Photojournalist   |
Monday 23rd May 2022 6:00 am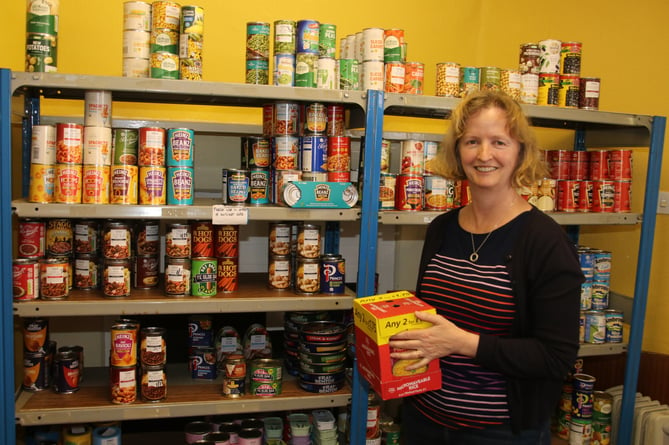 Fiona Cochran, who has been a part-time volunteer at Crediton Foodbank, is currently being inducted to become the new Crediton Foodbank Co-Ordinator. AQ 6397
(Alan Quick, Crediton Courier )
Subscribe newsletter
Subscribe to our email and get updates right in your inbox.
CREDITON Foodbank has never been busier and is now proposing a new initiative with CHAT, the Churches Housing Action Team, to provide a dedicated Community Support Worker working in the Crediton area to support households move out of poverty, prevent homelessness and unmanageable debt and improve health and wellbeing.
The Foodbank and CHAT have worked together for a number of years, but as the support needs of people in the area have increased, the organisations have identified the opportunity for a more specialised role to prevent people in our community spiralling into debt and threatened with the prospect of homelessness.
The initiative will be called The Springboard Project as this much needed helping-hand will provide a springboard to enable people to rebuild their lives and move on to a new beginning.
Chris Parsons, Chair of Trustees at Crediton Foodbank explained that this type of early intervention can prevent the all-too-common scenario of things spiralling out of control for the client.
She continued: "Families often struggle to put food on the table because for people on low incomes, a crisis – redundancy, benefit delay or even an unexpected bill - can mean going hungry.
"Every day, parents are skipping meals to feed their children.
"We have found being able to provide immediate help in the form of food starts a relationship with the client that is an excellent base for continuing support. Many clients who visit foodbanks have underlying issues that are stopping them from moving on to a place of independence.
"Crediton Foodbank has provided food for people in Crediton and the surrounding villages for more than 10 years.  CHAT has worked in Mid Devon for more than 25 years preventing homelessness with housing advice, tenancy support and debt and money advice and a foodbank."
Chris added: "We are asking the local community to consider how they could contribute to help make a real difference to some of the most vulnerable living amongst us. To that end we are looking for select businesses and organisations or individuals to support this project and become a Springboard Project Partner.
"You could sponsor the project by making a one-off donation, choosing us to be your charity of the year or making a commitment to support the Springboard Project for the entire duration of the three-year initial project with a regular annual donation."
Chris explained that businesses, organisations or individuals would be recognised if they wish for their support on the Crediton Foodbank website, on social media posts and press releases and on publicity material.
She added that speakers were also available to talk about the project to prospective partners and that visits could be arranged to the Foodbank, which operates from The Manse adjoining Crediton Congregational Church.
The funding appeal has been launched as this three-year project will cost approximately £31,000 per year.
If the funding can be met it will provide a dedicated Community Support Worker as well as covering all travel, training, communication and administration costs.
If you are interested in becoming a Springboard Project Partner or would like more information, please contact Lee Bridger by emailing: [email protected] .
Crediton Foodbank is a registered charity: 1195132. All monetary donations can now be Gift Aided.  Contact the co-ordinator for a Gift Aid Form.
Financial donations can be made by:
Posting a cheque to Crediton Foodbank, Crediton Congregational Church, 98 High Street, Crediton EX17 3LF
Or making a bank transfer or setting up a standing order. Bank details:
Sort code: 40 - 20 – 30, Account name: Crediton Foodbank, Account Number: 12600641.
Fiona Cochran, who has been a part-time volunteer at Crediton Foodbank is currently being inducted to become the new Crediton Foodbank Co-Ordinator.  Fiona will be running the Foodbank and signposting clients from mid-June.
She lives locally and is probably best know for having been a local midwife for many years.
Crediton Foodbank telephone number is 07740 202721 and it is open on Tuesday and Friday mornings.
Should anyone need a food parcel, or perhaps know of someone else who does, then referrals can be made through the normal agencies such as doctors, schools, Citizens' Advice, CHAT, etc. Alternatively, the co-ordinator can be contacted directly. Please note the opening hours are office hours.
Chris was keen to point out that the Foodbank is there for town and rural people alike.
She added: "Please look out for your neighbours and spread the word that we can help.
"I know farmers might be finding soaring costs difficult to cope with for example, but we are also aware that it could get to be more of a struggle for those in rural areas with the rising fuel costs."
Food donations can be made direct to the Foodbank during opening hours or through the collection bins in the Tesco, Morrisons or the Co-op in the town. Pet food can also be donated at Mole Avon. All current needs can be found on the Crediton Foodbank Facebook page.
Financial donations to the Foodbank are used in several ways. First, they are used to buy fresh produce each week: chicken, mince, sausages, cheese, eggs, fresh veg, etc. and to stock any gaps on the shelves. Second, they are used to employ the co-ordinator. Third, they are occasionally used to support people with household energy bills. Donors may specify how they want their donations to be used.
Crediton Foodbank would like to thank everyone who regularly donates. It says: "The Foodbank couldn't exist without your support and we are frequently overwhelmed by the generosity of our community."
Comments
To leave a comment you need to create an account. |
All comments 0