Crediton family man Mervyn remembered for his success in life – and Falklands war service
By 
Alan Quick
  |   Editorial Manager/Photojournalist   |
Friday 16th March 2018 3:14 pm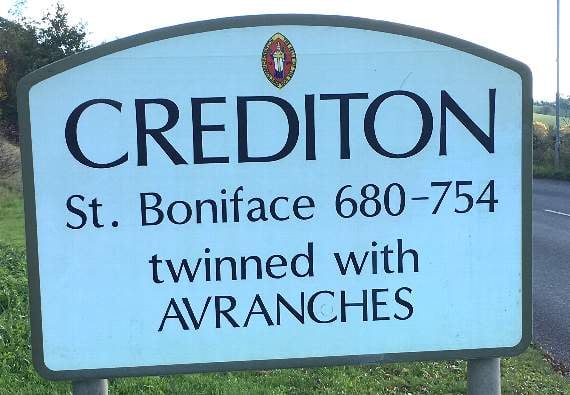 Subscribe newsletter
Subscribe to our email and get updates right in your inbox.
Born on January 7, 1952 Mervyn Thomas Heale, second son of Charles and Enid Heale of Penstone was born to lead a long, exciting and fulfilling life.
Known for 25 years in the Royal Navy as "Tiny" because he was considerably taller than anyone else on his ship, or indeed within his family, Mervyn grew up in the local countryside, first in Penstone, then East Village, Lower Creedy and finally East Street, Crediton.
He attended Sandford School and Shelley School (now QE Lower) and when he was 15, after having spent a while as an Army Cadet, he joined the Royal Navy, following in his grandfather's footsteps.
Mervyn served 25 years in the Royal Navy ending his service as Chief Petty Officer (CPO) at HMS Daedalus as the Control Tower Chief.
Mervyn married and was the father of twins, Charlene and Christopher who were born in 1981.
When Mervyn was serving on HMS Invincible in 1982 he sailed to the Falkland Islands which had been invaded by Argentina.
He returned to the UK just under a year later after the war ended. While on the aircraft carrier he was the Flight Deck CPO. He had also previously served and travelled the world on the aircraft carriers HMS Ark Royal and HMS Hermes.
On his return from the Falklands War Mervyn's character shone through. Instead of accepting the platitudes of friends and family for his war service he chose to give them all photographs, with frames he made while at sea of HMS Invincible returning to Portsmouth with the simple caption "Thanks for your support while I was away."
That was Merv, never wanting acknowledgement or cudos, just wanting to get the job done.
He represented his country in international inter-service fencing for many years. He was an International Services Champion for many years with the Epee and Sabre. He qualified to represent the UK at the Olympics, but could not go as he was not an RN officer.
He was an accomplished guitarist and trumpeter. He had served as ship's bugler at HMS Ganges while a Junior Seaman.
There are many anecdotes from Mervyn's life, but one much loved is that many years ago, when he was on leave he stayed with his family in Ramsgate and decided, after much rum, to strum his guitar a while and then he treated the neighbourhood to a rendition in the street of "The Last Post" on his trumpet. Mind you, it was after midnight and he did entertain and wake many neighbours. He was always fun, the life and soul of any party.
Like chips off the old block Mervyn's children have always vied for success, and they have achieved just that.
Charlene is a very successful practising Lawyer in London and Chris followed his Dad into the Royal Navy. He is a Flight Deck Petty Officer on HMS Albion, now in the Mediterranean.
After Mervyn left the Royal Navy he embarked on a career change into the insurance industry and on retirement at 60 turned his hand to wood turning, building and decoration and he has left behind many domestic accomplishments.
He had spent the last six years with Linda converting the house they had bought into their "retirement nest" and only had the kitchen to finish.
On the day he died (March 1) he had met his two brothers and father for a meal at another relation's funeral and was excited to be going home to start on the final part of his project.
On arriving home that afternoon he died of a heart attack in the company of his beloved wife Linda.
As well as Linda, Mervyn (66) leaves behind his children Chris and Charlene, his father Charlie, brothers Martyn and Stephen, sisters-in-law Sue and Laila, stepson and daughter Mark and Sharon, step grandchildren Lauren and Imogen, nieces Gemma and Lucy, nephew Marvin and dozens of cousins and friends.
There will be a small private, immediate family funeral, and when Linda is ready she will bury Mervyn's ashes, when all family and friends will be able to attend to remember and celebrate the fantastic and special life of Mervyn Thomas Heale.
Comments
To leave a comment you need to create an account. |
All comments 0