A diamond day for Crediton couple Cyril and Hazel May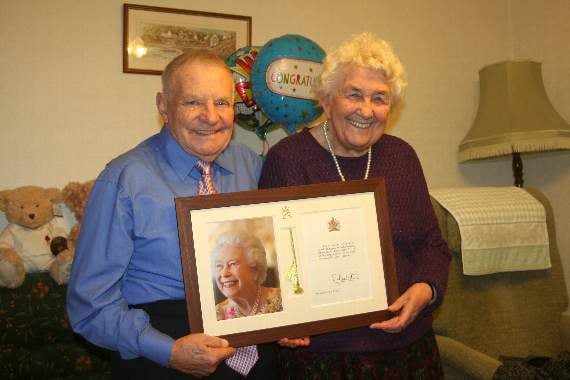 Cyril and Hazel May hold the framed card of congratulations from the Queen. SR 8792
()
Subscribe newsletter
Subscribe to our email and get updates right in your inbox.
SIXTY years ago December 14 was a beautiful sunny day, nothing like this year, when Cyril and Hazel May went to Teignmouth to celebrate their diamond wedding anniversary with friends.
Cyril was a Spreyton boy, Hazel from Crediton and they met at a square dance at Newton St Cyres. Dancing and music has been part of their lives almost ever since.
Cyril went to school at Spreyton and learned his trade as a carpenter with Palmers builders whose workshop was where the blacksmith (Edwin Hill) had been. Houses are there now.
"Most of us were local and we all rode bikes to work then," said Cyril. "We built the original village hall at Spreyton, where the present hall is now.
"It was an old World War Two building. It came in sections on a couple of lorries, we had to make the concrete base and we made the floor for dancing and things. I've played there with Bob Cann," added Cyril.
He was allowed to finish learning his trade before doing his National Service from 1954 to 1956. Afterwards he returned to Palmers for a year before going to work for Woodman who were builders in Exeter.
He well remembers the winter of 1947. "It rained and then it froze, telephone wires were something like an inch thick in ice, and the icicles were that big. All the trees were glazed with ice, some losing branches because of the weight.
"My father and myself shovelled snow for a mile-and-a-half to get into the village for bread and oil for the cooker," he said.
Hazel remembered her father cutting a path through from Wyke Cross near Newton St Cyres where they lived so that she could walk to school at Newton. She had a three-mile walk each way from the age of five and was cross that children who lived near the school did not turn up!
Cyril said all the children who lived around Spreyton and Copplestone went on to secondary school at North Tawton, now the primary school. Hazel went to Hayward's in Crediton.
Both left school at 15, Hazel and her family then living in Newton St Cyres village. But they did not get married until after Cyril had done his National Service.
Hazel worked first for the tailoring company of Ross on Exeter High Street where she learned her trade as a shirt and pyjama maker.
Then came a job with Luvisca, menswear manufacturers in St Thomas before going to work for Heathcoats when they were where British Gaumont had finished in Crediton up at Newcombes, making parachutes.
After they were married Hazel continued to work for Heathcoats, mostly as an outworker until their daughter, Karen, was born.
After that she helped various people in Crediton including George Fisher with George's Army and Navy Stores.
Their first home was on Exeter Road until their bungalow was built on Waresfoot Drive where they still live and where they raised hundreds of pounds for charity, mostly Devon Air Ambulance Trust and, latterly, the Chestnut Appeal, through the Christmas decorations Cyril created.
And the music? Cyril explained they began square dancing again when Karen was just a teenager and he became involved with a Devon musical legend, Bob Cann and one of the most popular ceilidh bands, The Dartmoor Pixie Band.
"I was watching them play at a dance at Whiddon Down one time, Bob was there, and one of the chaps asked if I played any musical instrument.
"I said I mess about on a mouth organ. He chucked me one and asked if I could play what they'd just played.
"He said if you can play like that why not come and play with us, Bob said why not learn a few tunes and so we would go square dancing and I would play in the band.
"Then it became permanent, lasting about 37 years," said Cyril. He also plays drums. That came about by chance too, with the band's drummer walking off one evening. Cyril more or less took over.
"With the Dartmoor Pixie Band we must have played in every cow shed and village hall in Devon, Dorset and Somerset," he said.
Cyril is still involved in the Pixie Band, such as when the regular drummer is away playing rugby.
Both enjoyed gardening and Cyril would exhibit when he lived at Spreyton.
Hazel became widely known for the quality of her sugar craft, those edible flowers you see on cake decorations.
She and Karen went to classes and then Hazel began doing cakes for people - wedding, birthday, christening, and other special occasions.
Then people began asking how to do it and so Hazel taught for 25 years as well as making her own creations.
Their party at Teignmouth included members of the band among other friends and family. A cake had been made, iced and topped with a sugar craft bouquet of the flowers Hazel had carried 60 years earlier, made by a former pupil.
As well as almost 40 cards, the couple had one of congratulations from the Queen, which Karen had framed.
Comments
To leave a comment you need to create an account. |
All comments 0