Two bonus points for Crediton RFC from Wellington game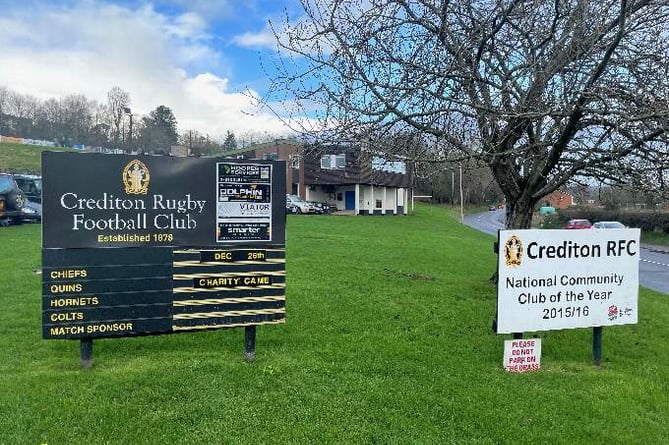 Subscribe newsletter
Subscribe to our email and get updates right in your inbox.
WE came away from Wellington on January 22 with two bonus points which seemed an unlikely scenario 10 minutes from the final whistle when we were 28-12 down.
However, we should never have put ourselves in that situation and, much as some of the refereeing decisions created frustration amongst the players, to be honest we really only had ourselves to blame.
For the vast majority of the game, Wellington were under pressure in the scrums as they were constantly in reverse gear, whilst at the line-outs we were equally as dominant and it begs the question how did we lose?
One of our strengths has been our defence although for some reason today it went AWOL at times and allowed the home backs some room to operate which they did very effectively.
There were also occasions when we did have a penalty close to the home line, we opted for a quick tap and go when perhaps the more judicious approach would have been to opt for the scrum.
As early as two minutes into the game we showed our strength at the scrum, earning a penalty which drifted wide of the post.
For 20 minutes, neither side could make use of the opportunities that were created and it was a superb bit of vision from Ollie Avery-Wright with a long diagonal kick that was perfectly placed for winger Josh Woodland to gather and score in the corner. OAW's conversion again drifted wide.
Before the Crediton applause had died down, Wellington were in the lead with a well worked try from one of their backs and which was converted to take a 7-5 lead.
By the interval this was 10-5 with a penalty. The frustration of the players was clearly visible which did not help our cause as the match official seemed not to want to communicate in any way.
We have to learn to rise above that though and just get on with what we do best.
The second half started well as the home restart failed to go the required 10 metres and the resulting scrum was won comfortably and the ball sent wide to Woodland.
To most people there would appear to be nothing on, 40 metres out with the touchline as an additional defender, Woodland would have his work cut out to make much progress.
However, Woodland sees things very differently and each defender that took him on ended up being brushed off with ease before scoring in the corner. OAW slotted a magnificent conversion from the touchline for a 12-10 lead.
Unfortunately, as in the first half, that lead lasted but a brief moment. We lost possession on half-way and their centre, who had posed problems all afternoon, ran in almost unopposed to score out wide, the conversion missed its marks and we were behind again 12-15. For the next 30 minutes we were consistently penalised and consequently punished as the home side pulled away with a converted try and two penalties for an overall lead of 28-12 and it seemed very much game over.
With 10 minutes remaining, we started to put together some of our best rugby, pressure on Wellington brought a penalty which was kicked to the corner and resulted in a catch and drive try for No8 Jake Clarke. The difficult conversion missed by a fraction.
Another attack and the ball spread wide and it was Devon Hosegood who just beat the oncoming defence to score in the corner and this time OAW made no mistake. The additional points for scoring four tries and losing by fewer than seven were indeed bonuses in every sense of the word.
Having outscored the home side by four tries to three you would normally expect to win the game but the penalty count took its toll and we really must address that.
Crediton Seconds 22 - Cullompton Seconds 13
THE Quins have improved dramatically during the past few months and have only suffered one defeat since mid October and that was against Exmouth who only gained the victory when they were forced to go to non-contested scrums at a time when we were dominant and in the lead.
Having gained a creditable draw at Cullompton last week, we went one better against the same opponents with a 22-13 victory to take us to fourth place in the Merit Table.
The game itself was hugely entertaining and very competitive, Cullompton too have shown an improvement over recent weeks and had been undefeated since early November with a run that included a draw against Ivybridge and indeed are the only side so far to have avoided defeat to the Merit Table leaders.
Macauley Jones, Josh Atkinson and Ethan Power scored the tries with Tom Ronchetti converting two and adding a penalty.
Exeter Saracens Seconds 27 - Crediton Thirds 7
ONCE again the two teams met in a friendly with Sarries making use of their links with the University to put a team together.
The young legs of the home side proved a little quicker than ours but nonetheless as is always the case, the third team never let their heads drop.
Skipper John Gurzynski scored the try with a brilliant solo effort on an arcing run that left the young Sarries players for dead and which, had it been filmed would certainly have made the shortlist for try of the season, Hayden Hill converted.
Crediton Colts 17 - Cullompton Colts 17
ANOTHER excellent performance from two evenly-matched Colts teams, although Crediton did let a victory slip away in the last moments when they conceded a try and conversion to level the scores. Once again, Colts rugby is providing some entertaining rugby and very close games.
Crediton Scorers were Josh Edwards, Freddie Blackburn and Louie Gulley with a try apiece with Blackburn converting one.
On Saturday, January 29, the First's and Second's travel to Devonport Services whilst the Colts entertain Tiverton.
Comments
To leave a comment you need to create an account. |
All comments 0