Great achievement for Crediton RFC - promotion to South West One League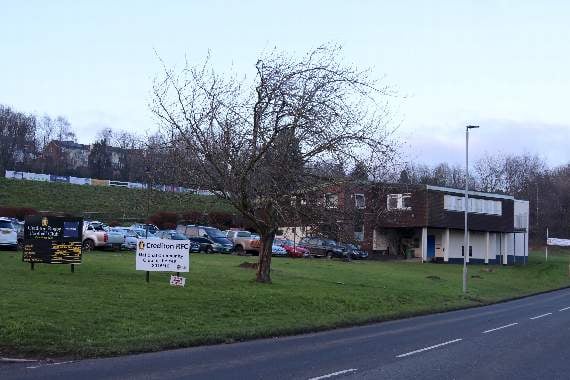 Subscribe newsletter
Subscribe to our email and get updates right in your inbox.
MIDSOMER NORTON 15 - CREDITON 19
South West Level 7 Play-off
ONE big game seems to follow another at the end of the season and Crediton's First team players had to put the disappointment of the Intermediate Cup Final defeat at Sidmouth firmly behind them.
On our first ever visit to Midsomer Norton on Saturday, April 27 we were welcomed by Hannah with a touch of wind that at times reached gale force blowing diagonally across the pitch and down the slope.
It meant that facing the elements would leave little room for error in attack for fear of giving the opposition an easy 50-metre exit whilst at the same time creating a defensive barrier that would be difficult to break down.
Playing with the slope and the elements would have its problems too as kicks could be over-egged and the ball drift away in the pass as both sides tried to run at the opposition.
We were aware that Midsomer had a big pack of forwards which was likely to be their main weapon as their own match reports from previous games had described how they bullied the opposition into submission and that this was their main source of tries.
The point was proved in the opening 15 minutes as we played against the elements. Indeed they were much bigger and the first two scrums ended in penalties for them, quite how the law was being interpreted was open to question.
Nonetheless, kicks to the corner resulted in lineouts, the first of which was trundled over by their big lock and the second was defended but they did manage to get the ball out to their centre who cut back to the forwards before putting the scrum-half in for a try.
One conversion meant a 12-0 lead for the home side after 20 minutes, and but for a couple of outstanding tackles, that lead could have doubled before the interval.
The players were working exceptionally hard and as there was no point in trying to kick anything we made our yards through carries, a yard here and there, keeping possession and occasionally getting the backs away which is when we did look dangerous.
A run up the right touchline by winger Devon Hosegood was the catalyst for our opening try as the home side infringed and we put a penalty to the corner.
The resulting catch and drive ended with lock Tom Mortimer getting the touchdown, his maiden first team try, 12-5 with the kick to come, the likelihood of a successful conversion was pretty remote but somehow Ollie Down managed it from a difficult angle and against the wind, 12-7.
The home side attacked yet again but they had little to offer other than the rumbling of the forwards and occasionally letting the ball go so far as their centre who promptly came back to the forwards again. It was a tactic that they employed for most of the game and the more they did it the easier it became to defend. We reached the interval at 12-7 down and still very much in the game.
The second half began with probably five minutes where we did not touch the ball, to be fair to Midsomer Norton, they did look after the ball well but made little ground and they appeared not to have a plan B, their backs rarely featured in the game beyond the fly-half.
When possession was turned over, the wind became our extra player and was used to good effect putting us in positions deep in their "22".
Of course, they too defended very well and we were having difficulty in breaking through, Jason Luff almost made it under the posts but was tackled a metre short only to be harshly penalised for not releasing, the whistle blew almost as soon as he hit the ground.
With the pressure building on the home defence, they too conceded a penalty five metres out and we opted for the scrum and this time it was a classic Mark Nott try from the No 8 position as we drove them over the line for 12-all.
The kick was missed with the strength of the wind it would have been more luck than judgement had it gone over.
We were beginning to get on top and looking the more likely winners but just when you think the game is there for the taking, they took the lead with a penalty in front of the posts, no idea what for but that was the nature of things throughout the game!
Back we came and pummelled their line and all credit to Midsomer, they held out until three minutes from time when Mark Lee managed to pick up a loose pass and angled a run from just inside their "22" and he certainly was in no mood to be stopped as he went through four despairing tackles before crashing over, Down converted and we were ahead for the first time in the game, 19-15.
The final three minutes seemed to last an eternity as we fumbled the restart giving them a scrum and again we conceded a penalty.
The kick to the corner produced yet another penalty from the lineout this time only 10 metres out. Hard as they tried Midsomer could not force us back but again we conceded a scrum penalty and incurred a yellow card for hooker Phil Holmes.
In the next scrum it looked as though they had achieved a victory as we went back over our line leaving the No 8 with the easy task of picking up and scoring. However, those tasks are never quite that simple and to everyone's amazement he dropped the ball before he could touch it down, probably the all-time classic Midsomer murder that finally gave us a deserved victory.
This was only the second home defeat of the season for Midsomer Norton and we restricted them to the lowest points total in a game on their own patch. Our defence was outstanding and the forwards held their scrum through sheer determination despite conceding penalties which appeared to come from a different law book to the one we are used to.
Outside, we looked dangerous without really making that final breakthrough and it took a moment of individual excellence from Mark Lee to get the winning score.
Midsomer are undoubtedly a good side, they have been playing in a physical league with a very one dimensional game plan that relied heavily on forward power, once we had come to terms with that and sorted out a way to defend against it, they had no other ideas.
Between the moment of their second try on 15 minutes to the error at the final scrum, they had plenty of possession in our "22" but rarely got a sniff of an opportunity.
It has to be said however, this was a match of great importance to both Clubs and it was rather surprising that a very inexperienced referee was appointed to officiate, it was unfair on him and the two sides.
Fortunately, there were no unsavoury incidents but there could well have been with the frustration being caused by the somewhat unusual interpretation of the scrummaging laws. It was a credit to both sides that nothing kicked off as it could well have done.
This time last year we were within a minute of being relegated to level eight and a last minute try saved us and condemned Torquay to that fate.
What a difference that year has made to the players, they have worked so hard during the season, never been out of the top four. With more or less the same squad as last year, this side has developed and matured into a competitive unit.
Yes we have lost a few games, well four to be precise, but I doubt any thoughts other than survival or at least a mid-table finish were in the heads back in August.
Promotion? Who would honestly have thought it? We return to the level that we first were promoted to in 2001-02 and remained until 2004-05.
We will meet a number of new Clubs, Bridgwater, Chew Valley, Lydney, Newent, North Petherton, as well as some that we have played before, Devonport, Sidmouth, St Ives, Hornets, Keynsham, Thornbury, Cleve and Newton Abbot.
An interesting fixture list that will provide a challenge but as with this season, no doubt the players will rise to it.
Comments
To leave a comment you need to create an account. |
All comments 0