UK to host G7 Summit in Cornwall - a great boost for Cornwall and the South West
By 
Alan Quick
  |   Editorial Manager/Photojournalist   |
Sunday 17th January 2021 7:15 pm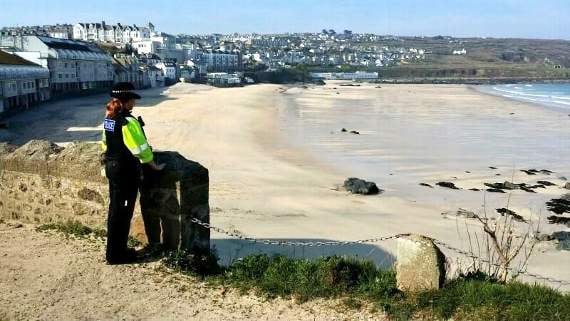 Subscribe newsletter
Subscribe to our email and get updates right in your inbox.
THE Prime Minister will welcome leaders from around the world in Cornwall in June, where the 2021 G7 Summit will take place.
The G7 – which is made up of the UK, Canada, France, Germany, Italy, Japan, the USA and the EU – is the only forum where leaders of the world's most influential and open societies and advanced economies are brought together for close-knit discussions. They will also be joined at Carbis Bay by the leaders of Australia, India and South Korea who will attend as guests.
Events will also be held at neighbouring St Ives and other sites in Cornwall, such as Falmouth, which will be hosting international delegates and media – organisers determined to make this an event for all residents in Cornwall to experience and share.
The choice of Cornwall as the location for the Summit will mean the eyes of the world will be on the beautiful, historic and innovative region.
Visit Cornwall estimates the total economic impact for the region will be £50 million, including through an increase in future tourism. A total of 20 per cent of Cornwall's jobs are already linked to the tourism industry.
The Government will also work closely with Cornish leaders and institutions to ensure the Summit leaves a long-term legacy for the region, reaping the benefits of hosting the G7 for years to come.
As a powerhouse for green innovation, Cornwall is an ideal location for global discussions on building back better from the coronavirus crisis. The Summit is an opportunity to show the crucial role that rural areas like Cornwall will play in the decarbonised, digitised world of tomorrow, complementing our major cities.
G7 countries already have strong ties to the region, including mining pioneers who migrated to the US in the 19th Century, innovative Japanese pottery in St Ives, and historic connections with Brittany in France.
The Prime Minister said: "As the most prominent grouping of democratic countries, the G7 has long been the catalyst for decisive international action to tackle the greatest challenges we face. From cancelling developing world debt to our universal condemnation of Russia's annexation of Crimea, the world has looked to the G7 to apply our shared values and diplomatic might to create a more open and prosperous planet.
"Coronavirus is doubtless the most destructive force we have seen for generations and the greatest test of the modern world order we have experienced. It is only right that we approach the challenge of building back better by uniting with a spirit of openness to create a better future.
"Cornwall is the perfect location for such a crucial summit. Two hundred years ago Cornwall's tin and copper mines were at the heart of the UK's industrial revolution and this summer Cornwall will again be the nucleus of great global change and advancement. I'm very much looking forward to welcoming world leaders to this great region and country."
The Police and Crime Commissioner for Devon, Cornwall and the Isles of Scilly has said the South West has a huge opportunity to showcase both its assets and challenges when it hosts the world leaders for the G7 summit this summer.
Although hosting the summit poses a challenge for police and partners in local authorities and the business community, it also presents a number of significant opportunities for the region, said Police and Crime Commissioner Alison Hernandez.
"The summit represents a once in a generation opportunity to raise awareness of Cornwall on a global scale, and will help the local economy build back better after Covid-19 lockdowns," she said.
"It's very exciting that major decisions with far-reaching and international implications will be being made right here on our doorstep. Cornwall's incredible natural wealth and its long tradition of welcoming outsiders will make this a summit to be long remembered.
"But I also hope that world leaders are able to understand that there are communities in Cornwall that face significant challenges and reflect on those challenges and the challenges of people in a similar position across the world.
"Our force area now has a crime rate lower than all but one of 43 forces in England and Wales, but there is significant work to do to improve household income, job security and opportunities for local people here and elsewhere."
The commissioner has supported plans to add flexibility to the workforce in response to Covid-19 policing, by approving an enhanced allowance payment for Special Constables who carried out an agreed number of shifts over the busy winter period, and said that innovation and flexibility would be key to ensuring the summit was a success.
"This summer the bonds we have created with communities, local authorities, volunteers and policing teams will be needed more than ever before," she said.
"I have every confidence that with the support measures put in place Devon and Cornwall Police and our partners will deliver a safe and successful event that our communities will be proud of and create memories that will last a lifetime."
Chief Constable Shaun Sawyer QPM, of Devon and Cornwall Police, said: "I am delighted that Cornwall will be hosting this landmark event for the United Kingdom in an area that is not only one of the safest in the country, but also combines breath-taking scenery and innovative businesses with exceptional local hospitality.
"The event will be a real boost for our communities and especially our young people. It provides an opportunity for all my colleagues within Devon and Cornwall Police to demonstrate our operational excellence and world class policing skills on a global stage.
"We are excited to be playing our part working with and supporting our partners to deliver a safe and secure G7 summit.  We have been preparing for this event for several months, including speaking with colleagues who have managed similar events, so we can ensure that we continue to effectively serve our local communities in the run up to, during and after the event."
Comments
To leave a comment you need to create an account. |
All comments 0