Presentation of Chief Scout Awards at North Tawton
Friday 30th April 2021 6:18 am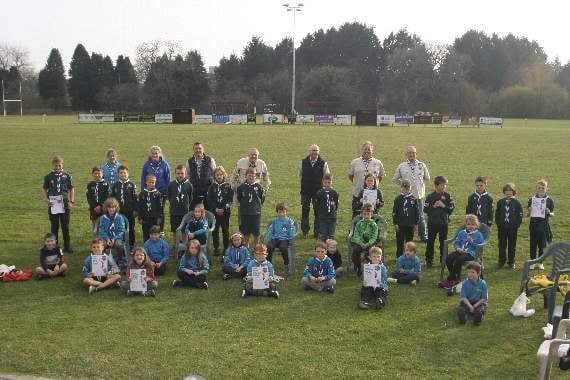 Scouts, Cubs and Beavers at North Tawton, those who received their Chief Scout Award are holding up the certificate. Behind them are their Leaders Phil Roberts, Simon Butler, Sean Adams, Paul Grainge, Lorraine Westlake and Amy Squires with George Davey. 3545
Subscribe newsletter
Subscribe to our email and get updates right in your inbox.
LOCKDOWN is beginning to open up for Scouting in Mid Devon with the presentation last week of Chief Scout Awards at North Tawton. These Bronze, Silver and Gold awards are the highest available to Beavers, Cubs and Scouts.
George Davey, ADC Scouts made the presentations. Scout Finlay Stanton received his gold award, one of only four in the last five years at North Tawton, three of whom are now Young Leaders, as is Finlay.
He lives at Copplestone and is a student at Shebbear College. Leo Kingdom Steer also achieved the gold award but was not present at the ceremony.
Recipients of the Chief Scout Silver awards, all done while they were Cubs, were Tobey Pascoe, Ted Coventry and Floss West. Two of these have moved on up into Scouts.
Receiving the Chief Scout Bronze award for work while they were Beavers were Lucas Whiteley, Scarlett Whiteley, Lewis Atkinson, Ruben Dimmock and Finley Moffat.
The following day George presented Okehampton Scouts Sam Carling and Jeremy Young with their Chief Scout Gold awards.
Group Scout Leader for the 1st North Tawton, Phil Roberts, also received his Wood Beads from George.
As with tradition, George took the Beads from his own neck to present to Phil. Wood Beads are awarded to Leaders who complete all 27 training modules required for their role in Scouting.
Phil had been a Scout in West London where he was born and grew up, but did not stay long, his passion being water sports particularly kayaking. He is still kayaking and now with the Scout Group as well. He and his family moved to Bow in 2006.
He said that last week was the first meeting for all sections of the 1st North Tawton Scout Group.
"It was fantastic to see my fellow Leaders doing what they do best and for all our young persons getting involved, smiling and being interested in the activities makes it worthwhile.
"Those who achieved the Awards worked hard during lockdown to complete the requirements and fully deserved their Awards.
"Whilst we understand we must meet and follow the guidelines for everyone's protection, we have tried to make it as normal as possible.
"This term we will be going on hikes, lighting fires, archery and spending time at a local lake doing kayaking, canoeing and paddle boarding.
"Unfortunately the best part of Scouting - camping - is still not available but we hope to get a few nights away under canvas before the end of the year," he said.
Phil added that the Group was desperately looking for someone with bookkeeping or accountancy skills who could validate and sign off their accounts each year.
"Our treasurer does a fantastic job in keeping our finances correct but our current external volunteer is retiring and unable to carry on moving forward.
"Anyone who feels they may be able to help each year should contact me by email ([email protected]) and we will be in contact to discuss," he said.
Comments
To leave a comment you need to create an account. |
All comments 0