Move from one Crediton school to another ends free school transport by 100 metres!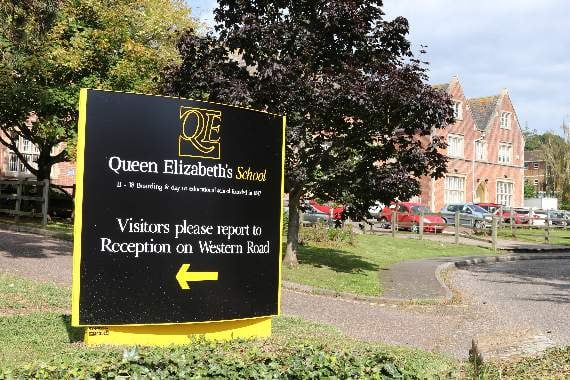 Queen Elizabeth's School at Western Road, Crediton. AQ 4619
()
Subscribe newsletter
Subscribe to our email and get updates right in your inbox.
But her brother, who will begin at the Lower School in September, will have a place in the taxi because of the 100 metres.
That is the distance that puts their home outside the free transport limit for the Upper School but, because it is further away, their home is within the limit for the Lower School.
Their mother said she had received a telephone call from Devon County Council to tell her of the change.
"The taxi is still coming here to pick up my son and go on for other children but because of the 100 metres difference, they cannot take my daughter," she said.
She added: "They are saying because we are within three miles there is no reason why she could not walk with an adult. This would be a 12 mile trip a day for the adult, me.
"Added to that, she does quite a lot of sport and so would have to carry her kit and books weighing about 10kg each way, every day.
"In September I would like to get a job. If I was on benefit none of this would be a problem.
"The county council spokesperson recommended we wear high vis vests and in the winter we carry a torch.
"If we did walk it would mean leaving home at 7am and leaving my 11-years-old son on his own until the taxi came. The taxi would overtake us walking into town. Isn't it illegal to leave a minor on their own in the house?"
A Devon County Council spokesman explained that with QE being a split site, the Lower School falls within the statutory transport distance from the child's home while the Upper School does not.
He added: "We explained to the family when the daughter began with the school transport two years ago that it would have to end when she moved to the Upper School which, being nearer their home, was within the statutory walking distance for that school."
It will not be known until the start of the new school year in September whether there might be space in the taxi for the daughter that the family could pay for.
The mother agreed there had to be a boundary and the DCC spokesperson said you have to have a cut off point.
It will be interesting in two years' time when the younger son also moves to the Upper School.
The spokesman added that the mum has had her rights explained to her. In two years' time when the boy moves to Upper School it is likely to be the same situation.
Comments
To leave a comment you need to create an account. |
All comments 0