Michael Lee publishes his second book 'Dowrich; A Home for All Seasons - More stories from the House, Farm and Farther Afield'
By 
Alan Quick
  |   Editorial Manager/Photojournalist   |
Sunday 19th December 2021 7:00 am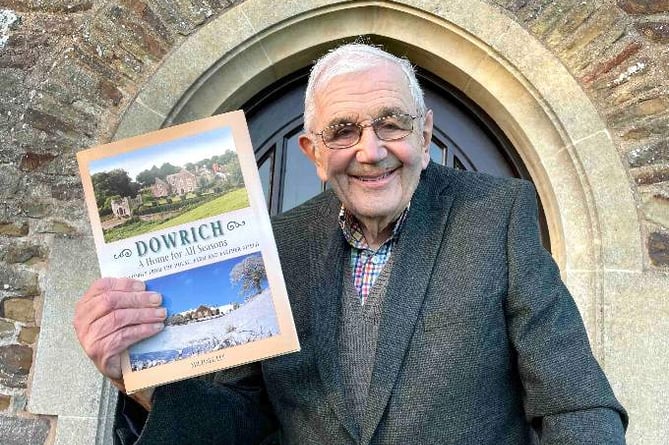 Michael Lee with a copy of his second book, 'Dowrich: A Home for All Seasons - More stories from the House, Farm and Farther Afield'.
Subscribe newsletter
Subscribe to our email and get updates right in your inbox.
A MUCH-respected former County and District Councillor, farmer and family man, Michael Lee has published a second book which reflects further on his long life, his home, work and his family.
Michael Lee's "Dowrich: The Story of an old Devon House and its Farm", first published in 2017 was such a success that it was quickly reprinted.
It told the story of one man's life in farming and his lifelong connection with his remarkable home called Dowrich.
It was at Dowrich, which lies deep in the heart of rural Devon near Sandford, close to the ancient market town of Crediton, that Michael grew up.
His family first farmed land around Dowrich in the 1920s, building themselves a farmhouse nearby.
Since then the landholding has been considerably extended and a wide range of farming activities developed.
Dowrich was the home of the Dowrich family from 1200 to 1717.
It has a fascinating history, much of it recounted in his new book, "Dowrich: A Home for All Seasons - More stories from the House, Farm and Farther Afield".
The house has undergone many changes and now comes complete with a castellated gatehouse, formerly serving as a "prison", which provides visitors with an intriguing prospect as they approach.
Farming the nearby land, Michael's dream was always to own the house itself and, as he took over the farm, extending and improving the holding and improving the land, in 1981 he was eventually able to purchase Dowrich House, where he now lives.
In a series of short chapters, illustrated with more than 200 photographs, Michael looks at the local characters, people and places and discusses the effort of recent events such as Brexit and the Covid pandemic on the countryside and rural life.
The book will be enjoyed by all who read it, not least by those who live and work in this secluded and beautiful part of Devon's countryside.
A book launch event recently took place at Dowrich and this was attended by family, friends and local residents.
Joining Michael to launch the publication was Neil Parish, the MP for Tiverton and Honiton, who was full of praise for the book.
Fellow MP Mel Stride, was unable to attend but wrote a forward for the new book.
In it he writes: "Like Dowrich House itself, Michael Lee is special. Devonian to his core, rooted to the soil, one of our cherished farmers who provide such vital stewardship of the land and all that we love about it.
"Michael has always taken community seriously, serving as a much-admired Parish, District and County Councillor.
"He has for many years played an important role within the National Farmers' Union, helping to preserve and protect farming and all that it brings to local life and our country.
"His work has helped to inspire many to stand up for farming in turn, never to forget how much it matters and so ensuring that agriculture remains attractive to future generations. He has been a source of wise counsel to me over the years.
"I thoroughly enjoyed Michael's 2017 book and this second book touches on many new and interesting aspects of the estate's history.
"Once again in his new book, Michael's love of Dowrich and Devon shines through.
"It is a book that helps us preserve the memories of the past and reminds us of our duty to preserve the very best of that into the future."
Michael thanks all those who helped make the book possible and hopes people will enjoy his latest offering of aspects of his life and that of Dowrich.
Michael added that his family looks forward to celebrating 100 years at Dowrich in 2024 adding: "I hope I live long enough to see it (I will be 92)."
"Dowrich: A Home for All Seasons - More stories from the House, Farm and Farther Afield" is available at Sandford Stores, The Bookery and Mole Avon in Crediton.
The purchase price is £20.
Comments
To leave a comment you need to create an account. |
All comments 0