Massive lagoon and expansion of industrial anaerobic digesters has to stop says Devon CPRE
By 
Alan Quick
  |   Editorial Manager/Photojournalist   |
Friday 16th April 2021 5:51 am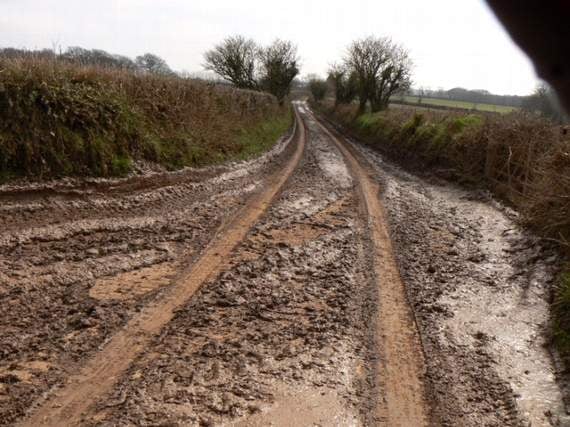 Muck on country roads caused by vehicles carrying liquid digestate to an Anaerobic Digester near Exeter, says Devon CPRE. Photo: Devon CPRE
Subscribe newsletter
Subscribe to our email and get updates right in your inbox.
DEVON CPRE believes the expansion of anaerobic digesters (ADs) has to be curtailed to protect rural communities and the countryside, as 14 villages and hamlets join forces to protest against development plans for an industrial-scale lagoon near Upton Pyne.
This facility will act as a massive storage and distribution centre west of Exeter for liquid digestate, a by-product of ADs.
Devon CPRE, the leading campaigner for the protection of Devon's rural environment, says that the AD sector in the county is out of control.
The result is a rise in pollution incidents, damage to highways and historic hedgerows, as well as blatant breaches of planning conditions with HGVs and overloaded tractors, tankers or trailers carrying fodder crops and liquid digestate.
Stuarts Partners Ltd has submitted a controversial planning application for the lagoon to East Devon District Council (20/1517/FUL), to support the business expansion of the Gorst Energy AD plant at Enfield Farm, Clyst St Mary, despite operators Gorst Energy Ltd losing a major planning appeal in autumn 2020 to nearly triple production.
The lagoon will be located on a waterlogged green-field site off Rixenford Lane, which is owned by the Earl of Iddesleigh and served by a narrow, quiet country lane frequented by cyclists and walkers.
More than 450 residents have signed an online petition objecting to the 1.5 million-gallon lagoon to provide storage for liquid digestate from the Enfield Farm AD, more than 12 miles from the lagoon.
In excess of 2,000 heavy tractor and tanker journeys will be generated annually, driving through Exeter city centre and narrow village lanes to the lagoon, from which the liquid digestate would be distributed and spread onto multiple landholdings west of Exeter.
Phil Bratby of Devon CPRE said: "The proposal is poorly conceived, and the accompanying information is misleading and inadequate. The lagoon is the very opposite of a sustainable green energy solution.
"The transport implications alone are unsustainable and would result in the consumption of huge quantities of diesel fuel with all the resulting pollution problems and conflicting with national planning policy.
"There would be an unacceptable impact on the local lane network in terms of damage and inconvenience of other road users and an unacceptable impact on the local community in terms of noise and smell.
"The location and use of the lagoon would lead to a huge risk of pollution to local watercourses.
"There have been many instances of pollution of watercourses in Devon caused by operators of AD plants, including Devon's worst-ever pollution incident in 2019, when over 10,000 fish were killed as the result of pollution of the River Mole by digestate from a nearby AD plant."
Residents have voiced strong disappointment at the failure of Devon County Council Highways and the Environment Agency to investigate AD breaches and to not fully interrogate the industrial lagoon proposal and its impacts - the harm to the local community, to narrow lanes and the environment.
Neil Parish, MP for Tiverton and Honiton and Chair of the House of Commons EFRA (Environment, Food and Rural Affairs) Committee, supports small on-farm AD plants but also fears that the large industrial-scale ADs in Devon are getting out of control.
Speaking in February 2021 at a Scrutiny Committee meeting of Mid Devon District Council, he is reported to have recognised the impacts on local communities, in particular the transportation of feedstuffs going into the industrial-scale AD plants and the liquid digestate coming out as a by-product.
Devon CORE understands he said: "ADs are getting bigger and bigger and getting out of all proportion. While they were a good thing in using them for waste to produce gas or electricity, what you have now is a huge amount of crop being used in them and they are becoming vast.
"In becoming so big they are moving stuff around all of the time. There are problems all over the place.
"I am trying to collate all the problems across the country to get the Government to take some action."
Quite clearly, transporting digestate from an AD in Clyst St Mary across Exeter to a storage lagoon in Upton Pyne would only add to Neil Parish's list of problems with ADs.
Devon CPRE says there is still time to voice an objection to this application.
It says opponents can write to East Devon District Council or register/login on the Council's website at: 20/1517/FUL | Construction of digestate storage lagoon, with associated hardstanding and 2.4 metre high security fencing | Land South Of Rixenford Lane Upton Pyne and add a comment up until the date a decision is made.
Comments
To leave a comment you need to create an account. |
All comments 0