Kennerleigh volunteer honoured
Thursday 18th March 2010 12:00 am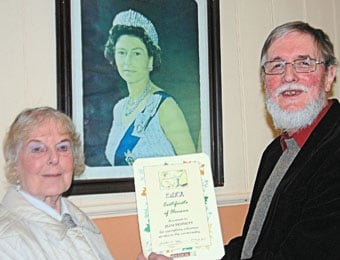 Nick Gosling presents Jean Bennett with her certificate.
()
Subscribe newsletter
Subscribe to our email and get updates right in your inbox.
THE most active Kennerleigh shop volunteer, Jean Bennett, received a certificate of honour at the second AGM of Kennerleigh and District Community Association (KaDCA).
Jean topped the tally of hours worked in the shop by local volunteers in 2009. Nearly 200 hours were put in by 12 volunteers during the year. Most of the work involved once a week stacking and pricing incoming goods and some newspaper sorting.
Kennerleigh lady volunteers say they look forward to the event.
"It helps Sonia, (Kennerleigh Village Stores owner and shopkeeper) and we have a bit of a gossip over a cup of tea when we've finished," one told the Courier.
The presentation was made by outgoing KaDCA chairman, Nick Gosling, who has moved out of the KaDCA area. Norman Boyer, of Moor Farm, was elected to the committee. Officers for the new committee will be elected at its first meeting on April 9.
Members at this year's AGM voted to reduce the annual membership subscription from £10 to £5.
Meanwhile, the meeting was warned by Nick Gosling that the grant scheme operated by Devon County Council "must be very much uncertain" after the scheme's initial three years, ending next year, "in view of economic challenges and lots of political change on the horizon.
"The Association will have a vital role in seeking new initiatives to preserve the shop and all its essential services," he said.
In his report to members, he noted that Sonia Andrews had recently completed a "staggering 20 years" at the shop and - to applause - continued to "provide her customary enormous range of goods and wonderful personal service," as well as undertaking a new shop layout recently.
He drew attention to the selection last year of Kennerleigh for a visit by a parliamentary select committee looking into the effects of rural post office closures which generated a "favourable feedback from the MPs and the Council" and a request from the Community Council of Devon to use Kennerleigh's experiences to illustrate "what could be achieved by a community working together.
"During the severe weather at the beginning of 2010," Mr Gosling went on: "The shop really showed its value to the community, acting as a collection point for mail which could not be delivered, and a source of essential provisions when road conditions prevented shopping further afield.
"Sonia was able to keep track of anyone who might otherwise have been isolated or neglected."
The committee had pointed out to the authorities the cost saving in avoiding possible demands on the emergency services, due to the foresight of Devon County Council in providing their generous grant scheme to keep local facilities open.
He ended his report by saying that KaDCA hoped to re-schedule the postponed Sahara Marathon Evening to May 14 and that a statement would be made about this shortly.
The launch of the KaDCA website had proved its success, with one advertiser reporting an almost instantaneous inquiry resulting in a notable bit of business.
Comments
To leave a comment you need to create an account. |
All comments 0