Ivor Coren - remembered with affection by all who knew him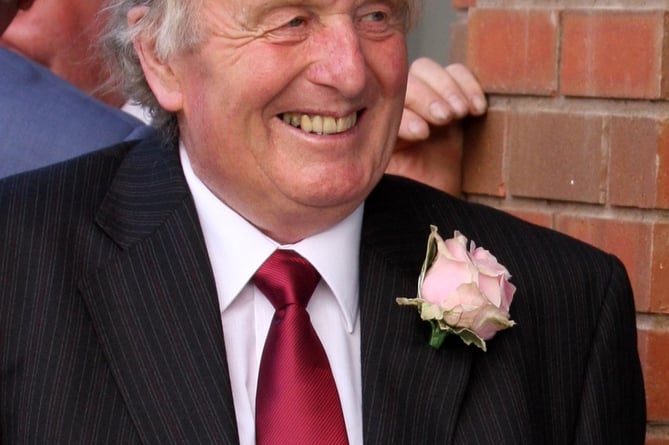 Subscribe newsletter
Subscribe to our email and get updates right in your inbox.
MEETING and chatting with people was one of the delights of Ivor Coren's life, greeting everyone with a "wad 'ee know?".
Born on Boxing Day, 1940, Ivor John Coren died on March 23.  A Thanksgiving service for his life was held on April 12 at Spreyton Parish Church.
A tribute to Ivor from the family was read by a long-time friend of Ivor's, the Rev David Cole who had been asked by Ivor to also give the Sermon.  The service was taken by the Rev Mark Neave.
Mr Cole said Ivor had been born at Shortacombe Farm to Elsie and Joe Coren, the first of three sons, followed by Derek and Gerald.
He had gone to Yeoford School where he returned in adult life to coach the school football team which he continued to do for about 10 years.  He also helped the Headmistress Hazel Boyd take the older children on school day trips to London.
From Yeoford, Ivor went to Hayward's School for Boys in Crediton, becoming a prefect and then Head Boy and finding a passion for sport.  Taught by Jack Hayes, Ivor played rugby and cricket for the school.
Football became another sport he enjoyed.  Mr Cole said that Ivor's goal scoring and speed became well-known, at one match scoring 11 goals.  He also played for Fordton for a season.
Leaving school at 15, Ivor worked on the family farm milking the cows first at Shortacombe, then Mill Farm and back to Shortacombe.  He continued to take an interest in the herd right up to the end.
He and Jean met at Spreyton Methodist Chapel Harvest Festival in 1961.  Three years later they were married at Whiddon Down Chapel, making their home at Mill Farm.   They have two sons, Andrew and Paul.
With both his sons, Ivor joined Yeoford Cricket Club in the late 1980s, becoming captain four years later. Paul took over from his father.
Mr Cole said: "Ivor continued to support the club in his role as club president by going to practically all the matches, offering bowling and batting advice to the youngsters. He also became chief fund raiser which he enjoyed by visiting all the local businesses drumming up sponsorship for the club."
Collecting clocks and watches was another of Ivor's interests, as well as politics and following various Male Voice and Chapel Choirs such as the Culm Valley and Exeter Male Voice Praise.
He also enjoyed delivering the Yeoford and Cheriton Bishop parish magazines to the neighbours, always stopping for a good natter.
Mr Cole ended: "Sadly many of his activities were curtailed because of the pandemic and later by his prolonged illness, which was borne with great courage.
"Ivor was supported wonderfully by our NHS firstly by Cheriton Bishop GP Surgery and the Crediton Community Nurses and Occupational Therapy Team and latterly the RD and E and Tiverton Hospitals and finally The Jack Simpson Care Home in Exeter where he passed away peacefully in his sleep."
Mrs Kathryn Cole gave the Bible reading. Ivor's sons Paul and Andrew, his nephew Lindsay Coren, family friends Nigel Lewis, Colin Clarke and Colin Rook were bearers.
John Stevens, family friend, played the organ.  Interment at Spreyton followed the service.
Refreshments were at Spreyton Village Hall and donations to Cheriton Bishop Surgery Medical Equipment Fund may still be made via C J Steer and Son Limited, Funeral Directors, Homefield, Station Road, Bow EX17 6HU.
Comments
To leave a comment you need to create an account. |
All comments 0