Highways Agency agrees to A30 tree screening for Tedburn St Mary residents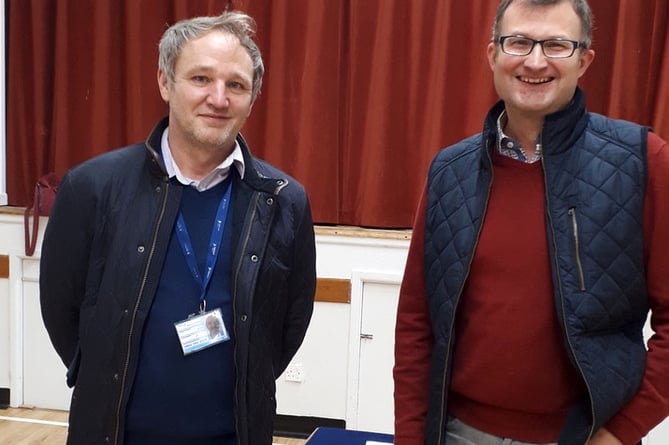 NAAG chairman, James Gibbs, right with Marcus Anning of the Highways Agency.
(Sue Read, Crediton Courier )
Subscribe newsletter
Subscribe to our email and get updates right in your inbox.
AT LAST Tedburn St Mary has received some positive news to lessen the road noise people have complained about since the Highways Agency cut down trees along the A30 trunk road last year.
An action group, NAAG (Noise Abatement Action Group), was formed, meetings held with the result that trees will be planted and fence panels put up along parts of the dual carriageway main road.
Marcus Anning, Asset Needs Manager (SW) for the Highways Agency, went to a NAAG meeting at Tedburn on Monday, February 28, after which he said he hoped he had provided "reassurance that we are sorry for the impact our work has had on local residents and that this impact will be mitigated as soon as possible."
He showed a plan of gaps where there would be fencing and replanting.  He hoped this could be done this month, if it has to be delayed beyond Easter, he would confirm what else would be done, such as only putting up the 1.8m woven panel fencing in places.
This is intended to be a temporary solution to give a visual and part noise screen.  Mr Anning confirmed the parish council would be told if the fences were to be removed once the trees were high enough to provide a screen.
A previous replanting proposal by the Highways Agency would have taken some years to become effective.  This time it would be in three staggered rows with the inside and outside rows being field maple, hazel, hawthorn, holly, honeysuckle, cherry laurel and dog rose, with the middle being almond willow alternated with Scots Pine.
The aim of this revised planting schedule was to form a dense planting mix and a rapid screen, the central trees taking longer to mature.
Mr Anning also said that the Highways Agency would be doing more research into the noise benefits of tree screening to avoid the sort of problems Tedburn has had happening again.
All trees along the A30 past Tedburn are noted as fulfilling a screening and mitigation function which means they would not be removed without notice but would consult and provide mitigation where necessary.
Mr Anning also warned that as a result of Ash Dieback, it was likely more trees would have to go but not a wholescale removal.  The Highways Agency would be looking into replanting ahead of removal to try to give replacements enough time to mature.
NAAG chairman, James Gibbs, said that both Ide and Tedburn had been affected by the tree removal which the Highways Agency was taking seriously once raised, for which NAAG felt it should be commended.
Comments
To leave a comment you need to create an account. |
All comments 0