Hiding in plain sight - do you struggle to read?
By 
Alan Quick
  |   Editorial Manager/Photojournalist   |
Friday 5th August 2022 11:00 am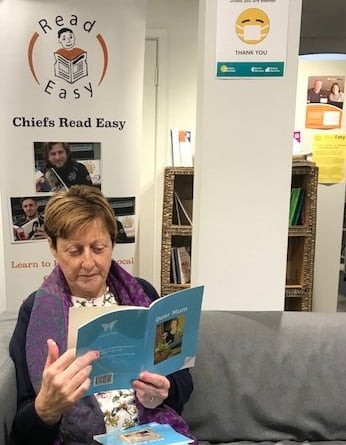 Jacky Smith, from Exeter, who appeared in the Jay Blades documentary.
()
Subscribe newsletter
Subscribe to our email and get updates right in your inbox.
THERE are 2.4 million adults in England who struggle to read, and some of them will be living in Crediton.
What this means at an individual level is not being able to read a menu when you go out for a pub meal; not knowing how to follow the cooking instructions in a recipe book; not understanding the proper dosage on your medicine; not being able to check food labels if your child has allergies; not reading how well your child has done when their end of term report arrives; not fully understanding official letters.
You might accidentally "forget" your glasses, pretend you're too busy to read something, defer to your partner when using the ticket machine, decide that you cannot try for that dream job. Life is hard.
The stigma can be disabling. There is often embarrassment and deception.
Many people feel depressed and cannot see a way forward.
That's where Read Easy can help – it is a National, voluntary charity whose vision is to improve literacy skills and enable adults to fulfil their potential.
Specially trained coaches can help a reader by meeting once or twice a week and following a step-by-step programme which has been used by many – the TV personality Jay Blades from The Repair Shop being one.
Following the success of Jay Blades' BBC documentary which follows his journey as he faces up to the challenge of learning to read at the age of 51 with Read Easy, the charity generated tremendous interest in coaching.
People really want to help in their community. However, readers, for many reasons, find it very hard to come forward, and increasing their numbers is now the main focus in Devon.
Often they will be referred by agencies that are already supporting them with other aspects of their lives, but sometimes they will be referred by friends and families.
Whichever the case, it is a brave step forwards and everyone is treated in the strictest confidence.
One reader who has given permission to share her story is Jacky, a Taekwon-Do Coach from Exeter – she appeared in the Jay Blades documentary reading in Exeter library. She has now achieved level 1.
Do you know an adult who struggles to read?
Read Easy covers the whole of Devon, but Crediton is an area that it is expanding into. Read Easy provides free and confidential one-to-one reading coaching for adults.
To find out more either email: [email protected], visit www.facebook.com/ReadEasyExeter or telephone 07942 367367.
Comments
To leave a comment you need to create an account. |
All comments 0