STUDENTS and staff at Crediton's Queen Elizabeth's School are celebrating after receiving a prestigious Artsmark Award.
Artsmark is the only creative quality standard for schools, accredited by Arts Council England.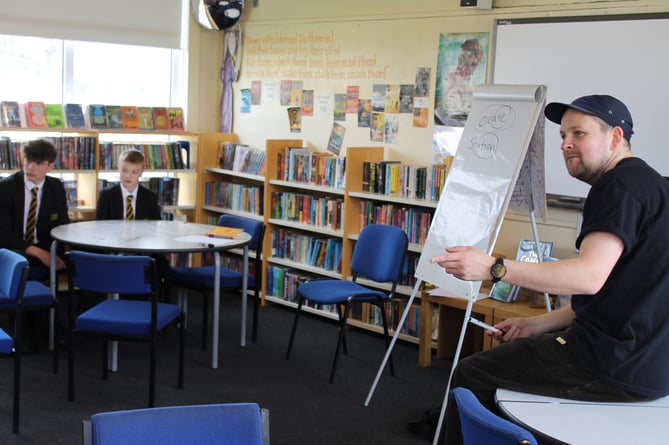 Poet and Playwright Steven Camden at QE School.
(QES)
It supports schools to develop and celebrate arts and cultural education across the whole curriculum, bringing learning to life for children and young people.
In order to achieve its Artsmark Award, QE had to develop its arts and culture provision to embed a broad and balanced curriculum.
This was achieved by creating an overall plan that was committed to and delivered across the whole school.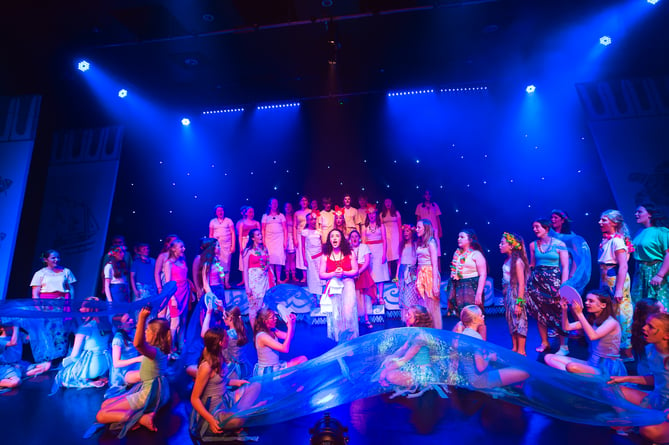 QE Theatre Academy Year Seven and Eight's production of 'Moana Jr'.
(Rory Oliver)
QE was supported by "Real Ideas" in planning and developing its objectives.
Real Ideas worked alongside the school at various stages to support its Artsmark Award achievement.
The Artsmark assessor commended QE, noting that the school "remained steadfast in its provision of discrete arts teaching at Key Stage 3 and has sustained its range of arts qualifications".
It added: "Results have been strong at GCSE and A level and pupils go on to study arts subjects in higher education.  You have restored and sustained your performance opportunities, with your Jazz Band performing in the wider community and with primary schools being welcomed to your musical theatre productions.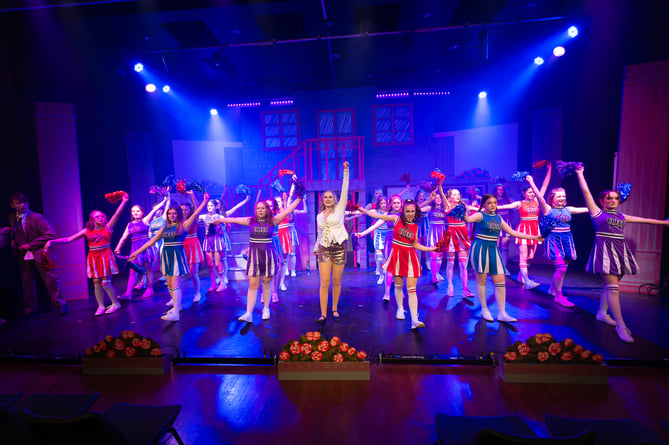 QE Theatre Academy's production of 'Legally Blonde: The Musical'.
(Rory Oliver)
"Primary schools have also been involved in Drama and Music workshops and your transition events have a strong arts base. You have enhanced your extra-curricular provision, with the QE Theatre Academy being a particular strength.
"The Carnegie Competition where students work in small groups to present a short performance, telling the story of their chosen book from those on the Carnegie shortlist, gives pupils ownership of their arts learning.
"You have done well to sustain and strengthen the arts through difficult times and we look forward greatly to hearing how you build on this as your journey continues."
On receiving the award, Paula Smith, Acting Headteacher, said: "We're extremely proud of achieving our Artsmark Silver Award.
"We are committed to delivering a high-quality arts and cultural education and we look forward to continue to grow with Artsmark."
Dr Darren Henley OBE, Chief Executive of the Arts Council, said: "I would like to congratulate Queen Elizabeth's School on their Artsmark Award.
"Becoming an Artsmark school demonstrates that through offering a broad, balanced and creative curriculum, young people have the opportunity to develop character and resilience, increasing their knowledge, curiosity and skills that will remain with them through to adult life."