THE Department for Education (DfE) has just released this year's school comparison table and everyone at Chulmleigh College is overjoyed that the College is the first in the county for the GCSE English Baccalaureate (EBacc) score.
The EBacc is a set of subjects at GCSE level that keep young people's options open for further study and future careers.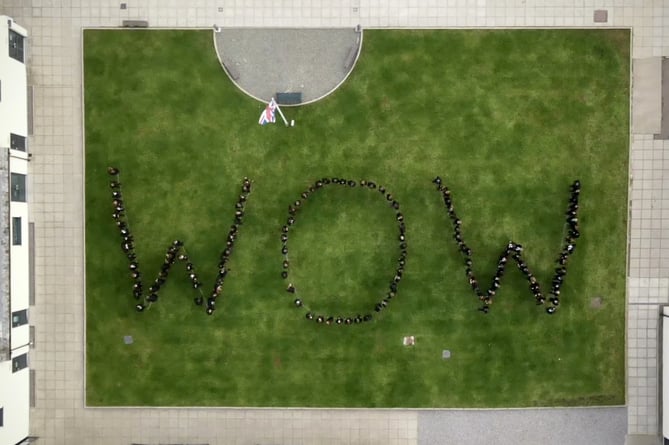 Chulmleigh pupils celebrate.
(Christian Rushbrooke)
Chulmleigh College entered 84 per cent of pupils for the gold standard Ebacc and achieved an average point score of 5.24.
These subjects are considered essential to many degrees and open up lots of doors. 
Executive Headteacher Mr Michael Johnson said: "Ex-pupil Christian Rushbrooke, who is now a film maker, kindly offered his time to take the photos to celebrate our pupils' amazing achievements.
"He came up with the idea to combine a celebration of our GCSE results by showing the enthusiasm of the pupils who have just joined us.
"Year 7's photo message to the Year 11 class of 2023 is a joy to watch and we all salute the pupils who achieved this.
"This was all the more remarkable because they did not allow pandemic disruption to get in their way. Some of the results achieved are not only the best in the county, but the best in the region too.  
"We are also delighted and impressed with the start Year 7 have made at the College, and they deserve so much credit for their positive can-do approach.
"It's great to see them celebrate like this. It is amazing to see such resilience in a group of 153 11-year-olds from 27 primaries. They really are determined to give their best."