Crediton/Fulda World War One show rehearsals start
By 
Alan Quick
  |   Editorial Manager/Photojournalist   |
Thursday 23rd August 2018 5:30 am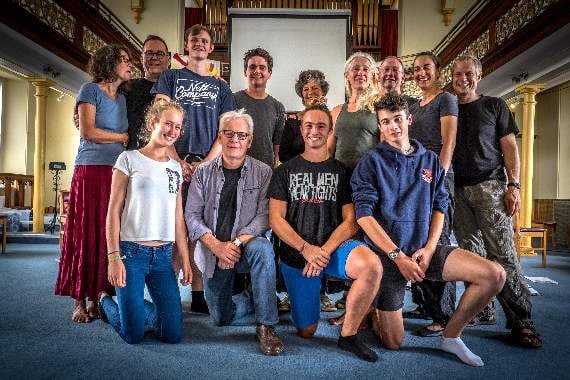 Members of the 'Echoes of Wartime' professional cast, back row, left to right: Jessica Stuckenberg, Oliver Nedelmann, Adrian Krick, Harry Creffield, Mary Stephenson (writer), Heidi Dorschler, Anthony Richards (Director), Barbara Gottwald, Christoph Gottwald and front row, left to right, Mia Stuckenberg, Martin Reeve, Sebastian Richards and Luca Vaccari (Stage manager/movement). Photo: Richard Burston.
()
Subscribe newsletter
Subscribe to our email and get updates right in your inbox.
Five actors from the German town of Fulda and four actors from Crediton have started exploring the storylines and background research brought together by the Crediton writer Mary Stephenson.
After five days of intensive character rehearsals in Crediton, the two teams now separate for the month of September until rehearsals re-start in Crediton on October 1.
The show then opens and runs in Crediton for the three nights of October 11, 12 and 13 before transferring to Fulda, where it performs the following week in The Orangerie in the city centre.
Producer Rod Brookes-Hocking described how the production began three years ago as an idea for a summer outdoor community play in Shobrooke Park based purely on Crediton World War One true stories.
He explained: "Then the show's artistic director, Anthony Richards, and I started speculating how interesting – and very challenging - it would be if true stories were also introduced from our former enemies in Germany, and then not just the stories but the actors too and their production teams.
"This way, we could co-create a production to develop in both countries that could travel from one country to the other, performing in indoor venues to two audiences who speak different languages …that was exciting!"
As well as a professional cast there is also a different community support cast in each town which brings to life parts of the stories through movement and dance. Anyone interested in joining the Crediton support cast must be over 16 and be "reasonably fit" but doesn't have to have any previous experience.
Classes are free-of-charge and anyone interested is welcome to join the first movement session on Friday, August 31, from 4.30pm to 6.30pm in the rehearsal venue of the Congregational Church main hall.
Any queries about the show can be made by calling or texting either the Producer Rod Brookes-Hocking on 07786 078978 or the show's Director Anthony Richards on 07773 429333.
Tickets are now on sale via the website: www.echoesofwartime.com (£10/£8), and at Crediton Community Bookshop from Saturday September 1.
Comments
To leave a comment you need to create an account. |
All comments 0