Crediton Talking News celebrates its eighth year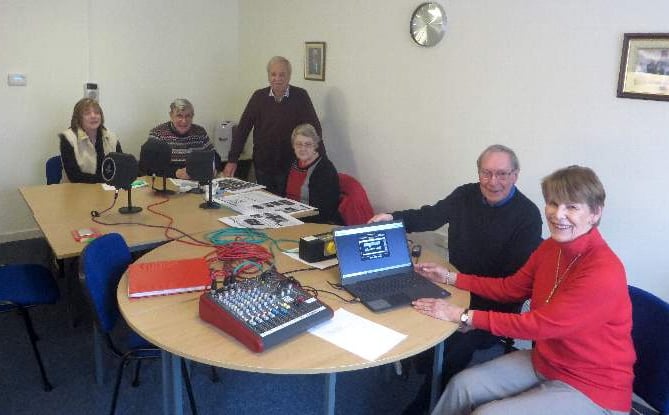 Crediton Talking News during a recording session at the Armstrong Room, left to right, Karen Todd, Richard Adams, Peter Bryan, Bronwyn Nott and, with the computer bought with funds from the League of Friends of Crediton Hospital are Eric Parkes and the Friends' chairman, Louise Adams. SR 1011
()
Subscribe newsletter
Subscribe to our email and get updates right in your inbox.
OVER the past two years when so many people, especially those partially sighted or blind, have been marooned in their own homes, the weekly arrival of the Crediton Talking News memory stick can really help their spirits.
Crediton Talking News is produced through the Lions Club of Crediton and District recording that week's issue of the Crediton Courier.  Although supported by the Lions Club, it is an independent organisation. 
To try to be sure people receive their recorded copies, a proof copy of the current paper is read, recorded and posted first class, courtesy of the Post Office, on a Thursday afternoon.
Not all the readers are Lions but the chairman, Eric Parkes, the secretary, Karen Todd, and treasurer, Peter Bryan, are.  Crediton Lions Club is 45 years-old now and Eric is the last of the Charter Members still in the Crediton Club. 
People might remember when years ago there was Crediton Talking Newspaper which was recorded on cassette tapes until it folded some years ago with its remaining funds going to the RNIB.  
Eight years ago the Lions were encouraged by John May from Lichfield Lions in Staffordshire, the Lions' Sight Officer at the time and Development Officer for the Talking Newspaper Federation, to set this up again. John was awarded the MBE for his work with the Federation. 
He helped Crediton Lions for the first year.  Eric Parkes said "significant" funds were provided by the Lions Club.  Since then further grants have been received from Crediton Town Council, the Lions and other charities to provide a free service to its clients.
"We are indebted to the 'Courier' over the past few years for all its help and support," Eric added. "Universal Office on Lords Meadow Industrial Estate at Crediton kindly supplied our filing cabinet and the League of Friends of Crediton Hospital and Its Community Patients has funded our new computer."
Eric explained: "Once everything is recorded we make MP3 tracks and put them on the memory sticks and then add recordings from the The Talking News Federation of various topical magazines each week."
He added: "The last two years have been difficult for everyone, more so for those who are blind or partially sighted, putting an even bigger strain on them because the lockdowns could have seen them marooned in their homes. 
"Their lifeline has been the Talking News keeping them in touch with what was happening not only in their area but generally as well. 
"Also important, and they say this to me so many times 'when I listen to the Talking News I recognise the voices of the readers and it is like having a friend in the room'.  The readers say who they are at the beginning of each session."
Eric added that they had only missed one session in the eight years when it snowed, the Beast from the East.
He explained: "With me it is a passion, I think so strongly about this, I really do.  It is a vital part of our community - you never know when you might need this yourself.
"It is amazing how many times in our daily lives or recently at the Covid Vaccination Centre where Lions have helped or in a local shop, we have been recognised by our clients when they have heard our voices."
At present there are about 60 clients, not all in Crediton and district by any means.  Often when people move away they ask for the Talking News to continue to be delivered to keep them in touch with the local community and this is part of Karen's responsibility.
Karen is responsible for logging in the red wallets when the sticks are returned.
He continued: "Karen is very diligent and if she notices we have not received a pouch (wallet) back, after a period of time she will telephone to make sure that person is OK.
"If not, we can then put on a Lions hat to see if there is anything we can do to help.  Karen's role is extremely important for the service.  She also doubles as a reader when required.
"Richard Adams from Yeoford organises the readers.  We have a pool of eight readers from whom three attend each week.  Our treasurer, Peter Bryan generally looks after the technical side of things as well as reading."  This also applies to Eric.  
During the pandemic lockdown, Peter did the recording from his bedroom and last year there was a time when Eric produced the service on his own for five weeks. 
Eric added: "People might be referred to us, they need to be registered blind or partially sighted.  We will visit a new client to show them how to use the memory stick and player, it really is easy, and the service is totally free-of-charge to the clients.   
"We are there all the time, if something is wrong, we will respond straight away with either a new stick or a new player, both are free. 
"At each recording session we welcome anyone who might be new and try to remember all the birthdays.
"If anyone would like to know more about this service, please contact me on 01363 82878 or Peter Bryan on 01363 773437. 
"We have led a nomadic life over the last two years, fluctuating between the Armstrong Room, Peter's bedroom, Richard's barn at Yeoford and finally returning to the Armstrong Room.
"We are indebted to the Newcombes Housing Association for making available the use of the Armstrong Room on a Thursday afternoon.
"My sincere gratitude goes to all the volunteers who help the Talking News each week.  I cannot thank you enough for your interest and dedication in helping the Talking News."
Comments
To leave a comment you need to create an account. |
All comments 0