Crediton gallery hosts exhibition of images of many people from the town
By 
Alan Quick
  |   Editorial Manager/Photojournalist   |
Saturday 7th April 2018 9:44 am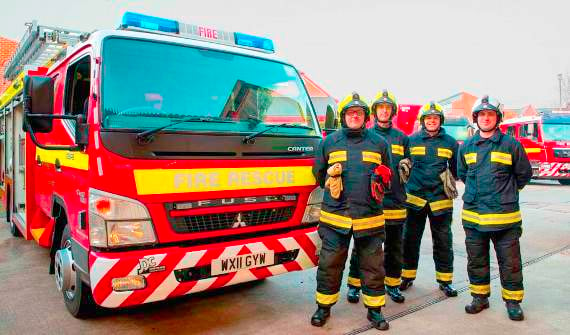 One of the photos from the exhibition, Crediton firefighters.
Subscribe newsletter
Subscribe to our email and get updates right in your inbox.
AN exhibition currently being staged at a Crediton gallery includes images of many people from the community.
The Mayor of Crediton, Cllr Frank Letch, officially opened the "We are Crediton!" exhibition, the work of photographers Kay Piercy and Aimee Hollands, which is currently on display at Bigger Picture Gallery, 100 High Street, Crediton, courtesy of gallery owner Karen Howes, until April 28.
Karen explained: "Our historic market town is situated in the narrow vale of the Creedy Valley, in the heart of an area of outstanding natural beauty.
"It is divided into two parts: the east, or old town, and the west, or new town, and is blessed with an unusually magnificent church and a famous saint.
"A farming community for most of its history and, for a time, a wealthy woollen town, the streetscape of Crediton may have changed over the years, but its good-natured, gossipy inhabitants have remained much the same and number 16,500 at the last count.
"The new exhibition is a photo documentary about you, the people of Crediton.
"It celebrates the variety of people who make up our town, and asks each the question, 'why are you here?'
"Overwhelmed by your enthusiasm to be part of this show, the exhibition represents a rogues' gallery of well over 100 portraits, many of whom you will know or recognise. A big 'thank you' to all of you for your support.
"Come by the gallery and meet 'your town'!"
Karen added that the opening of the exhibition was a great success and she said she was delighted by Crediton's response.
Some of the viewpoints included: "Sense of community is strong"; "Crediton is a lovely town that hasn't lost its charm and has a close-knit community"; "We came for a visit, liked what we saw, and decided to make Crediton our home"; "I moved here with my young family 35 years ago from Hackney in East London.  Why? Crediton is a small town with lots of local activities, two butchers, two bakers, a library, an arts centre, a book shop, a park, great schools, fantastic countryside and a great sense of community".
Others said: "A vibrant little market town - just as it should be!"; "Crediton is home and always has been home"; "I think Crediton has a great community, where everybody helps each other"; "I came, I saw and was captivated by this beautiful, historical and friendly town" (Frank Letch, Crediton mayor).
"I moved here 28 years ago for a post in education and have never wanted to leave.  Crediton has the best mix of friendly people, great shops, super walks, travel connections, creative activities and interesting things to do.  I consider myself lucky to live here"; "It is difficult to imagine a better community - the one that has nurtured me as I have grown with my children and the one that welcomes me with a smile wherever I go.  Crediton is home"; "Live, laugh and love here - never escaped!"
Others who have grown up in Crediton, moved away and returned, one commenting "Once lived here, never forgotten!"
Comments
To leave a comment you need to create an account. |
All comments 0