An array of vehicles admired at Crediton Cars and Coffee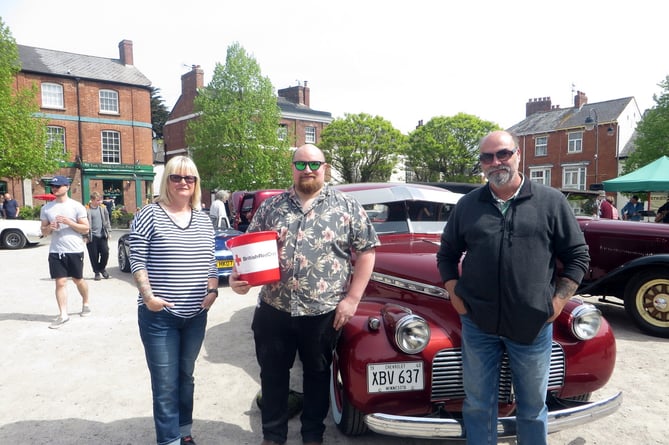 Dan Webb with his collecting bucket for the British Red Cross beside probably his favourite vehicle that morning, a 1940 Chevrolet Special de Luxe with its owners Simon and Caroline Cornford of Sampford Courtenay. SR 1774
(Crediton Courier )
Subscribe newsletter
Subscribe to our email and get updates right in your inbox.
PEOPLE'S love and passion, something they want to show off and share was very evident with the array of vehicles from the 1930s and later that filled Crediton town square on Saturday morning, April 30, for the Cars and Coffee event.
Hours and hours of work had gone into many of them, some having been rescued in a dire state, others mothballed until the chance came to do something about them.
Raising funds for the British Red Cross Ukraine Crisis appeal, organiser, Daniel Webb of the Crediton Coffee Company said it had been "a fantastic meet with a great turnout".
There was much to admire and gaze at, owners only too glad to talk about their vehicles as well as good coffee and excellent cakes.  Live music came from The Triffles through Crediton Arts Centre.
Those attending were extremely lucky, it being the last fine day before the weather broke.
While Dan Webb and Gretchen Oldland from Crediton Coffee Company served the drinks, Adrian Fry from Hat-a-Cakes was selling an array of tempting cakes including cup cakes iced in the blue and yellow colours of Ukraine.
Three Austin 7s were there.  Philip Burrow of Coleford said he drives his 1935 Austin 7 Special as much as he can.  He pointed out that this year is the 100th of the Austin 7.  Philip did the interior woodwork using ash from their farm, the spray job was done by a Crediton firm.  It has a remote gear stick.  "There are so many Austin 7's on the road it isn't usually a problem getting parts," he added.  "Worldwide there are 11,000 on the road."
A year younger was the Austin 7 of Nick Borst-Smith from Cheriton Fitzpaine who had one in his student days.  He ran the Nobody Inn at Doddiscombsleigh for 40 years before retiring.  He said cars like his with a strapped down bonnet were very common.
Both are members of the Austin Seven Club.  "We have more than 200 members, Austin 7s get to be a habit," he said.
John Musty's 1927 Austin 7 was among the oldest vehicles that morning, known as a  Gordon England model.  Her history is fascinating, John keeps a potted version on the car when she is on show.
He says she makes friends everywhere she goes and "those fortunate enough to fit behind the wheel and drive her say she is pure, unadulterated fun.  I have heard this with sincerity from Ferrari and big Healey drivers, so I know it must be true."
David Bowyer who runs the off-road centre at Zeal Monachorum bought his 1955 Series One Land Rover from the Rev Andrew Stevens of Somerset who had used it for 42 years as a daily runabout around the seven parishes he looked after.
A great number of improvements have been made to the vehicle, more by David who has owned it since August 2020.  "Restoring it took me more than 400 hours, I drive it everywhere," said David.
"We'll be at the British Motor Museum in Gaydon, Warwickshire, at Thruxton for the Land Rover Legends in June and Penzance for the Series One rally," he said.
Andrew was a co-founder of The Land Rover Series One Club in 1979, David joined soon after.  The club has more than 3,000 members.
Among the motorcycles was the 1954 Panther 100 with a 600cc single cylinder engine which took Richard Long of Copplestone 18 months to rebuild.  He has used it every day since commuting about 50 miles a day for work.
Richard is a member of the Panther Owners Club and Exeter British Motorcycle Club.  He said she does about 75 miles per gallon and was probably the oldest bike that morning.
Mo Ayling has had motorbikes since he was 17 "so 60 years of bikes".  A member of Exeter Classic Motorcycle Club, he has had the Triumph Bonneville for six years, riding it maybe three times a week "for fun".
He said he was "happily enjoying my retirement, I used to be a coach driver and have had lots of bikes over time."
Mo was a Blood Bikes rider (Devon Freewheelers) for five years and was a First Responder for the ambulance service and said he enjoyed every minute of it.
Dan said there had been a nice selection of vehicles with the weather on their side, hopefully having raised a lot of money to go towards the British Red Cross Ukraine Crisis fund.
"There seemed to be more people around and a record turnout of motor bikes," he said.  Dan also appreciated the live music from, for the first time, Crediton Arts Centre.
• See the double page spread of pictures from the day in the current issue of the Crediton Courier, on sale now!
Comments
To leave a comment you need to create an account. |
All comments 0