Two well-attended COP26 climate emergency events held in Crediton
By 
Alan Quick
  |   Editorial Manager/Photojournalist   |
Sunday 14th November 2021 7:17 am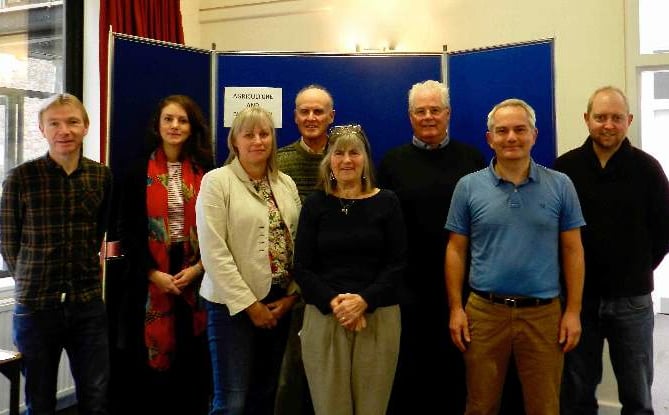 Front, from left, Catherine Broomfield (University of Exeter), Liz Brookes-Hocking (Mayor and Chair of Crediton Town Council), Dave Harris (Extinction Rebellion). Back row, from left, Stewart Barr, Elizabeth Lloyd, Chris Clark and Ewan Woodley at Crediton's COP26 event. NP 061121 01
Subscribe newsletter
Subscribe to our email and get updates right in your inbox.
CREDITON Town Council declared a Climate and Ecological Emergency in July 2019.
To coincide with COP26, the Council organised two events where experts could talk and the public could ask questions.
Crediton Town Councillor Liz Brookes-Hocking, the Mayor of Crediton here reports on the events held in Crediton on the climate emergency.
She writes: "The international COP 26 is nearly over. It attracted Leonardo DiCaprio and Barak Obama. "Crediton's own COP 26 didn't include celebrity attendance but it saw two well-attended events.
"Last week, David Ramsden presented 'What's all the fuss about?' and we certainly found out that there's a lot happening that we all need to take notice of.
"David is a naturalist and the Head of Conservation at The Barn Owl Trust. He has become increasingly concerned at the impact of a warming climate on our ecology and for some years has been finding out more about the changes and what is causing them.
"In the UK, it's easy to feel that the changes are not so significant. We haven't had forest fires or torrents of water pouring through the town centre. We haven't had long periods of summer temperatures of 35-40 degrees. If spring comes a bit earlier and summer lingers a bit longer, is that a problem?
"David's presentation reminded us that we're all on the same planet. What's happening in one part of it affects another far away and one day it could be us.
"As glaciers disappear and the first ice-free summer in the Arctic is fast approaching, it doesn't just mean that Pacific islands will disappear under the rising ocean. It also means that the whole planet will warm faster as the protective polar regions diminish.
"From David we heard about the possibility of tipping points on our planet where changes increase to the point where they cannot be reversed. He also explained that the human body is not capable of living constantly at high temperatures. As more areas of the world become uninhabitable, populations will inevitably move to cooler parts.
"David's presentation is available to watch on Youtube and the link is on the town council website under Climate Emergency and on our Facebook page. It's worth a look.
"Our Community Conversation last Saturday focused on how climate change affects us locally and we had more than 60 participants from six months old to 80+.
"Expert speakers were farmer and business developer, Catherine Broomfield on Land Use, Food Security and Economy; farmer Chris Clark on Agriculture and Biodiversity; academics Stewart Barr and Ewan Woodley on Transport.
"Councillor Elizabeth Lloyd started the event off by outlining what the district council is doing and how we can work alongside them.
"Between each speaker, everyone had a chance to discuss the issues in groups. A lot of ideas, suggestions and potential plans for action came out of these discussions.
"There was a lot of support for improving and extending public transport and planning more sustainable housing. A newer strand for Crediton as a town, was to hear more about how some of the farming community is approaching the issues of sustainable food supply.
"Next steps will be to look at all the ideas and work out the capacity of our town to continue to make effective changes.
"Sustainable Crediton has already been developing pollinator gardens and planting has been done by volunteers at St Lawrence Green and People's Park.
"As a community we can do more of this if we work together. We will also look at more ambitious proposals and how we can work with larger organisations to achieve more.
"We also want to keep local people informed about the issues and how they can join in so we'll be keeping our website updated. More events will follow in the months ahead. This is just the start!"
Comments
To leave a comment you need to create an account. |
All comments 0