AFTER a break in at The Technology Shop on Crediton High Street, the owner, William le Gros has issued a statement saying: "Sadly the shop was broken into at approximately 1.40am on Tuesday, October 24.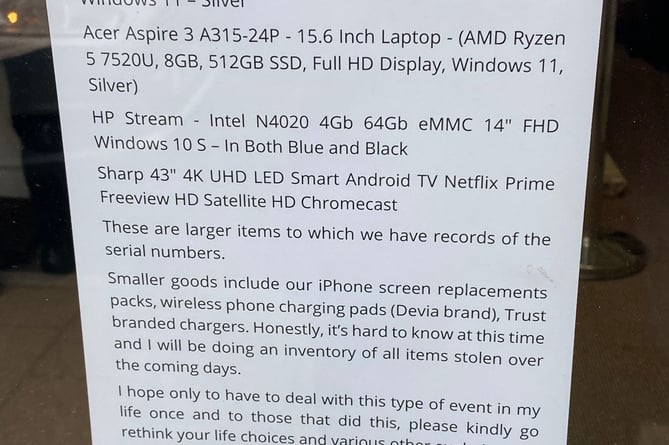 The items stolen are listed in the window at The Technology Shop
(NP, Crediton Courier)
The thieves took items and damaged the property including the front door of the shop.
"New and for sale items were the main items taken by the opportunist thieves with only a small handful of customers affected by the incident. These were called as a priority."
The larger items which were stolen are: 
• HP 15S - Intel Core i5 1135G7 8Gb 256Gb SSD 15.6 FHD Windows 11 - silver
• Acer Aspire 3 A315-24P - 15.6 inch laptop - (AMD Ryzen 5 752OU, 8Gb, 512GB SSD, Full HD Display, Windows 11 silver)
• HP Stream - Intel N4020 4Gb 64Gb eMMC 14" FHD Windows 10 S - in both blue and black
• Sharp 43" 4K UHD LED Smart Android TV Netflix Prime Freeview HD Satelite HD Chromecast
Smaller goods include iPhone screen replacements packs, wireless phone charging pads (Devia brand) and Trust branded chargers.
Mr le Gros said that The Technology Shop has reopened, however some items may be out of stock until stocks are replenished.
If you have any information that could help the police, or if you are offered items to buy as listed, please telephone 101 and quote the log number DCP-202324100130 (Log 130 on October 24).
The items stolen are listed in the window at The Technology Shop.