330 homes plan near Crediton 'unacceptable for wildlife and environment'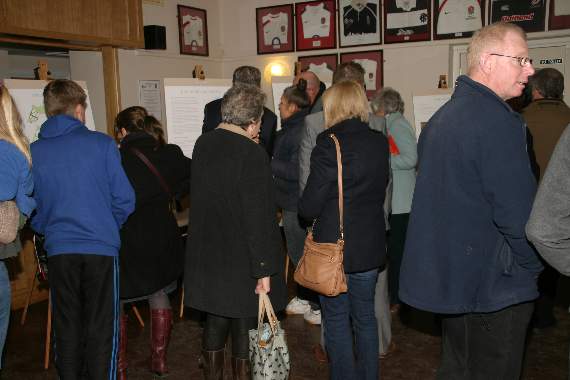 The public found it difficult to view preliminary plans for 330 homes at Creedy Bridge (Pedlarspool) when Gleeson Developments and Crediton Rugby Club held a public exhibition of proposals at Crediton Rugby Club. AQ 0090
()
Subscribe newsletter
Subscribe to our email and get updates right in your inbox.
MEMBERS of the public, at a meeting of the Creedy Valley Protection Group, were told that plans for 330 houses, relocation for Crediton Rugby Club, an extra care residential facility and five gipsy and traveller sites in the Creedy Valley at Creedy Bridge (Pedlarspool), "would have an unacceptable impact on wildlife and the environment".
The comments were made by an environmental expert, who presented to the meeting a report about the special landscape and setting of the Creedy Valley.
He added that pollution would also be caused.
The meeting was held at Sandford Parish Hall on Friday, March 4.
It was well-attended and was organised to discuss the plan to be submitted in the near future by Gleeson Developments.
Gleeson Developments is currently seeking the views of the public about the proposals.
Creedy Valley Protection Group said that the Creedy Valley is "currently unspoilt", adding that the atmosphere at the meeting was "both serious and purposeful".
Everyone was invited to speak and these included councillors past, present and from neighbouring areas, some of whom are now able to voice personal opinion.
Insight was provided into the discussions and decision processes behind local planning and the requirements to build houses.
One previous councillor felt allowing the proposed development would be "social vandalism" and "serious mismanagement".
People spoke of alternative sites in more suitable areas, in ribbon development along the A377 avoiding the need for major infrastructure changes, drainage, pumping and upgrades of roads in north Crediton and rural Sandford.
Eddie Trick attended the meeting to speak on behalf of Crediton Rugby Club and explained how the club had been given notice to move, but had been told by Mid Devon District Council that their pitches could be replaced in scattered relocations.
The objectors expressed admiration for the superb work of the local Rugby Club and said they were equally keen for this development not to be a divisive issue for the community.
However, the group said that the "sweetener" offered by the development plans in providing a new home to Crediton Rugby Club unfortunately does not make the developers' "bitter pill" any less destructive or toxic.
Volunteers were called to form a steering group to prioritise and recommend the Creedy Valley Protection Group's plan of action and people quickly stepped forward.
To contact the Creedy Valley Protection Group visit the group's "Facebook" page or email: [email protected] .
• Many people have expressed their opposition to the homes plan - see letters in this issue of the "Crediton Courier"
• What do you think of the plan for 330 homes on the edge of Crediton at Creedy Bridge?
Share your views with fellow "Courier" readers.
Write a letter, suitable for publication, to: The Editorial Manager, "Crediton Courier", 102 High Street, Crediton EX17 3LF or email: [email protected] .
Comments
To leave a comment you need to create an account. |
All comments 0