10 local artists work was displayed as part of Devon Open Studios at The White Room
By 
Alan Quick
  |   Editorial Manager/Photojournalist   |
Sunday 17th October 2021 4:57 am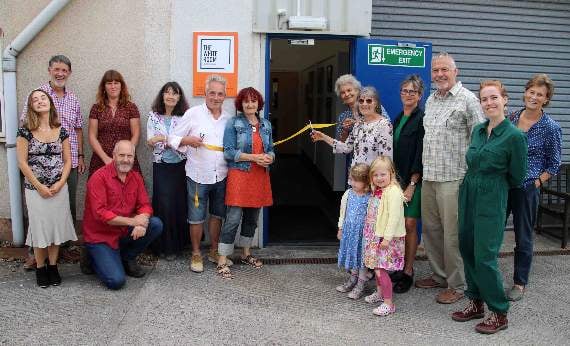 The Mayor of Crediton, Cllr Liz Brookes-Hocking, when she officially opened the venue and the Devon Open Studios at The White Room. AQ 3677
Subscribe newsletter
Subscribe to our email and get updates right in your inbox.
DEVON Open Studios (DOS) ran from September 11-28, featuring artists from across Devon.
Crediton's newest arts venue, The White Room, was the venue for an exhibition by 10 local artists.
The Mayor of Crediton, Councillor Mrs Liz Brookes-Hocking, cut a ribbon to declare the exhibition and the venue officially open.
The artists who took part were Simon Ripley, Esme Cooper, Genevieve Murray, Penny Somerville, Anne Smyth, Anne Jackson, Gilly Haysom, Paul McCullough, and Claerwen Gillespie.
On display was a wide variety of arts - domestic pottery, ceramic sculpture, glasswork, textiles, knotted tapestry, silk screen printing, jewellery, oil portraiture and fine art prints, film, painting, drawing and printmaking.
As well as his drawings, Paul McCullough, showed three short films.
Prior to the exhibition, Genevieve Murray, who rents a studio at The White Room, commented that she was really excited and pleased to be taking part in Devon Open Studios for the first time and also to be joining nine other artists in The White Room's launch exhibition.
She added: "As I am based in Exeter, my studio here helps me to focus on my oil portraits and is a perfect way to connect and meet with other local Crediton artists.
"It's great to have a dedicated and affordable creative space at The White Room and I'm looking forward to welcoming visitors into my studio during Devon Open Studios."
The Devon Open Studios ran for two weeks and dozens of visitors went along to see the work by the artists at The White Room.
While the Devon Open Studios has ended, artists now use The White Room as a working studio.
The White Room Creative Space is a new and very exciting venue for Crediton on Lords Meadow Industrial Estate.
The ground floor offers studios, workshops, well-appointed meeting rooms, one very large, and a central social hub area. The upstairs offices, with their own separate entrance, have been refurbished, and are perfect for small and start-up businesses, a place for meetings, co-working and hotdesking.
It is in a great location on the Exeter edge of Crediton, within walking and cycling distance of buses, trains and the town centre, and whilst it has limited parking, which includes disabled parking, there is roadside parking available, which is a real asset, and unlike so many other venues in Crediton.
The White Room has been set up by Bindy Saywood, who organises the popular and well-established Sandford Craft Fair, and the Crediton Festival Craft Fair on Crediton Town Square.
Jack Robson, from Crediton Arts Centre says: "The White Room is a fantastic space and a welcome addition to the creative life of Crediton. Well done Bindy and John for having the vision and for seeing it through.
"Crediton Arts Centre is looking forward to the work which comes out of this lovely creation, and to working alongside another dynamic and creative space in our town."
Two studios and one of the offices are let, and several of the rooms have been used for meetings and workshops. This has included very successful silver jewellery making workshops. Different events and workshops are booked and several are in the pipeline.
The White Room is a registered Crafts Council "Get Creative" venue and part of the Get Creative campaign offering affordable and fun creative activities which are accessible for everyone.
For further details about The White Room and the courses available, please contact Bindy Saywood at: [email protected] , on 07422 712894, or visit Facebook or Instagram.
Artists who would like to work from the venue can also find out more from Bindy.
Comments
To leave a comment you need to create an account. |
All comments 0