Ups and downs for both Crediton and North Tawton Rugby Clubs over the years
Saturday 19th December 2020 2:13 pm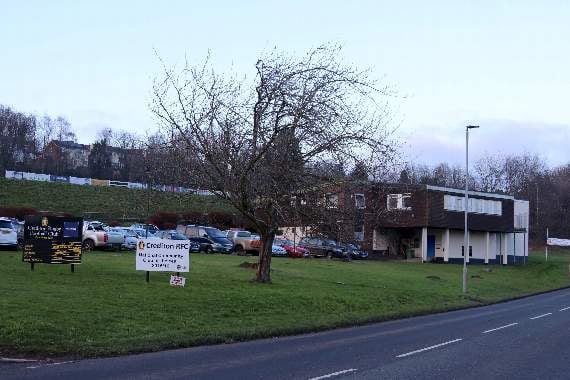 The Crediton RFC Clubhouse.
Subscribe newsletter
Subscribe to our email and get updates right in your inbox.
THE powers that be in world rugby have much to ponder upon over the coming months.
If we all thought that Coronavirus was the major issue which would fill the minds of the great and good in our game, we were probably mistaken.
The revelations by some of the top former international players regarding the consequences of head injuries is of great concern to us all.
Of course it has to be borne in mind that since Steve Thompson retired from the game in 2011, much has changed in the game in an attempt to limit contact with the head.
Players' health and well-being is monitored both during games and in between matches which although no consolation to those players who are suffering now, does go some way to minimising the risk.
Laws have changed in an attempt to eliminate contact with the head and no doubt further law amendments will be made as a result of the possible claims that will have to be dealt with.
Obviously, as anyone who is a lover of our sport we would all be a bit concerned about some of the suggestions that are coming forward and which would take away much of what is exciting about the game but of course player safety is the prime consideration.
As regards our current Covid situation, as has previously been reported, the RFU has abandoned any league programme at our level.
However, in order to have what we hope will be some meaningful rugby, Clubs have been put into geographically suitable "clusters" of between four and six Clubs.
Crediton are in a group of four together with Exmouth, Sidmouth and Exeter University. We will play each team on a home and away basis and under the revised (albeit temporary) laws, no scrums or rucks with the team in possession taking a free kick which cannot be taken quickly.
If there is sufficient interest from players we can add on Second XV games and Colts. In addition and independently of the RFU proposals, we are considering joining a Second XV cluster along with Tiverton, Cullompton, Topsham, Exeter Saracens and Exeter Athletic.
All these proposals are scheduled to start on January 23, although that will be affected by any changes in the Coronavirus issue. We did consider a couple of inter Club games on December 19 and Boxing Day but have decided to err on the side of caution and shelve that idea.
Over the years of writing the Crediton RFC Match Reports, space in the paper has always been shared with our friends and neighbours from North Tawton.
However, the history of fixtures between the two Clubs goes back many years, in fact Queen Victoria was in her 50th year as the Monarch when, on February 12, 1887, Crediton Second XV entertained North Tawton. Crediton went on to win by two tries to nil (two points to nil).
The teams met again six weeks later on March 26, and again Crediton won by a goal and a try (four points) to nil. The teams that day were Crediton: S. Flood, A. Flood, W. Murch, A. Hutchings, H. Berry, R. Lane, S. Adams (Capt), G. Bennett, Cox, R. Sprague, Dockett, F. Tothill, S. Stone and T. Lyne.
North Tawton: Wilcocks, Lucas (Capt), P. Taylor, G, Taylor, Mogridge, T. White, T. Attwell, W. Fisher, Northcote, Cann, Martin, Ford, J. Arnold, R. Arnold and Merchant.
It would be six years before the two sides met again with Tawts winning four points to two. Fixtures continued between the Clubs although Crediton appeared in various guises.
Firstly, there seemed to be a sufficient number of rugby playing choristers for the Church Choir to field a team and then Crediton Rovers appeared and games were evenly contested and victories were equally shared.
However, Tawts began to get the better of things against our Seconds on a regular basis and in 1910 began to take on the First XV and by the end of November 1910 the First XV's had played four games with two wins apiece.
By the time World War One had erupted, the balance of power between the two Clubs had shifted and it was now North Tawton who held the upper hand.
The period leading up to the war had seen a huge decline in rugby at Crediton, indeed the 1913-14 season simply did not exist for Crediton RFC.
Certainly, some rugby was played but the town was represented by members of the now defunct Crediton Club in the name of the Town XV.
After the war, a huge amount of enthusiasm was forthcoming for the game and the Club was resurrected and fixtures with North Tawton resumed.
For years we were placed in the North Devon Group for the Devon Junior Cup and more often than not, the outcome would depend on the results between the two sides.
In the mid to late 1920's it was ourselves that made the semi-finals of the Cup and in three successive seasons reached the final, winning once. Each time in the Group stages, the games against North Tawton were won by the narrowest of margins.
For some reason, fixtures between the two Clubs lapsed for a number of years, Tawts went on to reach four successive Junior Cup Finals from 1947-51, winning two outright and ending up sharing with Totnes on two occasions.
In the modern era, the games have generally reverted to Crediton Seconds v North Tawton Firsts and again honours have been even.
Both Clubs have moved forward especially with facilities and those at North Tawton compare favourably with any in the County.
Unfortunately for Tawts, they have produced a fair number of good players many of whom have migrated elsewhere, mainly in a westerly direction to Okehampton, something that has undoubtedly hindered their progress over the years.
Fortunately, in recent seasons, some have returned and the Club is once again becoming a force in the County. Both Clubs look forward to many more competitive fixtures over the coming years.
For those readers who enjoy statistics, the record of wins and losses is pictured; (for those that don't enjoy statistics you are free to turn the page!)
Current circumstances mean that Christmas will be a very different experience for many of us and so on behalf of all at Crediton RFC, please keep safe and have an enjoyable and Merry Christmas and New Year.
Comments
To leave a comment you need to create an account. |
All comments 0