Normality of a sort returns to North Tawton RFC
Friday 23rd April 2021 6:02 am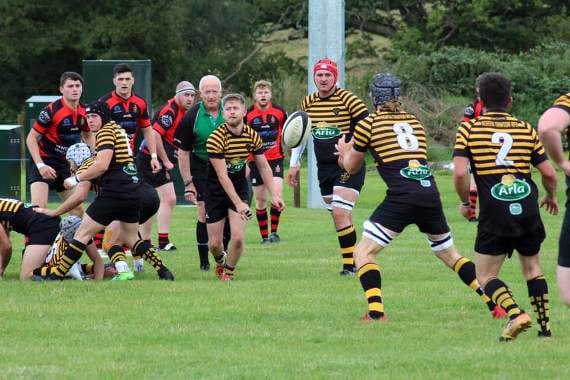 Subscribe newsletter
Subscribe to our email and get updates right in your inbox.
The normality of life has changed for so many, and it is sometimes hard to recall what normality was.
However, with the roll out of new vaccines and the willingness of the public and businesses, some sort of normality is hopefully on the horizon.
All aspects of life have been put under immense strain for families and businesses alike. This is not just before and during the pandemic but fear about the future. What restrictions will be in place? Will we be able to carry on as normal – pre pandemic?
These questions can only really be answered by those making the decisions. All we can do at this stage is to ensure we keep ourselves and those around us safe.
The small committee at NTRFC have ensured local and government funding has helped to keep the club a viable facility. Credit must go to James Miller and Sarah Quick for gaining the funding needed for the club to remain afloat.
So far so good, but there are concerns that when we can open and when we can play our glorious game again, the bills will start to rise, and income might not be forthcoming.
More alarmingly, after such a lay off due to Covid lockdown, players may have decided to hang up their boots and partake in other activities.
However, there is light at the end of the tunnel with the government's announcement on lifting restrictions. The committee has not stood still and is putting together ideas and plans for the coming year once lockdown has been relaxed.
This is to help encourage players back to playing and hopefully the wider community to come and enjoy our brilliant facilities at Taw Meadow.
Ideally it may also encourage some new players to bolster our current squad. Whatever changes to lockdown are announced we must try and hit the ground running to ensure the survival of our club.
Realistically and hopefully normal competitive league fixtures will resume in September (dependant on restrictions). The NTRFC First team squad showed they could hold their own in their new league of Devon and Cornwall and will hopefully continue to be a force to be reckoned with when the league can resume.
For an age now there has been a growing desire within the club to raise a regular Second team. This had just started to gain momentum due to coach Simon Quick's persistence, only to be cut short in its tracks due to Covid-19.
This will be something all club members will need to get on board with. Not only to ensure the longevity of the club but to improve social activities, healthy competition for positions and to ensure our facilities are used to their near maximum.
The men's senior players have supported the club by paying their annual membership. However with no competitive rugby allowed to take place this season, the committee has taken the decision to carry membership over to the forthcoming season. Although any voluntary contributions would be greatly received! We are also discussing a discount membership, for one season only, for new signings.
In addition, we are planning a new promotional video to highlight our team, junior teams, and facilities at the club. This we hope will make our club more visible and give an insight to any interested players young or old!
We would also like to have a monthly "meet the players" interview to give a general profile and brief question and answer scenario. This could possibly be extended to "meet the old player" on a similar question basis on players experiences at the club on and off the pitch.
To start things off as restrictions allow, we will be holding a town car boot sale and market, to include barbecue and some light entertainment.
As the release from lockdown is set to begin, we are planning to hold several events not just for the community but also for the club.
Obviously, our main priority is to get rugby back at the club as soon as possible. However, the local community is also itching to partake in social activity as well. As we have a mass of space at Taw Meadow, we feel it only proper to combine the two. Something for the club, something for the community and something for charities. We are aiming to organise a sports day/family fun day rolling on to a mini music festival into the evening. More details to follow but we will need help from as many members as possible.
The fireworks are booked, and we will look to incorporate Halloween into this. This is one of our main functions of the year and is always a good social occasion for the club and town.
For the remainder of the year the club will be looking to raise funds for mental health. Our chosen charity is "Devon Minds" who help and assist all age groups in their mental health. We feel more so now than ever this type of charity needs help and support from the community for the community.
UP AND COMING SOCIAL DATES
Car Boot Sale, Market and Barbecue – Saturday, May 1, 10am to 1pm
Family Sports Day, Including Sponsored 5k Cross Country Run in Aid of Mental Health, Barbecue, Stalls and Music into The Night – June 26, 3pm to 11pm
Music - Adele tribute, September 18 - more information to follow
Halloween and Fireworks - October 30
More social dates to be added when restrictions are lifted and confirmed!!
UP AND COMING PLAYERS EVENTS
Summer Touch Rugby Starts – Tuesday, June 1
Pre-Season Training Starts – Tuesday, July 13
First Game of The New Season – September 4 or 11
At NTRFC we have a small but dedicated committee team. We are always looking and hoping this team could be expanded. Do you want to know more about the running of the club? Or you may feel you have some skills that would benefit the running of the club.
Then please contact one of the members below for more information. It is not a 24/7 commitment but any addition to the team would be advantageous to the club.
NTRFC Committee: James Miller - Chairman, Sarah Quick - Hon Secretary, David Quick - Director of rugby, Andy Pyle, Simon Quick - Senior and Junior Coach, Gizzy Miller - Data Officer, Rowan Quick - General Committee and Chris Phare - President.
Comments
To leave a comment you need to create an account. |
All comments 0