Non contact training going well at Crediton RFC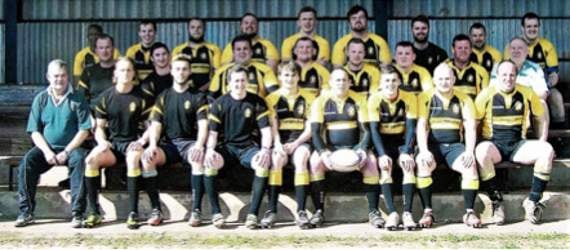 Crediton RFC Third team in 2015.
()
Subscribe newsletter
Subscribe to our email and get updates right in your inbox.
WHILST Premiership rugby has started in all its glory, unfortunately those of us at the opposite end of the scale are some way away from taking the field.
We are currently at Stage C of the Return To Rugby plan and, other than some non contact training, it will be some weeks before we can play some competitive games and the chance of that happening before December is pretty remote. Fortunately though, training has had good numbers and whenever we do arrive at that first kick off, we certainly should be well prepared and ready to go.
Some of the glory days of the Second XV were mentioned last week and, much as the Quins are the support base for the First XV, so the Hornets or Third XV are the solid base on which the Seconds rely.
Third team rugby is somewhat different to the other two sides, in fact with the fixtures that they play in the Merit Table, it has to be said that at times it is proportionally tougher. However, it is a good introduction to senior rugby for many a Colt, a great number of whom have benefitted from the experience and progressed further towards the First XV.
The makeup of the Third XV is often very mixed, from the simply social player who has no desire other than to have a regular game on a Saturday without the necessary weekly commitment.
There is of course the wily old player who has seen his time in the First XV and is happy to impart his knowledge to the younger players whilst at the same time enjoying the Saturday afternoon romp in the mud.
Naturally, there are some Colts who are starting off with their senior career and who have much to learn from the "old guys" and of course there is the "first time for ages" rugby player who may just be returning to the game after a period away.
It all makes for a good mix of players who want to play for each other and very often against opponents who are used to playing at a higher level.
Third team rugby in Devon has suffered enormously over the last decade, so much so that, other than ourselves, Exmouth is the only other Club in the county that can regularly field a Third XV.
In 2010 there were at least a dozen Third Clubs who could but the advent of Premiership rugby in Devon has meant that many of those players prefer to watch rugby at the top level than actually play themselves and you can't blame them for that.
As a consequence, our Thirds have to play against the Second XVs of the majority of Clubs in their Merit Table. We always put up a good show against the likes of Sidmouth Seconds (whose First team are in the same league as us), Honiton Seconds and Bideford Seconds all of which have strong First XVs and often we have managed to win.
In the Merit Table, the Hornets have a very proud record culminating in the 2014-15 season when we ended as Champions of Merit Table 3 NE with 12 wins from their 14 games.
The season opened with a friendly against Buckfastleigh First XV which was lost before the first Merit Table game away at Bideford Thirds (at the time, Bideford, Cullompton, Okehampton and Tiverton did have Third XVs which have since disappeared).
The 44-5 victory was a tremendous start although the following home game against a strong Withycombe Seconds was lost 3-21.
A second defeat followed albeit in somewhat disappointing circumstances against Cullompton Thirds. The first quarter of the game our forwards had dominated so much at the scrum that Cully decided that a couple of props were injured and that we would have to go to non-contested scrums.
The game changed completely and with the opposition gaining a better share of the ball, they ran out winners 25-12.
A friendly against Wiveliscombe Thirds was won 47-12 and then two more Merit Table wins, against Exeter Engineers in a floodlit game 17-10 and Topsham Seconds 31-10.
Torrington Seconds and Exeter Saracens Seconds were hammered 54-10 and 61-10, whilst Bideford Thirds were beaten 54-13 taking us to the Christmas break at the top of the Merit Table.
The second half of the season was even more impressive with victories over OPM Seconds again, Torrington Seconds and our closest rivals for the Championship, Withycombe Seconds in a superb game which we won 38-25.
The "double" was completed over Topsham Seconds and the defeat at Cullompton Thirds was avenged.
It was a remarkable season for the Thirds and it was the strength of that side that contributed to the strong performance of the Quins who finished in third place in Merit Table One.
Experienced players such as Kevin Ellis, Andy Dafters, Alan Westcott, Mike Grigg and Richard Gray were all on-hand to help the young guns Macca Jones, Ben and Sam Phillips and Ieuan Evans, to name but a few, and all co-ordinated with the skill of an Orchestral Conductor by Martin Phillips and Rodney Matthews who coached the side to these heights.
In total, the Hornets won 22 of their 28 games and amassed 961 points in total.
A remarkable total of 42 different players scored tries with centre Scott Mills leading the way with 28, Tom Jermyn bagged 13. There was a choice of kickers with Gareth Kinch converting 36 and Phil Anning 30.
All told it was an amazing season for the side and the success story did not end there as they won the Amateur Team of The Year in the "Express and Echo" Sports Awards, which combined nicely when the Club won the National Community Club of The Year Award in 2016 to complete an incredible double.
Finally, I would just like to thank my opposite number at Crediton Football Club, Chris Gillard as I see he is closing his laptop having produced his final history notes on Crediton AFC. Chris, they have been a joy to read. Hopefully us rugbyites will soon be back on the pitch for some competitive games as well, I hope Crediton AFC have a successful season despite all our problems.
Comments
To leave a comment you need to create an account. |
All comments 0