Outgoing captains thanked and new Captains Drive In at Downes Crediton
Sunday 3rd April 2022 6:30 am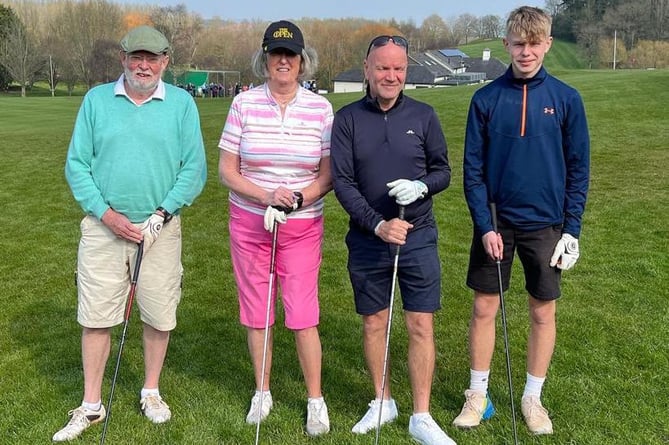 Incoming Captains, left to right, Andrew Chandler, Shirley Stunell, Tim Keehner and Tom Grinney.
(Downes Crediton Golf Club )
Subscribe newsletter
Subscribe to our email and get updates right in your inbox.
ON Monday, March 21, the team of Peter Johnson, Eric Fee and John Rance took top spot in the seniors three player team stableford at Downes Crediton Golf Club with a tremendous score of 88 points.
They just pipped into second the trio of Robin Tooze, Nigel Ashplant and Chris Theedom (87 points).
In the nine hole stableford, Edward Copp was victorious with a score 16 points.
On Thursday, March 24, the ladies played a nine hole Stableford prior to their AGM and Lyn Parry was in fine form as she shot an incredible 22 points to take the overall win and top Division One.
Ying Wong scored 19 points to finish second while in Division Two, Joyce Gilg scored 17 points for victory with Diane Parsons (16pts), second.
On Saturday, March 26 it was that time of year at the club when it said "thank you" and "goodbye" to its outgoing Captains and "hello" and "good luck" to the new incoming Captains at the Annual Captains Drive In.
In the Captains Drive In Competition there was a bumper field of more than 100 players and it was the in-form team of Phil Beasley, Mark Griffin, Howard Tubbs and Mark Walker who were victorious, scoring a superb 90 points.
In second was the quartet of Martin Garnsey, Rodin Mackay, Neil Wood and Robert Whittleston with a score of 89 points.
The best mixed team score came from Mike Charnock, John Smale, Nick Staddon and Kate Cornish (87 points) whilst Stacey Ford, Fran Shrubsole, Lyn Parry and Tracey Chandler (85 points) were the leading ladies.
After the golf, it was time to do the Captains Drive In and Putt Out, always a fun occasion.
In the putt outs outgoing Club Captain, Peter Blinkhorn, putted to a fantastic one foot, seven inches, outgoing Ladies Captain Sue Jackson putted to four feet, five inches and finally Peter Stunell, outgoing Seniors Captain, putted it to two feet, eight inches.
There were some impressive tee shots in the incoming Captains Drive Ins as Seniors Captain Andrew Chandler smashed the longest drive at 207 yards and Junior Captain Tom Grinney hit a fine shot 195 yards down the middle.
Finally, hitting wooden drivers of days gone by, Lady Captain Shirley Stunell hit her tee shot 113 yards whilst Tim Keehner, Club Captain hit a fantastic drive of 205 yards.
Following on from the festivities outgoing Club Captain, Peter Blinkhorn, handed over his Captain's Charity cheque of £5,500, a terrific amount, to Headway Devon representative Ruth Wells. Well done and congratulations for your great efforts Peter.
• See more images from the Captain's Drive In event in the current issue of the Crediton Courier, on sale now.
Comments
To leave a comment you need to create an account. |
All comments 0