Gerry was Downes Crediton senior golfer of the year
By 
Alan Quick
  |   Editorial Manager/Photojournalist   |
Monday 4th April 2022 6:22 am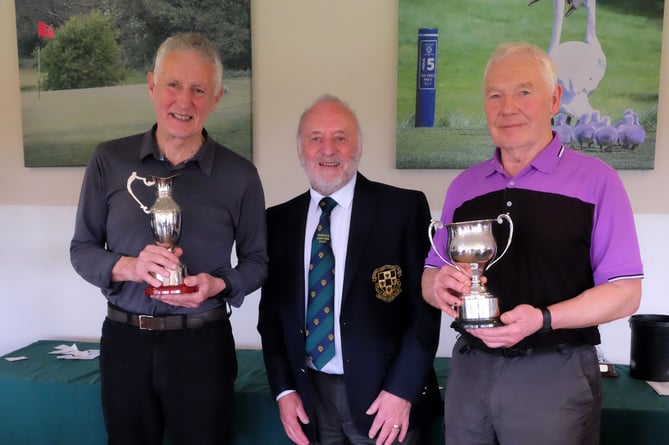 Gerry Hodder (Senior Golfer of the Year), right, with Seniors Captain Peter Stunell, centre, and left, Martin Howe (Bill Dick Cup winner).
(Richard Burston )
Subscribe newsletter
Subscribe to our email and get updates right in your inbox.
THE Senior Section at Downes Crediton Golf Club is a thriving and active one.
It comprises those aged 60 plus years and this group of golfers make up more than 40 per cent of the club membership.
Seniors' day at Downes Crediton is Monday, when competitions are played, with the first tee reserved from around 8am up until 12 noon, depending on the number of entries.
Medal competitions take place from April to October.
On those Mondays when there is no specific competition scheduled, an individual roll-up qualifying stableford takes place.
Seniors may, of course, enter all other club competitions, should they wish to do so.
In regard to the club, a Seniors team plays friendly matches, both home and away, against some 12 other clubs.
Everyone is eligible to play in the team.
In addition to excellent golf, the senior section has a splendid social side.
There is a roll-up every Wednesday and Friday, which is organised within the group and starts at around 9.30am.
The seniors enjoy almost unrestricted access to the course for their roll-ups on these two days but clearly give way to society bookings or golfers paying green fees.
A pre-season dinner is included in the calendar to welcome in both the new golfing year and also new members.
The formal end of season lunch and presentation of prizes took place on Monday, March 21.
Seniors captain, Peter Stunell, presented the awards and congratulated all the medal and trophy winners.
He also paid tribute to the green staff for producing perfect conditions for play throughout the year.
The Golf Club membership is open to all ages, male and female, including juniors.
They will enjoy the full facilities that Downes Crediton Golf Club has to offer.
Gerry Hodder was Golfer of the Year.
Ken Mar Salver winner (Past Captain's 18-hole) was David Lee.
John Baird Trophy – Roger Gratton; Niblick – Andrew Chandler; Jack Painting Memorial – Cyril Dawes; Albert Midsummer Cup – Alan Mathews; Joe Liversage - Peter Caston and Paul Dorothy.
Alan Ruddock Trophy – Peter Bryan; Don McRea Trophy – Frank Sanders; Phil Ollis Trophy – Peter Russell; Mike Dunk Trophy – Brian Williams; Grandad's Trophy – Jim Kenshole.
David Moss Vase – Jim Matheson; Hip Hooray – Colin Wheatcroft; Mick Thompson trophy - Rick Eidam; Eclectic – Jim Matheson.
Seniors Championship - Bill Dick Cup for best net - Martin Howe 155.
Seniors Open - John Essery Trophy - Peter Bryan and Richard Burston.
Seniors Championship - Dave Jordan Cup for Division One and Two - and Senior Champion 2021 - Martin Howe with a gross 170.
Seniors Championship - Paul Wilcocks Cup for Division Three - Nick Bromell 185.
Seniors Championship - Tom Pettifer Cup for Division Four - George Crabbe.
Medal winners Division One - David Rowell, Andy Frankum, Gerry Hodder, Frank Sanders, Martin Howe and Robin Abrahams.
Medal winners Division Two - Paul Dorothy, Frank Sanders, Peter Stunell and Alan Mathews.
• See more images from the Presentation Ceremony in the current issue of the Crediton Courier, on sale now!
Comments
To leave a comment you need to create an account. |
All comments 0