Defibrillator saves footballer's life at Exeter sports centre
By 
Alan Quick
  |   Editorial Manager/Photojournalist   |
Monday 23rd May 2022 6:30 am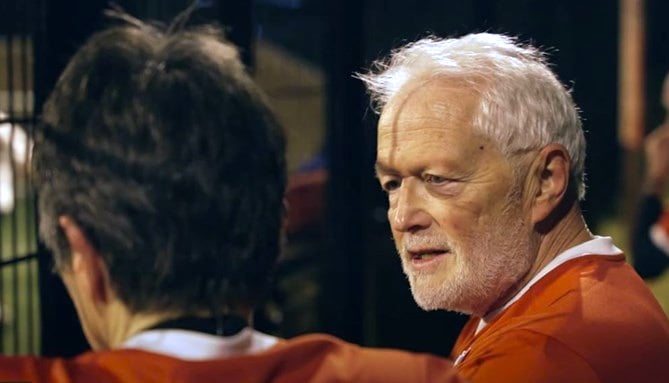 Andy talking to the woman who saved his life, Sue Hutchings, at Wonford Sports Centre.
(Exeter City Council )
Subscribe newsletter
Subscribe to our email and get updates right in your inbox.
A DEFIBRILLATOR installed at a sports centre in Exeter has helped save the life of a man who collapsed after suffering a sudden cardiac arrest whilst playing walking football.
Andy Hannan, aged 70, has recovered from the incident after a triple heart bypass and having a defibrillator implanted in his chest.
He is now back playing walking football for Exeter Strollers on the 3G pitch at Wonford Sports Centre.
In a moving video produced by defibrillator manufacturer Stryker, Andy thanks the woman who saved his life, Sue Hutchings, who carried out resuscitation on the pitch, as well as all those who helped on the night.
Sue, a retired sports coach, first aid volunteer and fellow walking footballer, went to the aid of Andy when he collapsed whilst playing at Wonford.
Centre Manager Jimmy Moore was straight on the scene. He said: "The first thing I did was grab the defibrillator and run outside. Andy was on the floor and Sue was already giving compressions."
The pair were able to use the defibrillator to shock the heart and get it beating again properly.
Jimmy added: "It was a great feeling to know that it was a huge team effort from everyone from Sue giving compressions, doing life-saving CPR and myself putting a defibrillator on."
The defibrillator used that night was originally obtained by Andy for Exeter Strollers Walking Football Club using funds obtained from Devon County Council.
Andy said: "It was an immense surprise to me that I was the first person to benefit from the purchase of the defibrillator, some two years later."
Andy met up with Sue weeks after the incident and thanked her for saving his life.
"I was able to tell her how very grateful I was for what she did that night – it was the difference between life and death – and the effort she put in, in terms of acquiring the skills that were necessary to carry of that act of mercy," he added.
Andy's wife Kate said she and her family were incredibly grateful to Sue for what she did: "This is the woman who saved my husband's life and without her my life would be very different," she added.
Sue said she felt proud of what she had achieved: "I didn't really think about what I did, I just did it, but to see Andy playing walking football again, to see him with Kate and know that he is able to carry on his life with his family is quite a remarkable thing."
Comments
To leave a comment you need to create an account. |
All comments 0