Crediton Rugby Club win Sandford Cricket Club Community League 100
Wednesday 3rd August 2022 7:00 am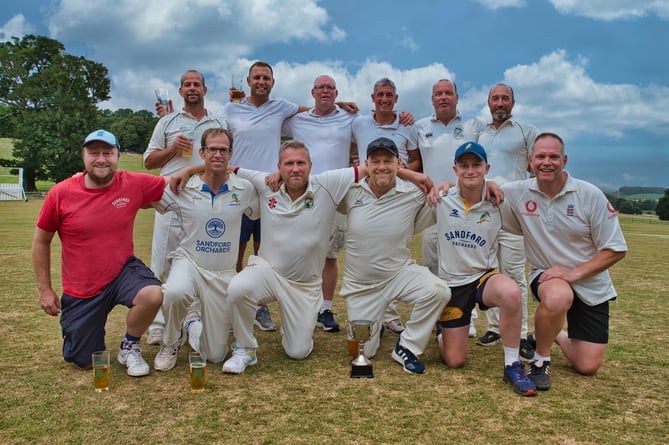 Crediton Rugby Club the winners are of the Sandford Cricket Club Community League 100.
Subscribe newsletter
Subscribe to our email and get updates right in your inbox.
THE winners of the Sandford Cricket Club Community League 100 competition this year were Crediton Rugby Club.
This is the third time they have won it, and they still remain the only team to have won it more than once.
They beat Sandford Football Club in an entertaining Final at Creedy Park on Sunday, July 24.
The team were presented with the Barrie Sparham OBE Memorial Trophy by Barrie's widow Sue Sparham.
It turned out to be an unbelievable day at the Club with more than 250 spectators in attendance and the weather set fair.
The first game of the day, to finish off the "round-robin" games in the league itself, was between the Rugby Club and Graphic.
Rugby Club won easily after smoking their way to a season's highest total of 163 in their 100 balls, with strong all-round batting from Ant Evans (27), Skipper John "Lasher" Leyman (28) and lower order strokemaker Steve Saunders (26), all of whom had to retire after reaching the obligatory retirement score of 25.
However they were well supported by the other batters, and Graphic had no answer to the carnage being inflicted upon them.
In reply Graphic toiled away, but with wickets falling steadily they were restricted to a paltry 94 in reply.
Veteran skipper Andy Hookway notched a quickfire (25), but by coming in late in the order, it was too little too late.
This result ensured the Rugby Club remained undefeated throughout the season, and the only point they dropped was when one of their games was called off without a ball being bowled.
The second game of the day created somewhat of an upset, as the Sandford Dads and Lads beat Sandford Football Club by one run.
An excellent effort by the Dads and Lads, and the closest finish of the season. This result however, did not prevent the Football Club reaching the Final later in the day.
There were some notable scores from the Dads and Lads team with Jack Perry (25), Jon Keast (27), young Ollie Harris (25) and Martin Zieleniewski (30) giving their team a sound base in reaching their final total of 133 – their highest score of the season.
The Football Club may argue they were using their squad rotation system, so that their A team had a chance of remaining sober for the Final, but it goes to show their lack of depth outside of their main batters, as they finished their 100 balls on 132 – one run short.
None of their batsmen reached 25, but there were notable performances from Alex Buckingham (21), who had no idea how he scored that many, as well as Lloyd Copp (22) and Joel Gebler (23).
Lucy Theedom making her debut for the Dads and Lads team (not sure how that works) took her maiden wicket in Community League cricket with her first ball when she castled Buckingham.
The third game saw the "newbies", Crediton Milling v the "Entertainers", The Three Little Pigs.
Pigs won this contest by 12 runs. They were given a great start by Lee Waring and young Jack James (both 25), before skipper Ben Wonnacott continued the onslaught by thrashing his employers to all parts of the ground during his knock of 25.
Dave Manning with 2-20 helped keep the score reasonably respectable. However, in the end a total of 150 was too many for the Millmen, who stumbled their way to a respectable 138, before time ran out.
Manning was the only batsman to reach 25 with a good all-round performance, but although there were other scores around the 20's which gave them a lot of respectability, particularly from "Man Mountain" Tom Gulley and Mike "Duran" Durand (both 23), they were not good enough in the end
This result unfortunately meant the "newbies" finished their first season at the bottom of the league.
So to the Final. With both teams knowing they were already in the Final prior to the last round of matches being played, the Football Club rang the changes, and brought in some of their so-called "stars".
Their strength lay in their middle order with retirements from Aaron Carpanini, Dean "it has to go over cow" Pidgeon (both 26) and Stu Moss (another quickfire 28).
Although Andy Uren rustled up 21, their eventual total of 123 from their 100 balls was probably 20 runs light in order to give them a fighting chance of winning.
The Rugby Club's reply however, got off to a dodgy start as skipper Leyman departed quickly, obviously not wishing to take any of the limelight, and so left it up to others to see his side home. Big Sam Fice creamed 26, and Jay Harris then went berserk with another quick 30, reaching his retirement score with a six that ended up halfway to Creedy Lake.
Steve Saunders with another 17 not out, saw his side home with plenty of time to spare to leave the Football Club captain Nathan "the Cat" Keast distraught, but acknowledging his side had been beaten by a better side on the day.
Big congratulations to the Rugby Club in finishing this season's reports I'd like to give my thanks to the following - Sue Sparham for continuing to support the competition in Barrie's memory; for all of the Club officials who either umpired or scored every game played; for Nicky Radnor for providing after match meals for players and officials; for Matt Theedom for standing at the all-day barbecue for more than nine hours and doing such a great job, ably helped by Mike Canning in the morning, and Jill Kinch throughout the afternoon and in the evening.
Finally, a special thanks to all of the teams for taking part, and making it, I think, the best year ever.
The support from spectators during the first four rounds has grown over the years, with some games played in front of a lot more people than in the past. It has been great to see, and a pleasure to organise.
With the new Finals Day format I believe adding to the competition, especially with all six teams playing on the day.
Comments
To leave a comment you need to create an account. |
All comments 0