STUDENTS of Queen Elizabeth's School (QE) were treated to a very exciting Theatre Workshop on Wednesday, November 8 with Westend performer, Ian McIntosh.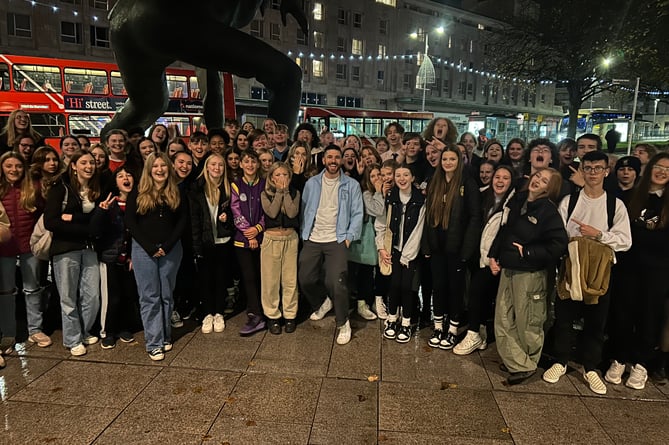 Queen Elizabeth's School pupils in Plymouth with Westend performer Ian McIntosh.
(Q E School)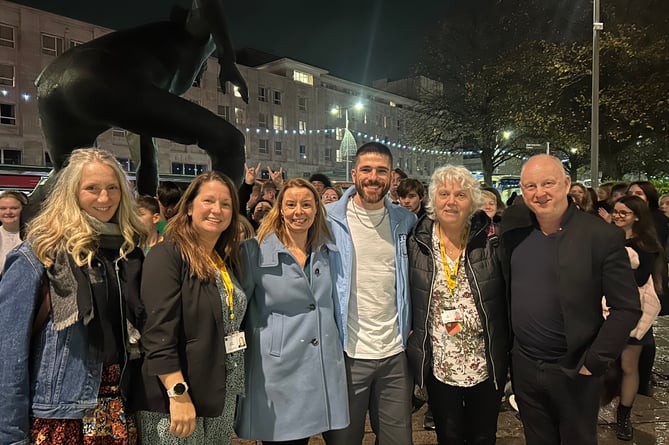 Staff from Queen Elizabeth's School with Westend performer Ian McIntosh in London.
(Q E School)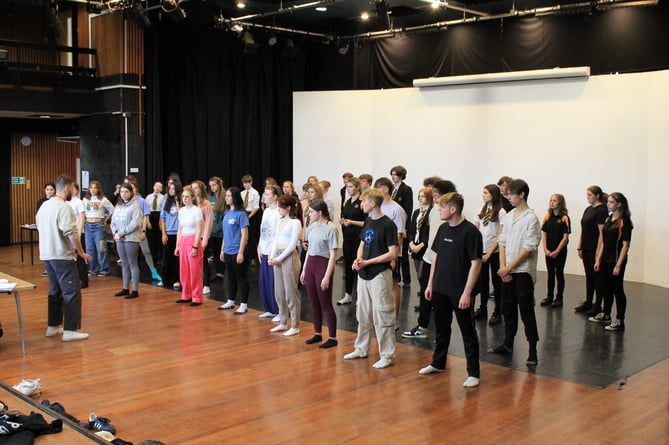 Westend performer, Ian McIntosh running a Theatre Workshop at Queen Elizabeth's School in Crediton
(Q E School)
A chance meeting with Ian outside the London Colliseum in the summer holidays, after Expressive Arts teachers Vicky Evans, Emily Morgan and Lucy Welsman went to watch the final performance of "We Will Rock You", ahead of starting work on the show themselves for this year's school production led to Ian's kind offer of a workshop for the cast. 
Nominated for an Olivier Award in 2015 for Best Actor in a Supporting Role his performance in "Beautiful: The Carole King Musical", Ian first played the role of Galileo in the 20th Anniversary Tour of "We Will Rock You" in 2019, before continuing onto the UK Tour and then transferring to London. 
Ian is now currently performing as Jesus in the UK tour of "Jesus Christ Superstar".  
Students took part in the three-hour workshop with Ian putting the cast through their paces with a dance workshop to begin with, learning choreography direct from the Westend production. 
He then held a singing workshop, focusing on industry tips for warming up, diction techniques and stamina. 
The cast then took to the stage for an acting workshop, students benefitting from Ian's wealth of experience in Musical Theatre, with direction and tips on how to engage with the text and tell the story. 
Finally, after an insightful Question and Answer session, Ian performed "I Want To Break Free" from the musical. 
To have a Westend performer singing and performing in the QE Drama Hall was a very special moment. 
He wished the cast all the best of luck for their upcoming production, being performed at the end of January 2024, and promised to check in with them again ahead of opening night. 
In addition to the workshop, staff from drama and music accompanied 90 students down to Theatre Royal Plymouth on the Thursday night to watch Ian in action as Jesus. 
He came out after the show to greet the group and another opportunity to impart pearls of wisdom to the young performers. 
Thank you, Ian, for all your expertise and a brilliant, enriching, theatrical week.
Emily Morgan, Teacher of Drama and Music